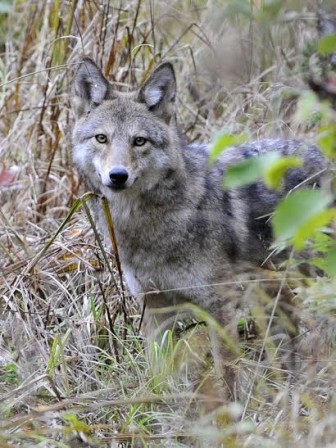 Author and educator Christine Schadler explores her passion for coyotes and wildlife in a new column for InDepthNH.org called Howling from the Mountain.
Schadler writes about people and animals sharing turf in the Granite State – including the flying squirrels that have moved into her attic.
Schadler's ability to share her passion for wildlife and her keen wit makes Howling from the Mountain a fun and environmentally friendly read you won't want to miss biweekly starting Monday.
Schadler earned a master's degree in Conservation Biology from Antioch University Graduate School.  Her thesis focused on the natural recovery of the eastern timber wolf in Michigan.
Beginning in the early 1990s, Schadler taught Conservation Issues, Dendrology and Wolf Ecology at the University of New Hampshire where she received many teaching excellence awards.  She continues to instruct and mentor adult degree candidates at Granite State College.
While wolf recovery was the focus of her early work, Schadler's attention shifted to the Eastern Coyote when she moved to New England in the 1980s.  She purchased a sheep farm with pre-existing coyote problems and, using coexistence strategies and common sense, successfully raised sheep for 22 years.
Schadler is now the representative for Project Coyote in New Hampshire and Vermont, and a science adviser to the Northeast Wolf Coalition. She divides her time between teaching and working on her book "Becoming Wolf."
Between presentations on coyotes and wolves, she can be found at camp in northern New Hampshire researching coyote feeding patterns or leading trips into Ontario to track wolves.
She can be reached at nhcoyotes@gmail.com