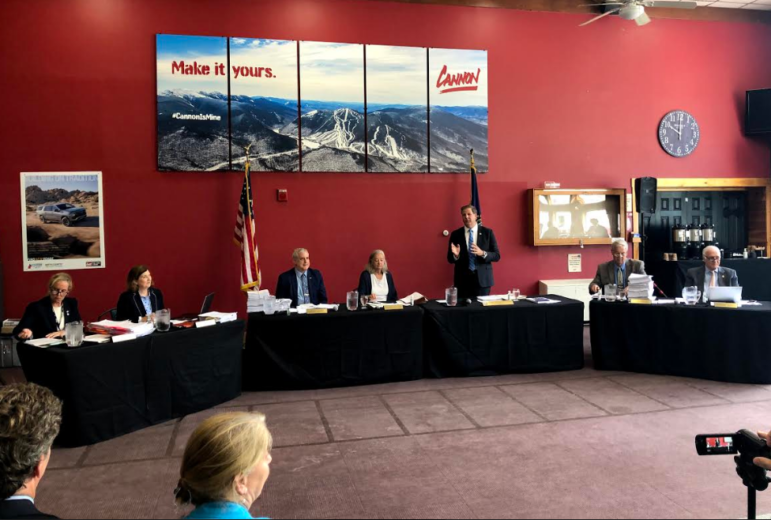 By PAULA TRACY, InDepthNH.org
FRANCONIA – The state's Executive Council and governor went on the road for a change, meeting at Cannon Mountain where they discussed the future of its iconic tramway, sole-source contracts, and the impact of the new law restricting abortions.
Meeting in the Peabody Lodge at the base of the ski area, Gov. Chris Sununu also made several commendations and nominated a member of his staff to be the new deputy commissioner of the new Department of Energy.
Christopher J. Ellms Jr. of Concord, who has served as the governor's legislative director since 2018 and worked for him since college in 2014 including campaigns and as an energy advisor, will make $102,336 if confirmed.
This follows several nominations from the governor's staff to top level posts including John Formella, Attorney General, who served as the governor's legal counsel.
Sununu honored a number of North Country residents during the meeting, including Jere Eames of Littleton for his lifelong community and civic service, Mike Henriques, retired Head of School at Proctor Academy, and Donna Sargent of Ossipee for her 51 years of social service work, including work at child and family service levels.
When asked by Sununu how Sargent jumped into supporting her community, she responded, "Family planning. Which isn't abortion."
Councilor Cinde Warmington, D-Concord, asked Commissioner of Health and Human Service Lori Shibinette for an update on what her department is doing to come up to speed on a new state law relative to New Hampshire's Family Planning Program, which requires financial audits to ensure separation of funding for family planning care and abortion services and went into effect July 1.
Shibinette reiterated that there is a chance that care to patients at those facilities could be delayed if financial audits are drawn out and not confirmed by the council by the end of the summer. She said the state was teasing out those who provide abortions from those who do not and said the state is now focusing on three contracts for providers right now.
Warmington also got confirmation that private insurers will pay for ultrasounds mandated as part of a separate budget package provision for all women seeking abortion to determine gestational age of a fetus. The state does not expect a spike in costs, which would be borne by other consumers in their premiums.
Much of the council's debate revolved around the issue of sole-source contracts, those contracts that did not have a competitive bid.
Councilor Ted Gatsas, R-Manchester, and Warmington pressed the governor and Department of Administrative Services Commissioner Charlie Arlinghaus on the subject. Warmington criticized him for sending a memo out to department heads about how to characterize bids that are sole-source and Gatsas said he would move to table all sole-source contracts going forward.
The council then voted to table a sole-source Business and Economic Affairs contract with OutreachSystems.com for a software contract.
Without debate, the council approved a new job classification. It authorized the confirmation of the joint committee of employee classification's approval and recommendation of the establishment of a new salary grade FF range of $71,896 to $100,159 for the position title of Director of Communication for the Department of Justice. Upon its approval, it authorized to appoint Kate Giaquinto as director of Communications at the top salary of $100,159, through July 2024. It did not indicate her current salary.
There were no resignations in state government to announce.
It did approve the governor's nomination of Chris Keating of Tuftonboro to the New Hampshire Circuit Court with Executive Councilor Joe Kenney saying Keating would make a "good rural justice."
The meeting included lunch at the top of Cannon Mountain, and the council traveled to it in the aerial tramway.
The tram may be refurbished or replaced in the coming years or replaced by a gondola, but John DeVivo, who is in charge of operations, said it might cost as much as $20 million to replace the tram in its entirety and there is inadequate funding for it in the state parks' coffers which includes revenues from the lease of Mount Sunapee in Newbury.
It could also mean that the state would be without this important revenue source which helps provide funding for all state parks for as long as two years.
The council will next meet Aug. 4 at the Keene Public Library and will continue to visit the state's
five council districts throughout the summer months.