Podcast with Dr. Gwen Britton, vice president of academics at Southern New Hampshire University on the new micro degree program. She discusses the new initiative to provide college courses for college entry or personal growth. She also talks about a tuition reduction and on-line learning at SNHU.

Britton has over 25 years in both private industry and academia within the science, technology, engineering and math (STEM) space. She has worked in varying positions spanning a gamut of content areas including software engineering, systems administration, network administration, data analysis, database administration and design, web development engineering, cyber-defense, mathematics and computer science. Britton currently works as Associate Vice President, STEM Professions at Southern New Hampshire University.
Britton is passionate about expanding and growing STEM opportunities and access for individuals who otherwise would not have an opportunity to pursue a career in the STEM area. She has helped grow opportunities for non-traditional adult students from under-represented populations by spear-heading virtual experiential learning opportunities and competitions in areas such as technology certification preparation, data analysis, internet of things and capture the flag. She has also helped organize and participate in events focused on under-represented K-12 student populations to engage and interest future STEM students in the field through events such as FIRST Robotics, the Hour of Code, Girls in Technology Day and the Science of Soccer.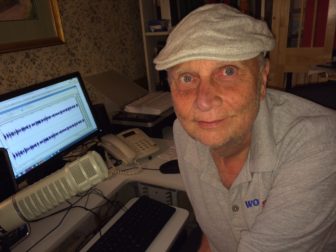 Roger Wood bio
Roger Wood is an award winning radio, newspaper and television journalist, with over 40 years of experience in the media. Roger has spent his entire professional career in New Hampshire. Roger currently serves as associate publisher at InDepthNH.org. He has produced news and special feature reports for InDepthNH, New Hampshire Public Radio, NPR, and other Public and commercial radio stations. He also produced spot news for CBS Radio.