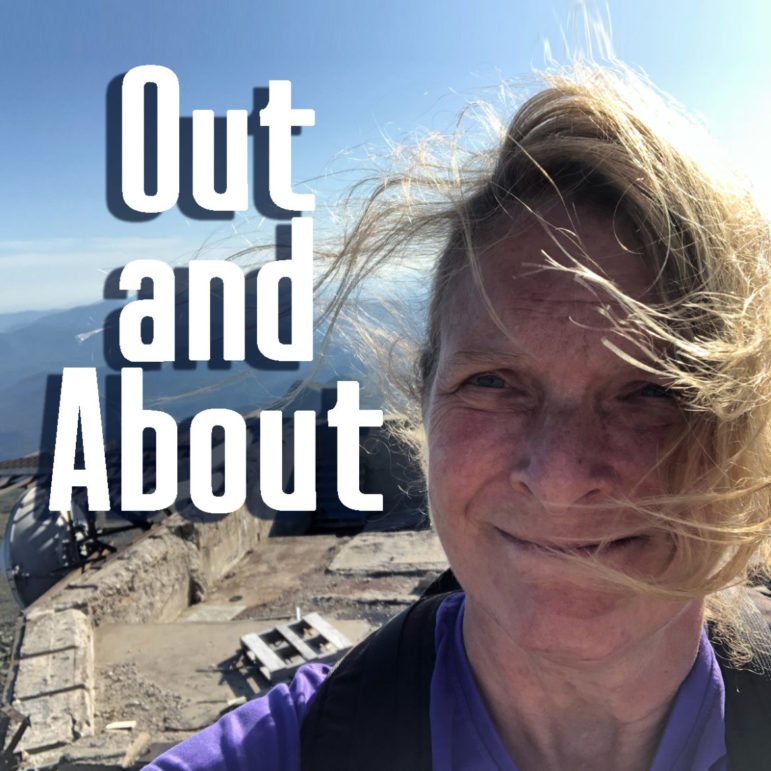 By PAULA TRACY, InDepthNH.org
It might be time for a short road trip to another part of New Hampshire to enjoy the landscape, get a different perspective, and maybe buy some unique Christmas gifts in a Main Street store along the way.

I declared two days off from writing last Friday and this Tuesday to visit Littleton and Portsmouth and I took my dog Maisy.

We left the Northwest corner of Lakes Region first to Rye Beach last Friday for a nice walk in the 45-degree weather at low tide.

We then drove north to visit lots of dog-friendly stores in Portsmouth where I proceeded to buy lots of lovely holiday gifts for our friends and family. The five-hour jaunt round-trip did me a world of good.

And on Tuesday, we pointed the vehicle north by about an hour to visit the lovely downtown of Littleton where we walked the friendly but cold streets, did some window shopping, went in to warm up at a beautiful boutique, and found some pretty gifts.

This weekend, I hope to enjoy a beautiful drive to visit Hanover, where there are also a ton of little stores that have great gifts.

This year, it is particularly important to help out Main Streets, even if they are not ours.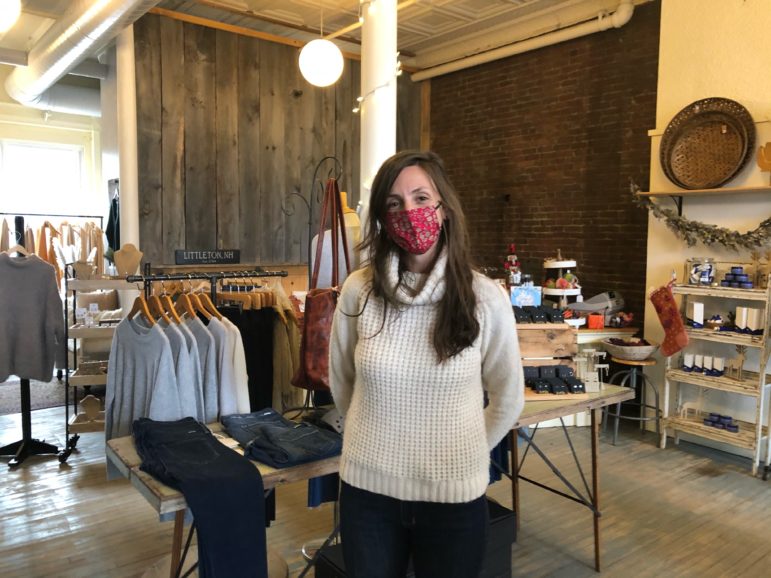 New Hampshire has so many wonderful towns and nice little cities likely only an hour and a half from your driveway. Fortunately, New Hampshire is very small, accessible, and relatively safe with a mask for residents to roam.

Take your pick: the Upper Valley, the Seacoast, the Merrimack Valley, White Mountains, and the Great North Woods. There are a few choices within reach. The drive south and east gave me a chance to unwind, view the scenery, recall memories, and remember why I live here and why I am so lucky.

If you put on your mask and get outside for a walk around downtown, that will not only help you but the economic vibrancy of this little state that is hurting now from COVID-19.

While I love my home in the Lakes Region, I feel like I have been stuck here in this house for 10 months it seems, without much new scenery. But lots to see on this road trip.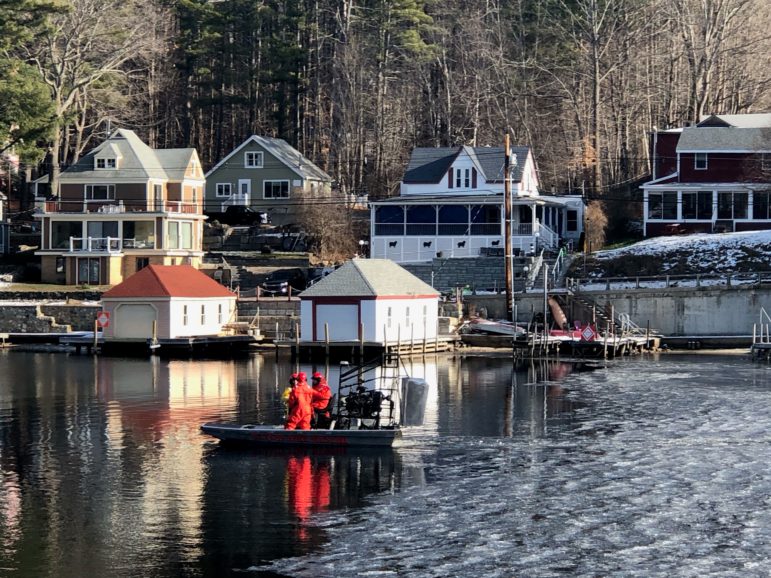 This will be the first Christmas without our 26-year-old child, who cannot come home from Colorado because of the dangers and rules related to COVID-19. We are accepting this as the right thing to do, but with an alternative plan to totally over-compensate for it in the summer of 2021 with trips abroad and spend way more money on gifts not for the recipient so much as the retailer.

We want a local Christmas with New Hampshire gifts going around the country.

It feels like a two for the price of one: helping local and connecting New Hampshire to those who can't be here.

While I seemingly subsist emotionally on walks through the woods, trips to the market, and of course, the weekly trip to Concord for the governor's press conference (which requires real clothing, not jammies) the world has gotten seemingly very small since February and I have been a bit desperate to get out safely.

If you go shop, you can make a huge difference in small New Hampshire businesses right now.

You get, in addition to a cool gift, a destination where there are lovely landscapes to see along the way. It sure beats the experience of sitting in front of the computer and ordering online for me.

On Friday, I was up at 5 a.m. to start the day early and prepare for a live radio show on NHPR. When it was over at 10 a.m., it felt like it was the afternoon already and I did not have any pressing stories to write.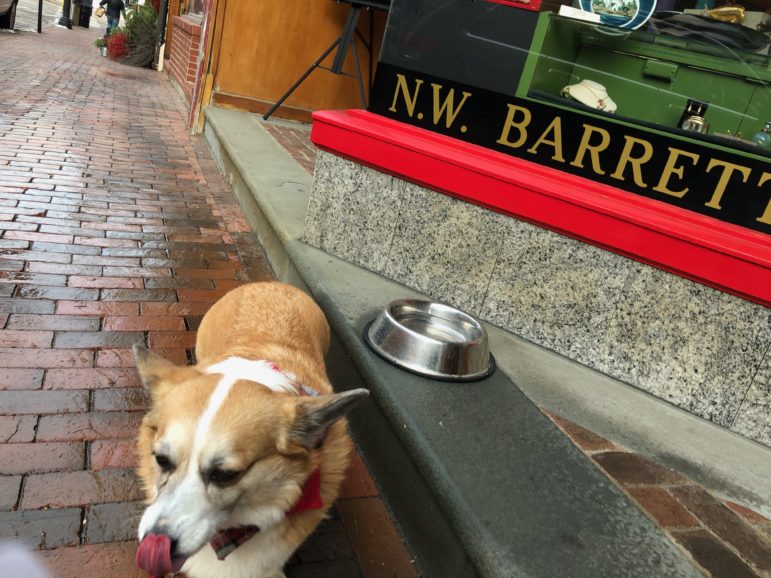 My Maisy

Maisy is a dog who loves people and other dogs. She is such a love bug and needs to spread her happy spirit to others. Seeing how she brightens people's spirits – little children, the elderly, and everyone in between, connects me with people in a different way and uplifts spirits.

We drove along the western edge of Lake Winnipesaukee along Route 11 and down to Alton where we got out for a break at the town docks.
There at the southern tip of Lake Winnipesaukee, we watched the Alton Fire Department test out their ice-cutting airboat, not far from the town's floating gazebo, with a Christmas tree inside.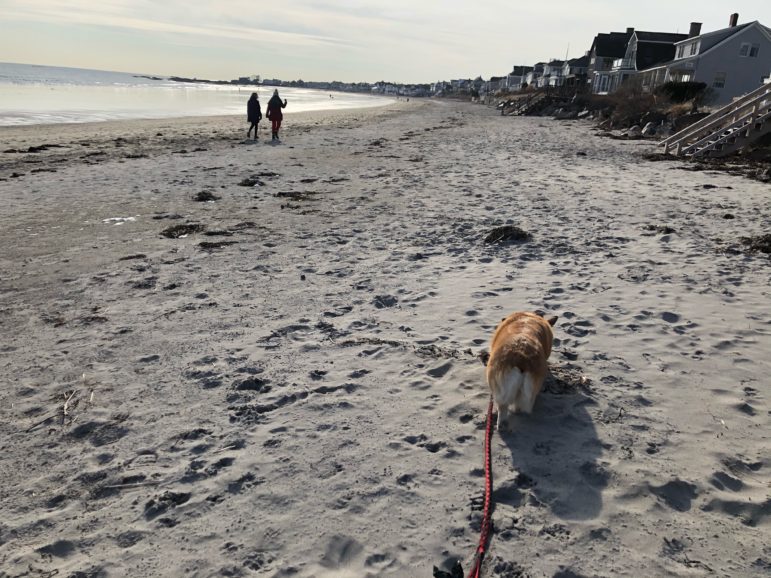 The snow was still on the ground and caked to the northeast side of the trees where it must have come in hard and wet.

We walked along the waterfront and met other dogs and people and she enjoyed rolling in the soft wet snow which we were denied from last weekend's snowstorm. It didn't materialize into anything but a crust of ice on grass in our yard, of course, until Thursday's storm piled up more than 16 inches here.

In less than an hour's drive from the tip of Winnipesaukee, Maisy was again rolling but this time in the soft sand at Rye Beach, chasing seagulls and digging in the wet sand at low tide.

Wet, sandy, and happy, we drove north to Portsmouth, parked the car in the parking lot, and walked the streets, visiting Gus and Ruby Letterpress for some beautiful wrapping paper and Christmas cards, then visited Footloose for some nice socks, went into a flower shop and bought some winter berries for wreaths I am making, and into a little accessories store for some cute presents and stocking stuffers.
In every location, the dog and I were welcomed and seemingly cheered faces by her presence.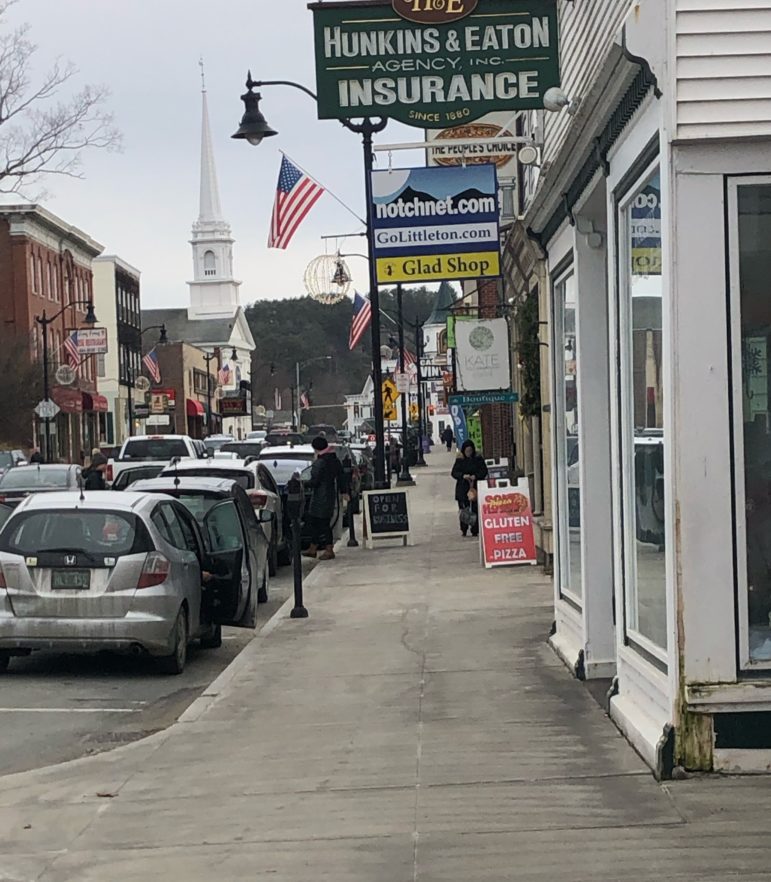 I came home with a wonderful feeling of satisfaction that we were able to see and socially interact with people at a distance, got a little exercise, helped the economy, and bought some lovely things to help cheer us and others during this hard holiday this year.

I hope you have a very HEALTHY and SAFE holiday season this year, and take good care of your emotions by getting out and about!