By GARRY RAYNO, InDepthNH.org
DURHAM — On a cold, historic day, with one-third of House members missing due to pandemic fears, the Senate and House were sworn in and — as expected — Chuck Morse was chosen Senate President and Dick Hinch House Speaker.
The House and Senate met outside in 40-degree temperatures at the University of New Hampshire to provide social distancing due to the COVID-19 pandemic.
Social distancing was not enough for 130 House members who did not attend Organization Day — mostly Democrats including House Minority Leader Renny Cushing — who feared exposure to Republican House members who attended a caucus meeting last month in Manchester that resulted in at least three members testing positive for COVID-19.
Both Senate and House leaders noted the legislature faces exceedingly challenging times with the pandemic engulfing the state and requiring changes in the usual operations of the House and Senate.
The lawmakers also returned the longest serving Secretary of State in the country — Bill Gardner who was first elected 44 years ago — and elected Monica Mezzapelle as State Treasurer.
"No legislature has experienced an event like this, it has always been inside," Gardner said. "At this time in our country there are a lot of struggles, a lot of anxiety, a lot of disagreement, but we are getting through it."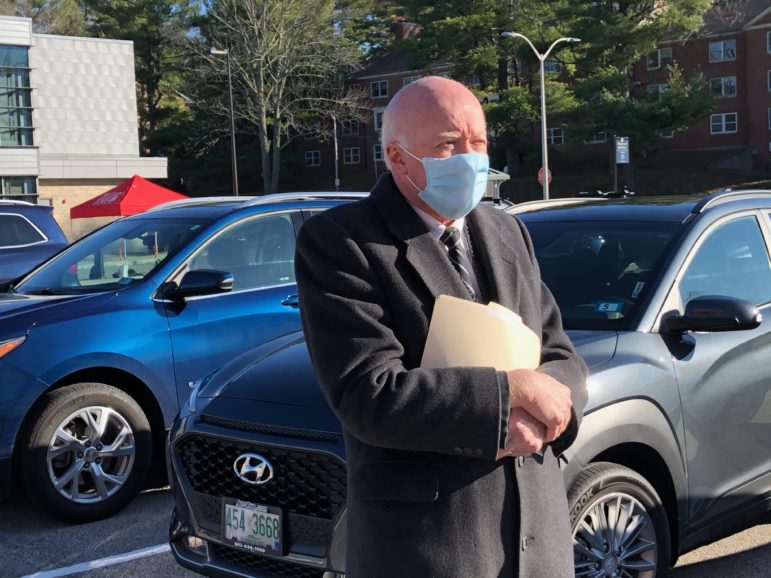 Both House and Senate leaders called for bipartisanship in the challenging times, and asked members to be respectful of one another, saying they may disagree on the methods and vision but all want to make the state better.
"When the new legislative session starts in January, we face unprecedented challenges due to COVID-19," Morse told his fellow senators. "This unique challenge requires us to work in a bipartisan fashion."
He said the Senate has always risen above the division seen across the country. "My door is always open, and I will work with you to be a success, because when we succeed, New Hampshire wins."
Hinch made similar remarks after he fought to keep his emotions in check over his nomination to be Speaker of the House.
"Let's not look at each other as Republicans and Democrats, but as friends and colleagues working together for the same goal," Hinch said. "Our methods to get there and our vision of a better New Hampshire may be different, but at the end of the day we have a responsibility to respect each other and understand each other."
He said now is not the time for frivolous political theatre, stunts and games.
Earlier in the day, Cushing said he would not be attending the ceremony but would, like others, be sworn in remotely the next day because he is at high risk if he becomes infected by the coronavirus.
He said he and his caucus will choose science over ceremony and make public health and safety their number one priority.
"Over the last nine months, we have asked the people of New Hampshire to make sacrifices . . . to combat our common enemy, the pandemic," Cushing said. "A number of state Reps feel (they can) go to an event, refuse to wear a mask, refuse to comply with the public health guidelines issued by the governor, public health officials and the CDC and put everyone at risk."
Democrats are upset they had to learn about the Republicans' positive COVID-19 tests from the media and not from Republican leadership.
The House and Senate flipped back to Republican control after last month's election, with a 14-10 majority in the Senate and a nine-vote margin in the 400-member House.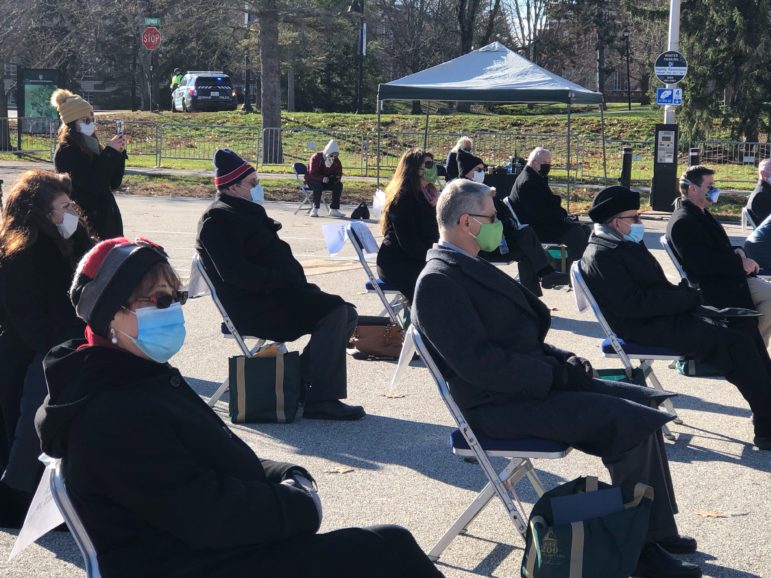 Senate
The change was less evident in the Senate where they continued work that members began last spring when Democrats controlled both bodies to combine bills into single-issue omnibus packages requiring fewer public hearings and one vote on what would have been many bills.
The Senate appointed a select committee to vet proposed legislation to determine what could be combined into omnibus bills.
Senate Majority Leader Jeb Bradley, R-Wolfeboro, said combining similar and mostly non-controversial bills will make it easier to manage the Senate in these challenging times and cut down on the number of public hearings.
He said the prime sponsors of bills may object to including their bill with others and that would be duly noted.
Minority Leader Donna Soucy, D-Manchester, who was Senate President last term, worked with Republicans to craft the omnibus bills to pass priority legislation that died in the House when Republicans refused to support rule changes to allow bills to move forward with a majority and not a two-thirds majority that would be required without the change.
Soucy said the combining of bills does nothing to change "every senator's right to sponsor legislation, but is intended to better manage the sessions."
The select committee will include Sens. Bradley, Sharon Carson, R-Londonderry, Soucy and Cindy Rosenwald, D-Nashua, and will only meet for the first year of the two-year session.
House
In the House, the vast majority of Republicans who attended Organization Day decided to break with tradition and voted to adopt the rules from the 2017-18 session rather than the last session as is traditionally done.
The effect would be to allow lawmakers to carry firearms, something Democrats banned two years ago, and to eliminate sexual harassment prevention training.
Rep. Andrew Prout, R-Hudson, said many members do not favor the rules adopted for the last session and they probably would not pass leaving the House without rules.
The old rules do not contain the objectionable sections, he said, and trying to fix the problems through the rules committee in January would not be a good solution.
Rep. Ken Smith, D-Manchester, called the attempt to make significant changes in rules on Organization Day frivolous political theater.
"Never in the history of the entire House, in the entire history of the New Hampshire legislature has Organization Day been used as a vehicle for substantive rule changes," Smith said. "This is a brazen, unprecedented power grab and will quickly become a dark stain on this body."
Seven Republican members of the House were reprimanded last session for failing to either attend or provide proof of attending sexual harassment prevention training.
Those attending Wednesday voted to approve the rules from the 2017-18 session on a 183-60 vote.
They also voted down an amendment to allow remote committee voting on a 182-63 vote.
And they also failed to meet the required two-thirds majority to act on a resolution to end the state of emergency declared by Gov. Chris Sununu and renewed numerous times due to the coronavirus pandemic
Rep. Scott Wallace, R-Danville, sponsored the resolution.
"As we all know in the state of New Hampshire all citizens are suffering," Wallace said. "It's time for the legislature to do its job and get this state back to normal."
The House meets again Jan. 6 indoors at the Hamel Recreation Center at the University of New Hampshire.
Garry Rayno may be reached at garry.rayno@yahoo.com.