Editor's note: She's back and raring to ski. Paula Tracy's column A Winter Run restarts now for the season.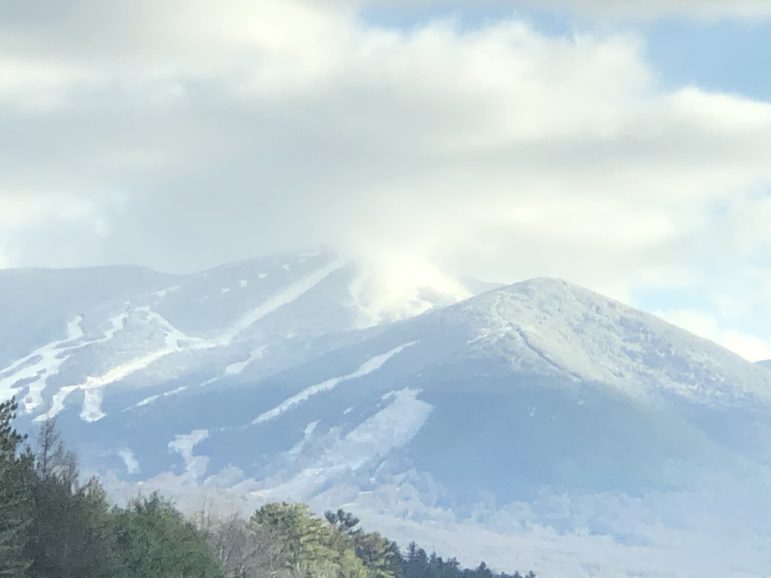 By PAULA TRACY, InDepthNH.org

The oft-used expression "White Ribbon of Death" to describe ski areas open with only one trail funneling hundreds if not thousands of skiers and riders on opening day (with elbows out like in roller derby) takes on a new and ominous meaning in this COVID-19 season.

And the industry is looking to avoid the optics and problems associated with a WROD that could shut down the industry before it even gets going.
New Hampshire ski areas, closed abruptly in March due the pandemic, are gearing up slowly with projected opening days now after Thanksgiving, due in large part to COVID-19, a wicked and insidious virus that has taken too many lives and limited the freedom we once knew.
And we are sick of it.
In a normal year, "aficionados" of the sport such as myself have been able to take a few turns by now.

Reviewing photos from years past, I have usually already had a few days on the WROD by now at Wildcat, Loon, and Killington.

But everything has changed, including the weather.
In a way, it seems, this is the perfect storm and not in a good way for this ski industry.
First, there is the weather (warm until now), then there is the drought (not good for snowmaking ponds), then there is the economy (bad) and the coup de gras, the monster in the room: the coronavirus.

The spike in COVID-19 cases nationally, worldwide and expectations that there won't be a vaccine for many of us until next spring may mean we ski locally more, not as much and that we plan ahead more than we used to.

More Powder for Us?
Massachusetts, which represents about 40 percent or more of all skier visits to this state, has essentially shut its door, requiring its residents to quarantine for 14 days after a ski trip to New Hampshire or Maine.

That may change, but for now, expect that to discourage a lot of day-trippers, though I am not sure at all.
Vermont, which is in its own little COVID-19 bubble, with the fewest number of cases and deaths in the nation, will not be an option either for us or for Massachusetts skiers or for just about anyone outside its borders. They want a 14-day quarantine with a seven-day test out option and they will pull your pass if you are busted.
In some respects, this may work for New Hampshire skiers and riders, although my season pass for Sugarbush and Killington is looking pretty useless right now.
We may get a lot more untracked powder skiing in the 603 because some cannot get here.
But the news is not good from a business perspective for the industry, which will need help without Massachusetts business and/or a federal bailout.
"While the new Massachusetts restrictions on people returning to the state from New Hampshire will no doubt make it more difficult for people to choose to come to ski here, we still feel that it won't completely deter them altogether," said Jessyca Keeler, president of Ski New Hampshire, the statewide organization representing 31 areas.
"And because New Hampshire doesn't have similar restrictions for people in other New England states heading here, as our neighboring states do, it still makes us the easiest choice for those south of the border who want to ski," she said.
Rhode Island has always been a big state for skiing in New Hampshire and while Connecticut residents are more plentiful on Vermont slopes, the Green State's restrictions might redirect them from Interstate 91 to Interstate 93.
The same goes for New York. But everything is subject to change.
The good news for ski areas is that they have at least some cash on hand.
"Many of our ski areas have seen big increases in the numbers of season passes they've sold this year, not to mention the boon on real estate sales to out-of-staters, many of whom are from Massachusetts.
"These are investments that those buyers will want to take advantage of, and given that skiing is a relatively safe activity to enjoy during a pandemic, we think people will work within the Massachusetts rules to ensure they can enjoy their ski season," Keeler added.
Season passes are up across the board and limitations are out there for those who did not get theirs before they sold out.

For example, many ski areas now open or beginning to open are looking for a soft start and no lift lines please with people coughing through their face masks to provide all the optics needed for someone to label it a "super spread" location.
To do that, the ski areas are limiting the first tracks of the season to season pass holders, including those who have both IKON and Epic passes or multi-day books.
As of this writing (Wednesday), Killington, Stowe, Sunday River, and Sugarloaf were the only resorts open in New England. All four are not selling day passes right now. You have to be a season pass holder.
Sunday River, just over the border in Newry, Maine, which has no problem with New Hampshire skiers right now, has 10 trails and 51 acres open and two lifts using the Barker Lodge. Temperatures were finally "optimal" for snowmaking at about 20 degrees at the base but warmer weather and rain is in the forecast.
Still, the resorts were open to pass holders, including IKON pass holders and will plan to open to the public on Dec. 14.
Sugarloaf in Maine also is open with five trails and also plans to open to non-pass holders beginning Dec. 14. Both are owned by Boyne.

A quick look at projected opening dates at OnTheSnow.com shows unrealistic open dates which have in some cases passed with no lifts turning. For example, it shows Waterville Valley opened on Nov. 23. It didn't.
Tim Smith, president, and general manager of Waterville Valley said on a video at its website that they decided to take a pass on Thanksgiving, favoring a "slow roll" into the season without the spike in visitors in the holidays and limited terrain. They are hoping for maybe a start midweek next week.
Smith said they were blowing snow and filling in trails to provide for more terrain, and creating "whales" or piles of manmade snow that can be preserved better in warmth and rain and rolled out to be used when it is time.
Keeler said the only New Hampshire ski area that she heard may open this Thanksgiving weekend is Bretton Woods, "but if they do I think it will be for pass-holders only. Things keep changing so I'm not 100 percent sure where everyone is at, but most who would typically open this week we're looking at next weekend instead," she said, Tuesday.
This fall has been pretty warm and some areas of the state have seen a drought which may have impacted resources to make snow.
Not all ski areas are like Mount Sunapee which has Lake Sunapee as its snowmaking pond.
Many have small reservoirs that need to be protected for maximized use when most needed, like the upcoming Christmas week.
And the good news about rain in the forecast is that it might help with the snowmaking ponds.
"The weather has certainly presented some challenges for opening this year," Keeler said. "but at the same time it has given resorts a bit more time to ensure that their new COVID-19 safety protocols, signage, etc., are in place," Keeler said.
"I think the drought has been problematic in parts of the state that don't' have ski areas and some resorts have vast supplies (like Lake Sunapee) where the impact of a low water year is not that much of an issue.
"I had asked this question of our members maybe a month or more ago when we were still in a pretty dry spell. Everyone remembered 2016 when some of our areas were kind of worried about the drought then and had taken various measures to determine how they would make snow if the trend continued, but then it was like the shower was turned on by late October/early November, much like this year, and it never ended up being a real issue again. Those I asked at the time were just monitoring it but not worrying yet, and at this point, I haven't heard any further concerns about the drought," she said.
Projected Dates
So this may sound more like a wish list than a firm projection so you will want to go to the individual ski resort website before loading the car with your gear and pointing it to the lifts, but many of the smaller ski areas in the state are hoping for a mid-December opening.

These include Crotched in Francestown on Dec. 15, Whaleback in Lebanon, King Pine in Madison and Black in Jackson on Dec. 18, and Dartmouth Skiway in Lyme on Dec. 19.

Cannon, which was looking in excellent shape from the interstate Tuesday with snowguns blasting all over the top trails, is hoping for a start on Dec. 4, "but the weather will completely dictate whether we can hit that target," the website reads.
Cannon has stopped selling season passes with the exception of a midweek instate pass for seniors, and is urging everyone to stay off the hill until they open, (so don't think of skinning it this weekend, people.)
Pat's Peak in Henniker and Attitash in Bartlett have set their sights on opening Nov. 30, and according to OnTheSnow.com, Cranmore in North Conway, Ragged in Danbury, and Wildcat were all looking to crank up the lifts earlier but that does not appear likely.

The ski areas are all working under guidance from the state, CDC, and their own corporate rules for this winter with the main theme being "know before you go" and the expectation that you will need to boot up in your car, wear masks at most all times (some ski areas will allow you to ski or board without the mask on) and plan to spend just about all your time outdoors or in your car.
A helpful website to update with changes and how to plan for a day in the snow is here https://www.skinh.com/covid-19-consumer.
I will hope for a healthy and safe ski season for you and am thankful that we at least have snow and open trails to look forward to in the coming months.
InDepthNH.org's Paula Tracy learned to ski at Pats Peak in Henniker in 1972 and has been looking for ways to fit it into her work life ever since. Her first ski column First Tracks was for the Salem (Mass.) Evening News. She then wrote one for the New Hampshire Union Leader and later for WMUR. Paula now writes A Winter Run for InDepthNH.org when she is not busy on her State House reporting.