By GEORGE LISET, Writing on the Fly
I received a text message that gets a fly fishers heart jumping. The one where you put down everything you are doing and grab your fly rod and head for the door. It is similar to the feeling you get on Christmas Day.
Christmas came early for many Seacoast fly fishers this weekend when Three Rivers Stocking Association announced they were stocking three local rivers with fish. Not just any fish, but beautiful Rainbow, Brown and Brook Trout. And not just little guys, but some monster fish.
The Three Rivers Stocking Association was started in 2000 by some local anglers and members of Great Bay Trout Unlimited. Three Rivers president, Rick Hutchins, a local fishing legend in his own right, said the group worked out an arrangement with New Hampshire Fish and Game to keep three ( now expanded to four) rivers open all year for catch and release fishing with a single barbless hook.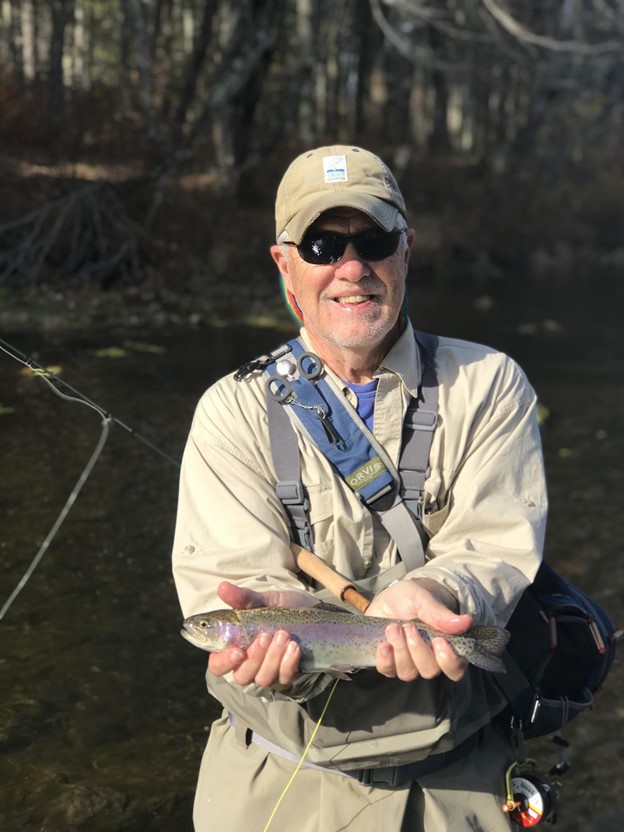 The original three rivers were the Lamprey River in Durham, the Isinglass River in Barrington and Gonic and the Cocheco River in Dover. Three Rivers has since added the Exeter River in Exeter.
Three Rivers was looking for some volunteers to help stock the fish, so I headed down to the Cocheco River to lend a hand. My schedule in the past had not allowed me to help, so I threw on my waders and drove to the Cocheco to see what I could do. When I arrived at the river I saw many familiar faces. People who fly fish are a small, but growing, community who travel in a lot of the same circles. I have seen many at Trout Unlimited meetings, or fly fishing shows, but mostly on the rivers we fish.
Rick Hutchins was standing next to the Sumner Brook Fish Farm truck that provided the fish for stocking. Sumner Brook owner Jesse Prunier is a second generation fish farmer. Jesse's dad, who was a former Fish and Game warden bought the hatchery from the state, and Jesse and his family have continued the business. Sumner Brook Fish Farm provides fish for fishing derbies, private stocking and even has a pond that can be fished.
Rick explained to the group that we would be making a bucket brigade to get the fish down to the river. Jesse would be scooping the fish out of the holding tanks on the truck and then the volunteers would be passing the buckets down the line to the river. This day Three Rivers would be stocking 800 fish in two spots in the river.
Today I was standing next to treasurer Bill Cote. As we were passing buckets of trout down the river, Bill explained that when they first started stocking the trout in 2000, the trout cost six dollars each. Today's trout were going for twenty dollars each. Bill explained that because of the pandemic, Three Rivers was not able to have their annual auction, which is their biggest fundraiser. However, through applying for a grant and the generosity of local businesses such as Formax Business Equipment, Three Rivers was able to continue their stocking this year.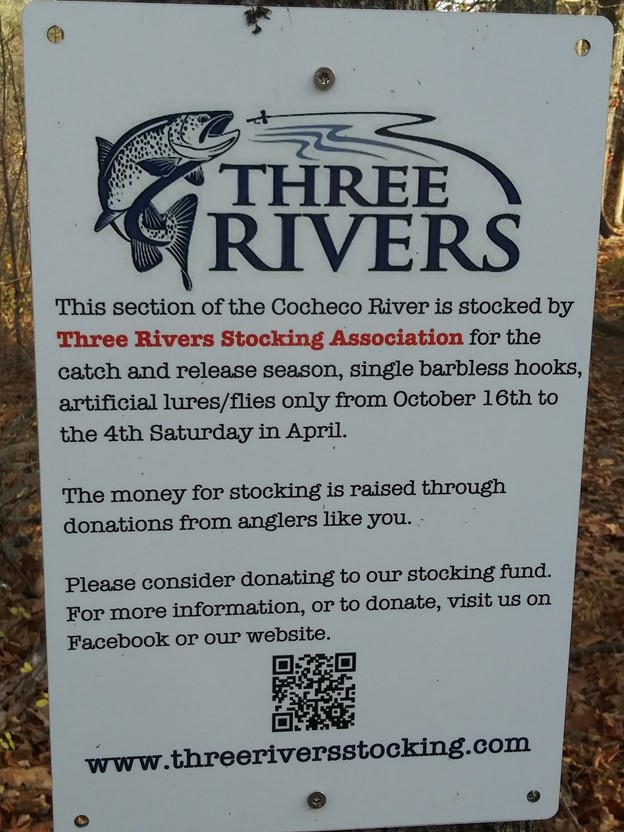 In talking with Bill Cote, I learned about the viability of the recently stocked trout holding over for longer than a season. Bill explained that there were three big factors which contribute to a trout being able to hold over. The three factors were water acidity, water temperature and predation. Trout thrive when the water acidity is low and the water temperature is between 50-60 degrees.
The Cocheco River is a free stone river without much limestone which keeps the water's acidity down. Low acidity provides a great habitat for aquatic insects which are vital for trout. The Cocheco dam is a top water dam, which means the warmer top water gets passed down the river versus the cooler water which a bottom release dam would provide. The predation level is high on the Cocheco, which is great for animal lovers, but bad for trout and fly fishers.
On this day Three Rivers was helped by members of the University of New Hampshire Fly Fishing Club. The club has been very active with helping Three Rivers stock. Club president Aiden Buzard has done a great job promoting fly fishing at UNH. The club is also looking for volunteers to help get involved. (unhflyfishingclub@gmail.com) or facebook @unhflyfishing
As I fished the river a few days later, I had a greater appreciation for the fish I was catching. I've always fished the Cocheco River and have pretty good success all year long. I have always taken for granted that there would be fish there. Now I know why. If you have a chance to help stock, or even better, contribute to Three Rivers, it would be appreciated by more people than you know. Check out what opportunities are available at: www.threeriversstocking.com.
George Liset of Dover is an outdoor writer and avid fly fisherman who shares insights of his time on the water exploring New Hampshire streams and rivers as well of those around New England. George is a graduate of Wheaton College, Illinois, and the University of New Hampshire.