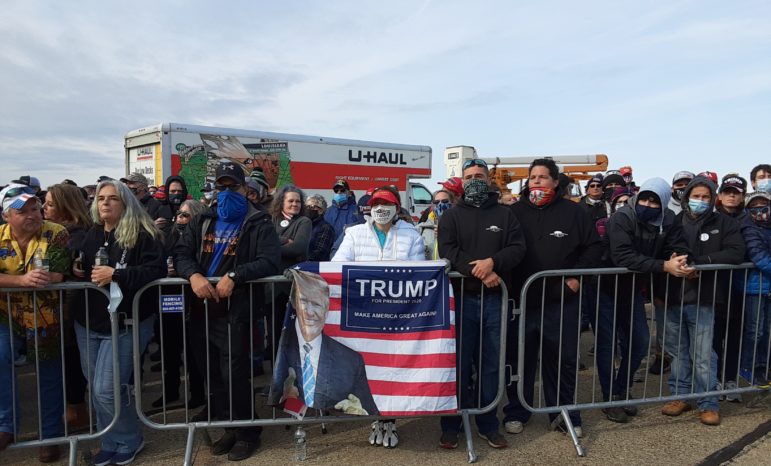 By MARY HELEN GILLESPIE, InDepthNH.org
LONDONDERRY — The GOP faithful, bundled in red MAGA hats, flame orange vests and green camouflage jackets, rallied outdoors Sunday in support of President Donald J. Trump and New Hampshire Republican Congressional candidates on a windy tarmac at the Manchester-Boston Regional Airport.
The larger-than-expected crowd — sans social distancing and semi-masked — exploded in cheers when Air Force One landed at 12:34 p.m., just as the disco classic "Macho Man" ripped through the loudspeaker.
"You gotta love it," one woman shouted to her fellow Trump fans. The cheers for Trump, and the boos for Democrats, continued for nearly 90 minutes as the president spoke about his accomplishments, derided Democratic nominee Joseph R. Biden, promised a middle-class tax break, talked up job creation and vowed to protect Second Amendment rights.
To the opening chants of "WE WANT YOU," Trump replied: "I don't want to cry, but Ronald Reagan never had that chant." He repeated his affection for the Granite State although an informal survey of license plates in multiple parking facilities showed many attendees came from Connecticut, Maine, Massachusetts, New Jersey, New York, and Pennslyvania.
"I love this state," Trump said as signs, American flags, hats and cell phones waved from every inch of the audience to roars of approval.
Trump said his administration is winning the war against the pandemic, which he frequently referred to as "the Chinese virus." The president, who did not wear a mask, said, "We're rounding the turn" against COVID-19. He cited his own rapid recovery as an example of U.S. medical successes.
Most recent reports show New Hampshire had 10,328 coronovirus patients and 473 deaths, with the U.S. death rate slightly over 225,000. New Hampshire also reported a relative spike in new cases recently as did neighboring Massachusetts.
The public, jammed into bleachers and folding chairs or standing in droves behind fencing, displayed little, if any social distancing.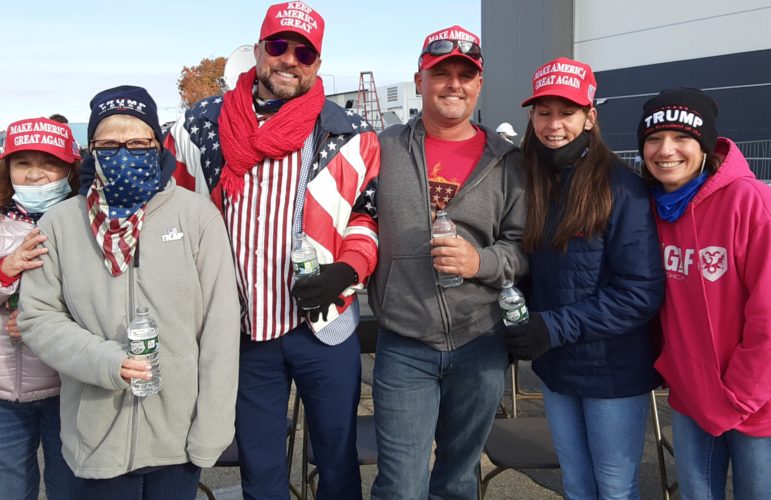 It was difficult to ascertain how many were wearing masks but after nearly six hours of observation it appeared that as many as almost half were not wearing them or slinging them around their necks at times while sitting, walking or standing.
On Aug. 11, Gov. Chris Sununu issued Emergency Order #63, requiring face coverings for certain scheduled gatherings of 100 or more individuals, as part of the state's efforts to respond to COVID-19.
Associate Attorney General Anne Edwards said in an email Sunday that under the emergency order, people are allowed to remove their face coverings when seated. She also said she spoke with the Trump Campaign Saturday and "was informed that seats were being spaced with 6 feet of physical distance between different household members."
A copy of Emergency Order #63 can be found here.
Trump praised fellow Republican Sununu for the state's response to the pandemic, saying as a result of the "excellent governor's" actions, New Hampshire has "opened up and you're doing business again."
Sununu's spokesman did not respond to emailed questions about whether Sununu met Trump, but he did not appear to when the president landed.
With nine days left to the election, Biden's campaign responded in a statement saying the pandemic has left "hundreds of small businesses permanently closed, and thousands of workers out of jobs" in the Granite State.
"New Hampshire families deserve better than a President who, in the middle of a deadly pandemic, is working to dismantle the Affordable Care Act that provides critical protections to over 570,000 Granite Staters. And they deserve better than President Trump's attempts to divide our nation and distract us from the fact that he has no plan to protect us," the Biden statement read.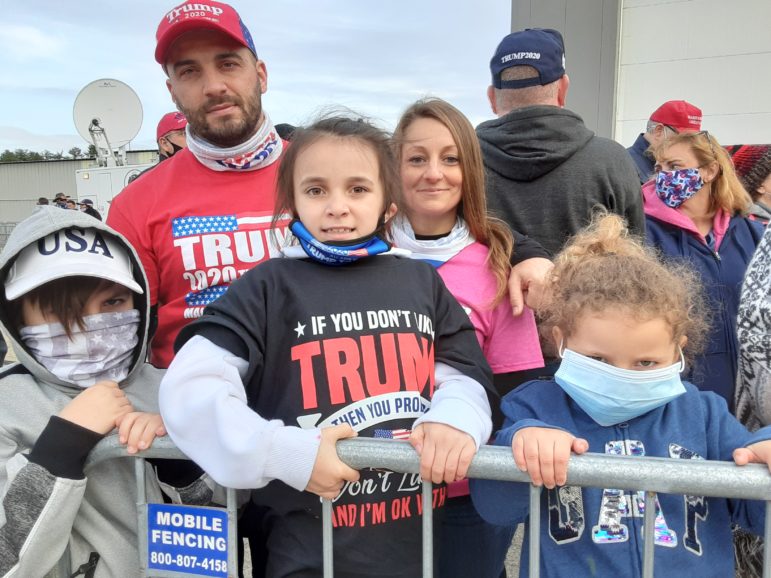 Trump took multiple jabs at Biden, criticizing the former vice president's performance in the final debate saying, "I wouldn't say he was Winston Churchill." Then the president slammed his opponent saying Biden was promoting cuts in Social Security and increases in oil prices.
"I don't know what the hell is wrong with him," Trump said, later calling Biden a "corrupt politician" with dubious dealings with "China, Ukraine, Russia…and the media refuses to write about it."
Trump said his administration also contributed to an overall 19 percent drop in the opioid epidemic which left a devastating trail of deaths and grief across New Hamphire. He promised to continue to support anti-drug efforts upon re-election and commit to doing everything possible to "keep our precious children from drugs."
Prior to the president's arrival, three Republican candidates for Congress spoke briefly in support of the GOP platform — and Trump priorities — promoting the efforts of law enforcement, first responders and especially military members and veterans.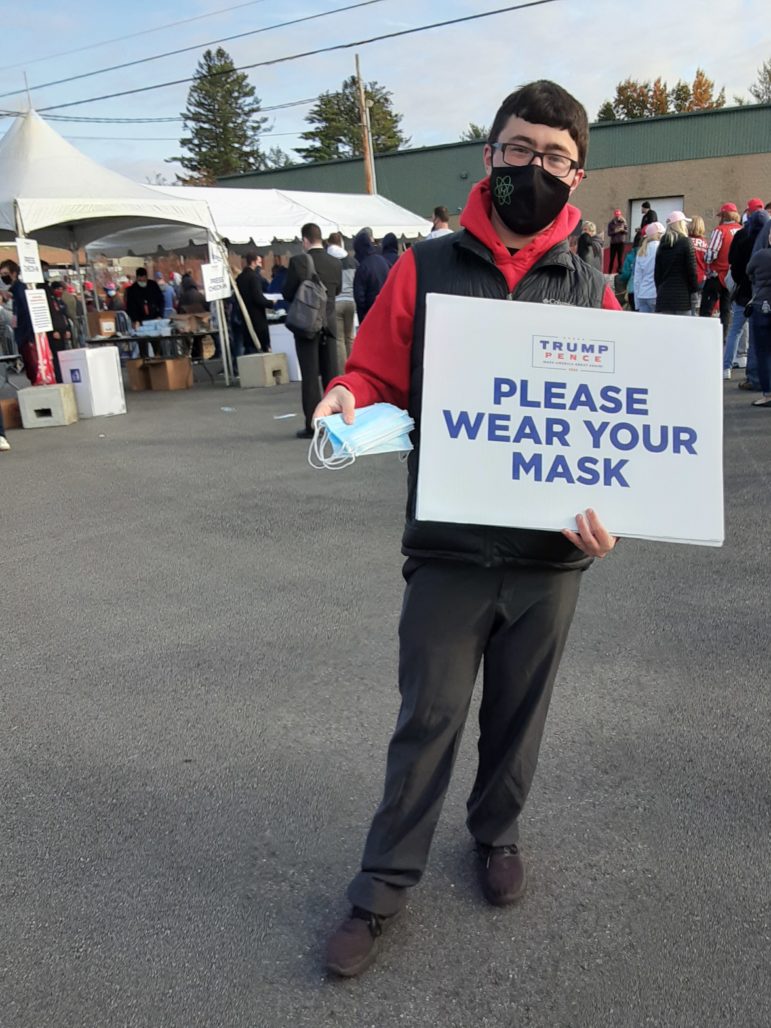 Corky Messner, running against Democratic Sen. Jeanne Shaheen; Matt Mowers competing against freshman Chris Pappas for the First Congressional District seat; and Steve Negron, in his second bid to oust incumbent Annie Kuster in the Second Congressional District, all offered their support for the president, who, in turn, urged New Hampshire voters to flip the state red.
"This Election Day must stop the anti-American radicals. This is our democracy. This is our country. We have to do what is right," Trump said.