By PAULA TRACY, InDepthNH.org
CONCORD – Individuals convicted of animal cruelty would be placed on a public offenders list and anyone convicted of intentionally killing a pet would face a felony charge under two bills heard by the House Criminal Justice and Public Safety Committee on Tuesday.

House Bill 1560 http://gencourt.state.nh.us/bill_status/billText.aspx?sy=2020&id=1218&txtFormat=pdf&v=current makes it a felony if an animal dies as a result of animal cruelty.
The bill would exempt euthanasia practices like shooting a dying dog to prevent more pain and suffering and certain husbandry practices from the laws.

It would add to existing law under RSA 644:8 by inserting that, "A person is guilty of a class B felony if such person purposely, knowingly, or recklessly commits an act listed under paragraph III and such conduct causes the death of the animal or causes the animal serious bodily injury as defined under RSA 625:11."

State Rep. Katherine Rogers, D-Concord, sponsor of the bill, said it would offer the state another tool to prosecute pet killers. Currently, many of these individuals face lesser, misdemeanor charges.
But some said they worried that the bill would have unintended consequences and would allow for the felony prosecution of youthful offenders and those who have a mental illness, who after being found guilty would live forever with a felony conviction on their record.

Nancy Holmes of New Boston opposed the bill. She told the story of a veterinarian who lost her own dogs in a hot car after she forgot them.

Would she be charged with a felony as well after suffering that loss, she asked.
"I think we need to leave it open that a person should learn from their mistakes, and not have a felony follow around them," Holmes said.

Supporters of the bill said that the veterinarian would not be found guilty of a felony under this bill because it was not a purposeful act.

Julia Seeley, state director for the Humane Society of the United States, strongly supported the measure.
"We have a huge gap," Seeley stressed. "We are talking about filling the gap between negligent and purposeful acts."

Some testifying said there is a link between violence against animals and violence against people, particularly vulnerable individuals such as children, domestic partners and the elderly. The measure might be able to head off such violence against humans, some people theorized.
Patricia Morris, an attorney who handles animal law cases, said the bill has merit.

It would not impact individuals in their back yard shooting at squirrels or birds, she said, as a member of the committee questioned. The bill would address those who act knowingly and purposely and have a pattern of behavior that backs the charge up.

Stacey Ober, the American Kennel Club's legislative analyst, opposed the bill. She said that the organization opposes cruelty but this bill ties this to a criminal code to serious bodily injury. She said she was particularly concerned about people with mental illness who are charged in hoarding cases.
Angela Ferrari, president of Dog Owners of the Granite State which includes kennel clubs who breed mushers and others, said her group has concerns that relate to the bodily injury law within RSA 625:11.6.
"I feel we have it covered under statute already," Ferrari said. She disagreed with those who say that cruelty is on the rise. But she noted press accounts keep the issue before the public's eye.

As it relates to mental health issues, "there should be a different avenue to how the case is looked at," she said.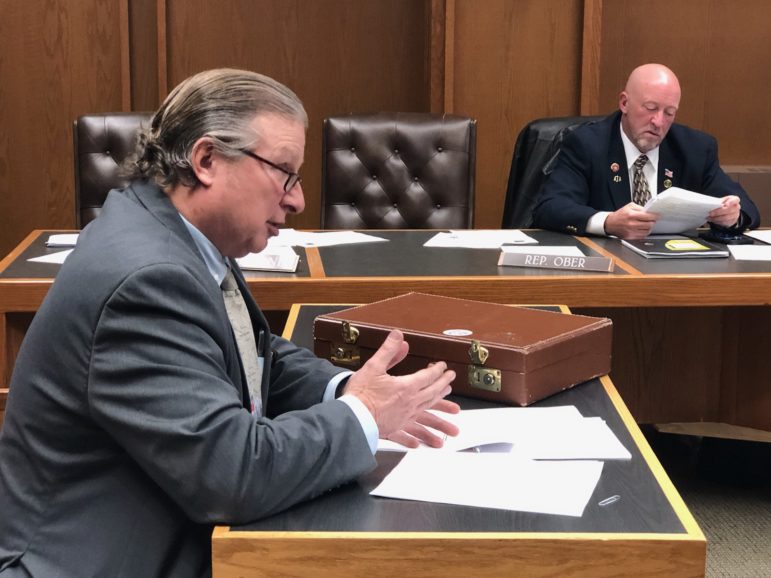 House Bill 1602-FN-L http://gencourt.state.nh.us/bill_status/billText.aspx?sy=2020&id=1318&txtFormat=pdf&v=current was heard as well. It would establish a registry of people convicted of animal cruelty.

State Rep. Charlie St. Clair D-Laconia, the sponsor of the bill, said this would allow neighbors and unknowing individuals the information prior to handing over an animal for care. He said it is similar to a bill passed in Tennessee.

"Animals lean on us to protect them," said St. Clair. "This is a tool to protect animals from a person who has already done this," and has been convicted of cruelty. There is a penalty in the bill that only applies if a person does not register for the list.

A person's name would be on the list for 15 years and would be removed if there were no further convictions, it reads.

New Hampshire State Police did not take a position on the bill. Already, they oversee a database with more than 3,000 sex offenders but this would be adding to the workload. The bill would allow for a new position to be created to work on the database.

Holmes, a former animal breeder and rescuer, also opposed this bill. She said in the past, this concept has been floated in the legislature and killed.
The Tennessee database, she said, "has a sum total of 14 people on it. That is the entire extent of that database," she said.

Holmes noted that most agencies who know of abusers have that conviction data available to them. The bill would not address those who agree to plea deals or surrender their pets to shelters, she argued, and said she also worried about the concept of internet harassment, shaming, vigilantism and the need to protect those from such abuse.

"There are enough radical people involved in feelings about animal cruelty that it is really going to create a nightmare and lead us to protect them," she said. "I do believe rehabilitation is possible."

Angela Ferrari of Mont Vernon said between the two bills the focus is on what happens after cruelty occurs.
"I think it would be better to focus on prevention," Ferrari said. The bill, she argues, penalizes people after they have paid their debt to society and want to move on.