CONCORD – Hours after House and Senate members went home after two days voting to override Gov. Chris Sununu's vetoes, he emailed supporters a campaign donation request based on the veto votes that went in his favor.
Of 52 bills taken up in the House and Senate over Wednesday and Thursday, only one met the two-thirds vote standard to override his veto – SB 88 to remove the wait period to obtain medical marijuana. The others failed except the two budget bills that will be taken up next week.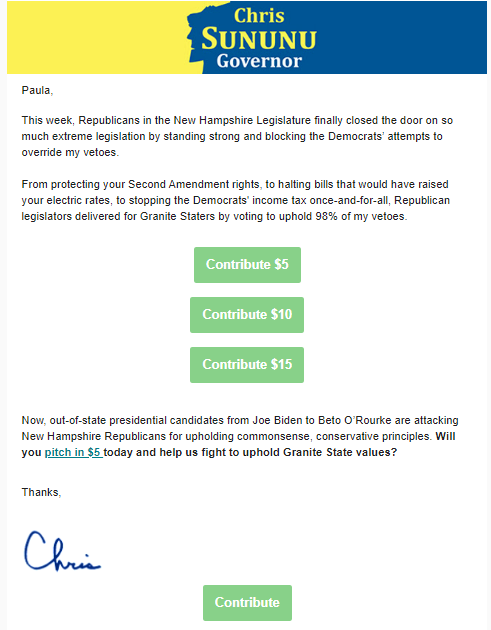 Previously, lawmakers overrode Sununu's veto of the bill to abolish the death penalty.
The Senate on Thursday sustained Sununu's vetoes on among other bills, paid family leave, increasing the minimum wage, and voting rights legislation. On Wednesday, the House voted to sustain vetoes on three gun control bills.
"This week, Republicans in the New Hampshire Legislature finally closed the door on so much extreme legislation by standing strong and blocking the Democrats' attempts to override my vetoes," Sununu wrote asking for donations ranging from $5 to $15.


"From protecting your Second Amendment rights, to halting bills that would have raised your electric rates, to stopping the Democrats' income tax once-and-for-all, Republican legislators delivered for Granite Staters by voting to uphold 98% of my vetoes," the donation request signed by Sununu said.
Democratic party spokesman Holly Shulman said: "This week, Chris Sununu has been twiddling his thumbs and tallying political points, while Granite Staters begin to face the daily consequences of his reckless vetoes.
"Governing isn't about keeping score or getting a win – and for Chris Sununu to make it some kind of political competition is a disgusting disservice to the people he's supposed to represent. What Granite Staters need isn't a political scorekeeper – it's a governor who will support policies like the minimum wage and paid family leave that move the state forward," Shulman said.
Sununu's fundraiser ended: "Now, out-of-state presidential candidates from Joe Biden to Beto O'Rourke are attacking New Hampshire Republicans for upholding commonsense, conservative principles. Will you pitch in $5 today and help us fight to uphold Granite State values?"