By PAULA TRACY, InDepthNH.org

Washington, D.C. – Congresswoman Annie Kuster, D-NH, called conditions at the U.S.-Mexico border "inhumane" after returning from a weekend trip near McAllen and Brownsville, Texas.
On Monday, Kuster held a press call to outline the overcrowding. She provided a series of photos as evidence of the conditions. The photos and videos included in this story were provided by Kuster.
"(A)nd this is the urgent bad news part of the story is overcrowding," Kuster said. The situation in McAllen at the original intake, which is only designed for temporary use, is dramatically overcrowded, she said.
It's "a human rights violation," Kuster said.
Kuster said the migrants, mostly from Central American nations such as Honduras who have fled hundreds of miles on foot in fear of violence, were exhausted from their journey seeking asylum. Kuster traveled with about 20 Democratic members of Congress.
During the three-day visit over the weekend, they were briefed by customs and border patrol officials.
They spoke to children and parents at those locations as well as two nonprofit centers.  The elected leaders crossed over the border at Gateway International Bridge in Brownsville to provide food and other items to migrant families attempting to apply for asylum in the United States.
click here for all photos: https://docs.google.com/presentation/d/1jzvw7u3OsZrjiK-7sVCaG1mdgr2nzlydHbr9yNo_xVQ/edit
This is Kuster's second trip to the border since the Trump Administration began its crack-down of immigrants. Kuster said she found some things improved and some things unacceptably bad.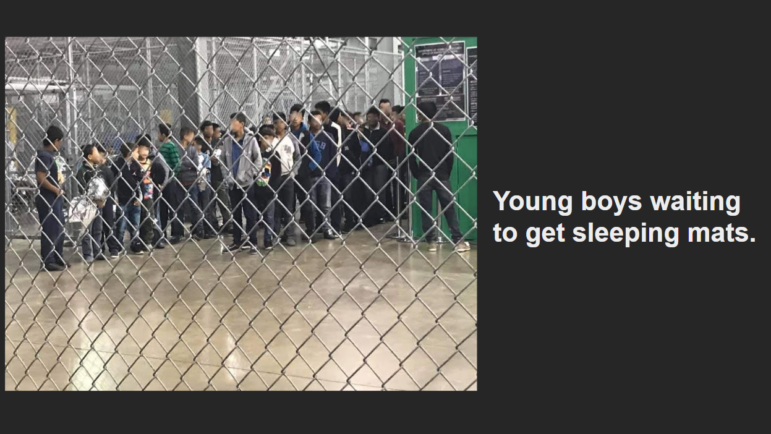 She was there last on June 23, 2018, "and at that point, we were part of the delegation uncovering the process of children being separated from their biological parents. It was deeply disturbing," she said. Then, they met with 40 mothers including two nursing moms who had their children taken away.
Kuster said it took her and other congressional leaders from New Hampshire four months to reunite one child with its family in Northern New Hampshire.
"I want to start with good news in that, that policy ended," Kuster said. "We were able to see young children with their biological parents" this time.

The group also saw a number of unaccompanied children "but I believe they were separated from aunts, uncles, and grandparents…there still is an issue," Kuster said.

Border patrol officials talked about a pilot project using DNA testing to confirm family relations, which may have some promise, she said. What they are concerned about, Kuster said, is people bringing children who are not related to them to the border hoping for more lenient treatment.
Kuster began a slide show for the media over a conference call from Washington, which showed examples of overcrowding in cement block cells. "There is no place to lie down," Kuster said. There were 600 men and women being held.

At another location, she found families together and children reading books, noting that their stay there is a matter of days rather than the adult enclosure where people stay as long as 40 to 60 days.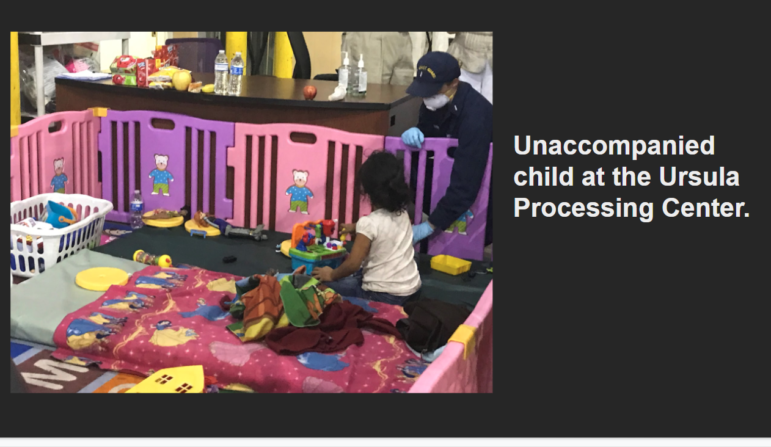 The people with the best chance of getting out of the border area are those with a credible case for asylum who have their children with them and a family or friend in the United States willing to pay for a bus ticket or a plane ticket to host them in the United States, Kuster said.
She showed photos of a group of nuns from Boston making up food for the migrants' journey, noting the people have no money. Kuster spoke of a Honduran woman she met whose business was burned; she fled with her family and was going to the D.C. area to family.
"Donations are coming in from around the country," Kuster said of food and personal toiletries and clothing. There is work expected this week in Washington to continue to find resources to expedite the process at the border, Kuster said.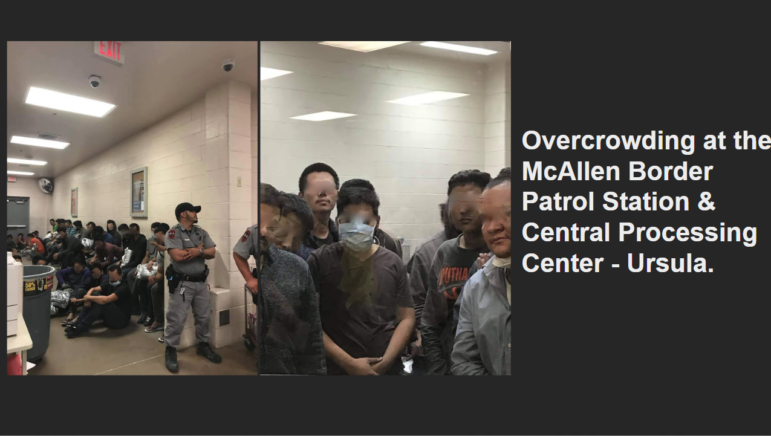 Additional funding for alternatives for detention is being explored so migrants can go into communities and wait for their asylum hearing rather than in these detention facilities, Kuster said. She called for additional judges, court space and equipment to move these cases faster.

Next week, Kuster said Congress will consider two pieces of legislation to address standards of care and oversight.
She noted that this was the 59th congressional delegation since October to visit "so the attention to it by members of Congress is very, very high."