Welcome to Decoding the Vibe where I tell it like it really is as the first-in-the-nation primary parade of candidates comes to New Hampshire. Join me behind the scenes where you might just find out what the candidate is really like. – Susan Dromey Heeter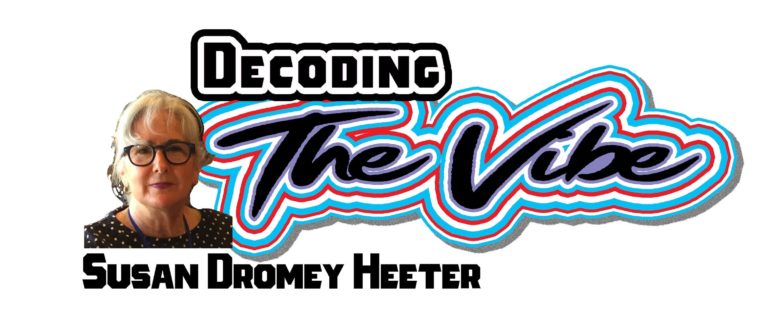 Kamala Harris, Somersworth High School 14 July 2019
To be in a high school gym on a Sunday afternoon in July is not something I do often – nor am I usually surrounded by more than 600 people.
The vibe, mercifully in an air conditioned space, for U.S. Sen. Kamala Harris felt vibrant, felt young, felt interested, felt colorful. I recognized quite a few people I know and felt very much the same vibe I've felt at Buttigieg, at Warren, at Booker: Smart, hipster, educated.
The vibe reminded me of college tours – where you see the same people on the circuit, pretty much every institution is selling the same, "We are the best and our alumni go on to do fabulous things."
Harris would have a really strong law program and the tour guide would cite specifics and data to reinforce their status as number one. The library would be filled with vast collections of books, of data, of encouragement to prospective candidates. Apply! You'll get in! We'll all be roomies and it'll be fabulous!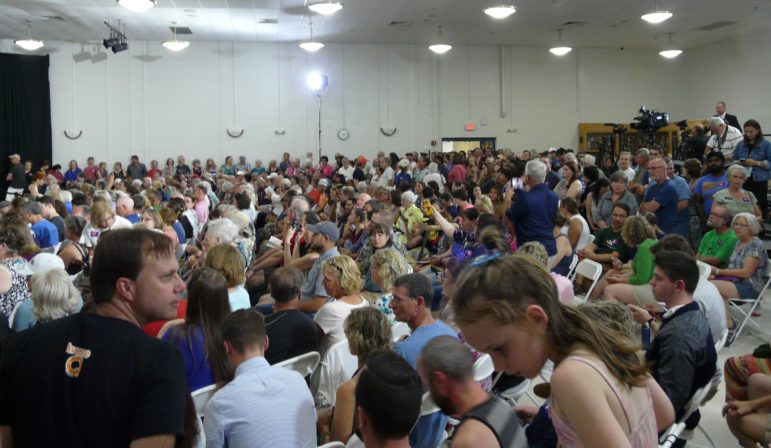 Kamala is a dynamo. She's highly intelligent. She invited high-end contenders and the crowd was smart, vibrant, eclectic. She was introduced by Somersworth activist and owner of Teatotaller Cafe in Somersworth, Emmett Soldati. The Teatotaller is a cafe with "Deets" and "Haps" on its website. It took me a bit to realize that "Deets" meant "details," "Haps" are "happenings." Both Soldati and the cafe are very hip, very progressive and very inclusive.
And Kamala Harris is hip, progressive and inclusive. She provided solid data around issues including homelessness, teacher salaries, student debt. As a university, her financial aid office would be generous and stellar. She promised, "In the America we believe in, you'll only have to work one job to put a roof over your head and food on the table."
Harris invited a crowd wearing Birkenstocks, feminist T-shirts, flip flops. Gabe Wilde of Biddeford sported a "Make America Gay Again" baseball cap and wanted to ask Harris if she would work to make community college free for everybody – including new immigrants to America. Wilde works in admissions at a community college in Maine and supports the need for immigrants to simply get some additional education to make it here in the U.S.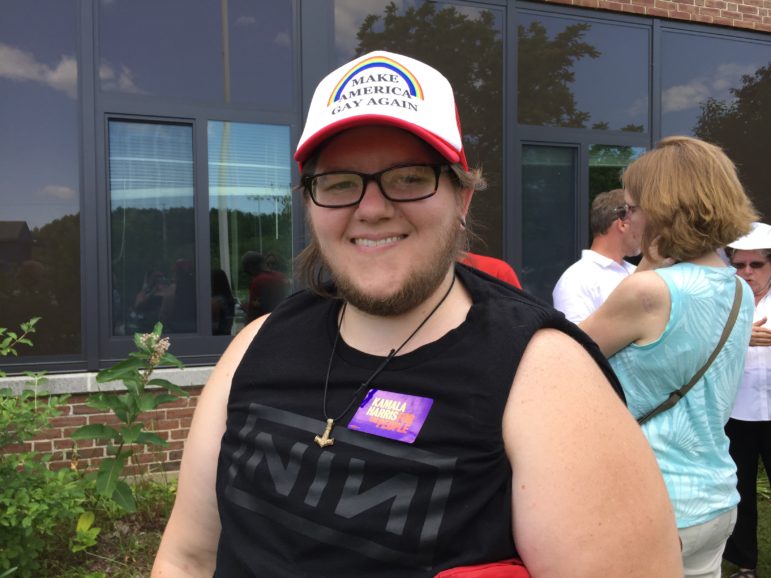 And just as students often take a myriad of college tours, many in the crowd were comparing Harris to Buttigieg, to Booker, to Warren.
Harris did mention other campuses, specifically Trump U, and referenced the distractions by Tweets, the betrayal and used her legal background to provide a case for "prosecuting the case against four more years of Trump."
The Harris vibe felt strong, felt vibrant felt powerful. Alas, like many a high school senior, the similarities to other choices felt very close – even the backdrop of her speech with people from the crowd felt very Mayor Pete – much the same way those New England colleges can all meld into one another – was it Emerson where they have a yoga bar? Did Stonehill offer singles freshman year? Was it Salve Regina where there is unlimited coffee?
So, dear Decoders, thanks for reading my vibe. Kamala Harris University has a wonderful law program, a stellar financial aid district, and some great Deets and Haps. I'd encourage you to go on the tour.
Susan Dromey Heeter is a writer from Dover who recently let her hair go au natural white. Writing has been her passion since her English majoring days at the University of Massachusetts in Amherst. Dromey Heeter has lived in The Netherlands, Alaska and currently basks in all things New England, including the frigid winters. An avid swimmer, Dromey Heeter's great passion is to bring back body surfing as most children have no idea how to ride waves without ridiculous boogie boards.
The opinions expressed are those of the writer. InDepthNH.org takes no position on politics, but welcomes diverse opinions. email nancywestnews@gmail.com
U.S. Sen. Kamala Harris's bio, from her website:
In 2017, Kamala D. Harris was sworn in as a United States Senator for California, the second African-American woman and first South Asian-American senator in history. She serves on the Homeland Security and Governmental Affairs Committee, the Select Committee on Intelligence, the Committee on the Judiciary, and the Committee on the Budget.
Kamala has spent her life fighting injustice. It's a passion that was first inspired by her mother, Shyamala, an Indian-American immigrant, activist, and breast cancer researcher.
Growing up in Oakland, Kamala had a stroller-eye view of the Civil Rights movement. Through the example of courageous leaders like Thurgood Marshall, Constance Baker Motley, and Charles Hamilton Houston, Kamala learned the kind of character it requires to stand up to the powerful, and resolved to spend her life advocating for those who could not defend themselves.
After earning an undergraduate degree from Howard University and a law degree from the University of California, Hastings, she began her career in the Alameda County District Attorney's Office.
In 2003, Kamala became the District Attorney of the City and County of San Francisco. Among her achievements as District Attorney, Harris started a program that gives first-time drug offenders the chance to earn a high school diploma and find employment.
Having completed two terms as the District Attorney of San Francisco, Kamala was elected as the first African-American and first woman to serve as California's Attorney General. In this role, she worked tirelessly to hold corporations accountable and protect the state's most vulnerable people.
Over the course of her nearly two terms in office, Kamala won a $25-billion settlement for California homeowners hit by the foreclosure crisis, defended California's landmark climate change law, protected the Affordable Care Act, helped win marriage equality for all Californians, and prosecuted transnational gangs that trafficked in guns, drugs, and human beings.
In the United States Senate, Kamala's mission remains unchanged: fighting for the rights of all communities in California. Since taking office, she has introduced and cosponsored legislation to raise wages for working people, reform our broken criminal justice system, make healthcare a right for all Americans, address the epidemic of substance abuse, support veterans and military families, and expand access to childcare for working parents.
It's the privilege of Kamala's life to work on behalf of the people of California. She lives in Los Angeles with her husband, Doug Emhoff, and is stepmother to Ella and Cole Emhoff.