By PAULA TRACY, InDepthNH.org

MEREDITH – Beto O'Rourke held presidential campaign gatherings in Andover, Amherst, Manchester, Brentwood, Peterborough, Meredith and Nashua over the weekend with the Democrat focused on news of deportations beginning in nine cities across the country by the Trump Administration.
This New Hampshire trip for the Texan, one of several in recent months, had an immigration focus. Two immigration-specific events were held in Peterborough and Nashua.
O'Rourke outlined his immigration reform plan which would protect and expand the rights of New Hampshire immigrants and those across the country while strengthening the economy, he said.
O'Rourke's plan would end what he calls President Trump's "cruel" asylum laws "that threatened the presence of the Indonesian community in New Hampshire who have lived here for decades after fleeing their country of origin out of fear of religious persecution."

It would be the implementation of the most sweeping rewrite of U.S. immigration law in a generation. It involves introducing "a detailed and actionable agenda to rebuild our immigration and naturalization system in our own image."
O'Rourke's proposal also creates a pathway to citizenship for 11 million people, making naturalization easier for 9 million eligible immigrants, and establishing a first-­of-­its-­kind community-­based visa.

The plan would free hundreds of New Hampshire DREAMers from fear of deportation. It would include their parents. Temporary Protected Status would include hundreds of Haitian and Nepalese immigrants who call the Granite State home.
Nationwide, it is estimated that federal agents are looking for about 2,000 illegal immigrants who failed to show up for deportation after letters went out in January asking them to go through the process of repatriation.
Only three percent did, according to Acting Director of Immigration and Customs Enforcement Matt Albence, who told Fox News that the television network was wrong to characterize these as "raids." He insisted they are "targeted enforcement actions" for those considered "appropriate for removal."
O'Rourke is the former city councilor of El Paso, Texas, which shares the Rio Grand River with Mexico. He was elected to the U.S. House in 2012, and in 2018 ran for U.S. Senate, but was narrowly defeated by incumbent Republican Ted Cruz.
Meredith event

At the Meredith event on Saturday, Robin Schwartz of the organization If Not Now asked O'Rourke what he could do as president to address the issues between the Palestinians and the Israeli government. Considering how much financial help the United States gives Israel, she wondered what pressure O'Rourke would put on the Israeli government to end the "oppressive occupation" of Palestinians. He responded that there were limits.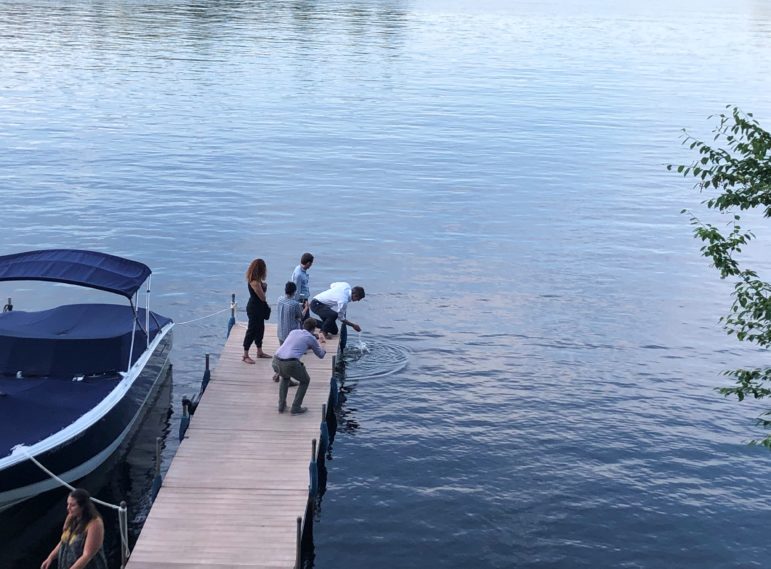 "The answer made me sad," Schwartz said. "I really understand he is not running for the prime minister of Israel. But the U.S. has more ways to go," to address the problem. If Not Now is a group of young American Jews who are trying to engage candidates in the issue of the Palestinian occupation.
The event was hosted by former Meredith state Rep. Kate Miller who has not made up her mind yet who to support.
She said O'Rourke brought her a bottle of wine and asked if he could take a swim when the event for a maximum-capacity crowd of 75 ended about 7 p.m.

At the end of a long, hot day on the campaign trail, the candidate took time with individual questions and conversations with people like Bill Bolton of Plymouth, who ran unsuccessfully for state Senate from District 2, but is now beginning a renewed effort after having knocked on about 4,000 doors last summer and fall.
O'Rourke took a moment to kneel on the dock at the event and dip his hands into the cool waters of Lake Winnipesaukee but did not get an actual swim. The team headed north for the night to Lincoln and planned an early morning, two-mile hike in the Flume Gorge in Franconia with New Hampshire volunteers and staffers. O'Rourke said it was a wonderful way to start another day in a state he described as "beautiful."

About Beto O'Rourke, according to his bio:

Beto O'Rourke is a fourth-generation Texan, born and raised in El Paso. After graduating from Columbia University with a degree in English Literature, Beto returned home and started a small technology business that would grow to bring dozens of high-wage, high-skilled jobs to the border community. He ran for the El Paso City Council in 2005 and upon being elected became one of the youngest members to ever sit on the council. Beto served two terms before running for U.S. Congress in 2012, taking on a 16-year incumbent and winning. He personally knocked on thousands of doors and held public forums with voters in both Spanish and English.

He would represent one of the world's largest binational communities in Washington, D.C., for six years, serving on the House Veterans Affairs Committee, the House Armed Services Committee, and the House Committee on Homeland Security. Regularly returning home, he held monthly all-comers welcome town halls in El Paso where he could hear directly from his constituents. In Congress, he successfully enacted laws that improved access to health care for veterans, added urgent mental health resources for service members and permanently protected thousands of acres of natural land. As a leading voice on immigration and a lifelong advocate for the U.S.-Mexico border, Beto organized a 2,000 person Father's Day march to Tornillo to raise awareness of family separation. He would continue returning to the camp until all of the children were successfully released.

In March of 2017, Beto launched a historic 19-month campaign to represent all 28 million Texans in the U.S. Senate. Running the largest grass-roots campaign the state had ever seen, he rejected all money from political action committees and personally visited each one of the 254 counties of Texas as he held over 350 town hall discussions. Beto ultimately received more votes than any Democrat in Texas history as he excited thousands of first-time voters to go to the polls. Beto is married to Amy, and they are raising their three children — Ulysses, Molly, and Henry — in El Paso.