Farm at Woods Hill Wins New Hampshire Farms of Distinction Award
By RACHAEL BROWN, InDepthNH.org
High atop Clough Road in the tiny town of Bath, the Farm at Woods Hill owner Kristin Canty and farm manager Amber Reed practice sustainable farming, humanely caring for and raising animals.
The rural 265-acre farm supplies Canty's metropolitan Massachusetts restaurants, Adelita and Woods Hill Table, both in Concord, Mass., and coming soon, Woods Hill at Pier 4 at the former Anthony's Pier 4 in the Boston Seaport District.
In February, the farm earned the New Hampshire Farm of Distinction Award at the New Hampshire Farm and Forest Exposition.
Kristin Canty, filmmaker, restaurateur, farmer and mom has always been an advocate for farmers and a proponent for ancestral health and foods.
Amber Reed, former canoe guide, teacher, environmentalist, outdoor woman and holistic farmer, passionately loves the land and animals.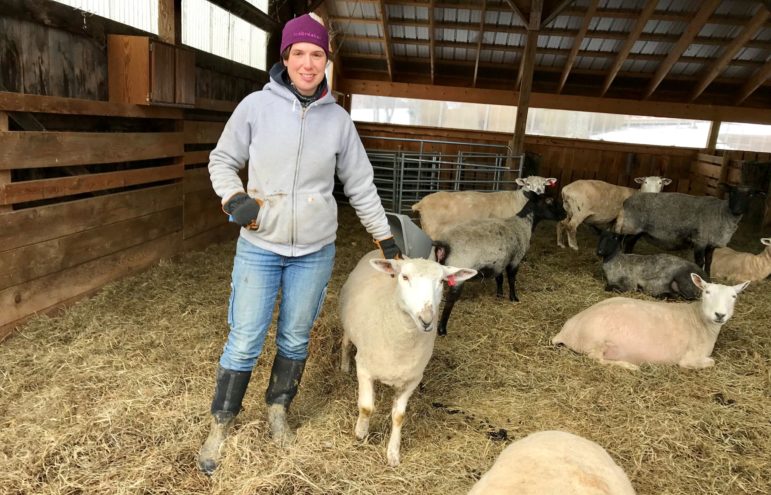 Here's the story of their pasture-to-plate journey.
"When my son was three or four, he was allergic to everything; grass, dust, animals. His compromised immune system, asthma and allergies contributed to hearing impairment and the doctors just kept giving him medications," said Canty. She believed there had to be a different way.
"I found out that kids who grew up on farms didn't have allergies. I did more and more research and learned about the benefits of raw milk, even for adults," Canty said. "The information was so compelling, I tried it myself in small doses, gave it to Charlie in small amounts, and little by little Charlie was cured."
Ancestral health is a practice of traditional farming, eating nutrient dense, fermented and raw foods, unscraped vegetables and pasture-raised beef.
"We started buying into food groups and CSA's. I travelled around and saw the beauty in agricultural lands, the strong community of chefs, farmers and moms; a strong food culture," said Canty.
Canty also learned the stories of small farmers who were producing healthy food for their communities who were forced to stop by the government, sometimes in violent ways, hence, in 2011, her movie, "Farmageddon, The Unseen War on American Families" was released.
"Farms were being raided, if Americans only knew. The farmers were not hurting anyone," Canty said.
Being part of the food and farm culture, Canty said people were asking her to cook for them, to make something healthy.
"There was a strong food culture in my own town (Concord, Mass.) and I felt like I wanted a food truck, but the space turned into a restaurant," said Canty.
She opened Woods Hill Table – organic, pasture-to-plate- in 2015, and Adelita – taco and margarita bar – 2018, and in the works, Woods Hill at Pier 4.
"We are more than farm-to-table. I think of farm-to-table as trending. We were asked to specifically locate at Pier 4 because of the push to be health conscious. We go beyond – no soy, no canola oil, just butter, olive oil and pasture-raised beef," explained Canty.
"People seem to be getting sicker and sicker, trying to heal themselves and not ingest toxins," she added. The health of what we eat is so important, she said, which brings us to the Farm at Woods Hill.
"A farmer was helping me source foods for my restaurants and said I would not find enough locally to supply them the way in which I wanted," said Canty.
So, Canty bought her own farm.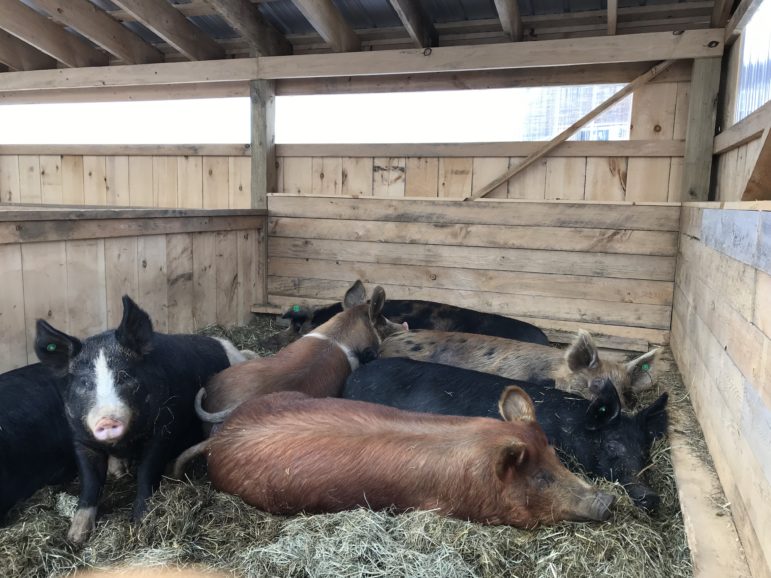 Canty bought the farm in 2013. She hired New England Genealogy and discovered, in fact, her family had owned the land. Clough (pronounced Clow, like plow), as in the name of the road where the farm is located, is Canty's maiden name. The Woods family started the farm in 1794. Singer Patti Page married the next farm's owner Jerry Filiciotto.
"The Page family owned it for twenty or thirty years. They were the biggest maple producer in New Hampshire and tried to raise turkeys, too, but they couldn't really make it. The farm's name was Hilltop Farm. I changed the name because I didn't want it to be confused with the Hilltop Steak House (Saugus, Mass.), which has since closed," said Canty.
Fast forward to 2019. Enter farm manger Amber Reed, originally from West Virginia, who moved to Maine at age 7.
"I grew up in the back woods of Maine. My step-dad was a hunter. We ate raccoon, bear, beaver. My mom was a gardener and social worker. I went to Bowdoin College and studied environmental studies and visual art. I was always practical and hands-on," said Reed.
Reed was a canoe guide in Maine, Minnesota, Quebec, Labrador and apprenticed at the Quivira Coalition – a non-profit organization working with ranchers, scientists and environmentalists for the sake of the land and animals.
Practicality and hands-on certainly helps in farm life.
"We raise eighty-five cows, three hundred meat ducks, one hundred and thirty pigs – eleven sow and one boar- and ten sheep," explained Reed.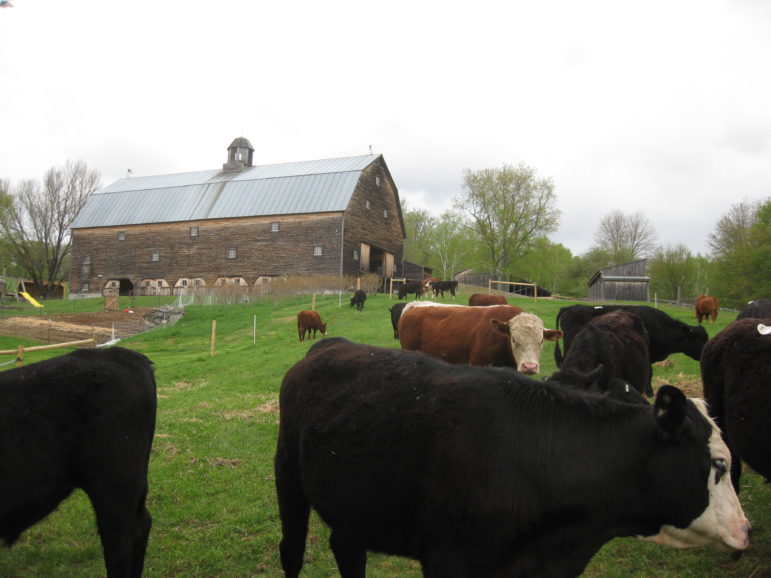 The farm practices Holistic Management Planned Grazing.
Reed describes the practice:

"We keep track of how many animals graze on how many acres during the grazing season. We use that data to plan our grazing pattern for the following year. We re-plan constantly and change our grazing depending on droughts, rain, shade, forage (plant) diversity, and animal behavior."
Reed uses a finely tuned grazing chart and keeps track of every single animal.
"We move the sheep and cows every day or two to keep them eating clean forage that is at an optimal point for consumption. We keep them from re-grazing and damaging plants that are trying to regrow," she added.
Reed continues: "We try to do our best by the land and the animals by paying attention, changing our approach, re-planning, and re-designing systems. We always try to do better every year and grow as farmers."
The holistic farming has a positive impact on the land and the animals, she said.
"The animals are outside and free to roam. Continued land regeneration, with animal and land health in mind, it is one way of farming," Reed added. Holistic farming considers the needs of people, land, plant and animals.
Canty, as the owner, is not only conscientious about animal health – with the goal of producing meat that is well taken care of, she cares about her staff, too.
"Kristin thinks farmers should be well-paid and have health care. That is important to her," said Reed. The farm employs eight, with some part-time staff.
The Farm at Woods Hill has an additional revenue source; lodging.
There are two hospitality buildings, the Lodge, a 3,200-square foot log cabin overlooking a pond and the 19th century farmhouse, which are available for rent.
The properties are rented year-round, except during mud season.
"This is a nice place to stay to connect to food, a place for healing retreats from loss, from life-changing events and to learn about food production," said Canty.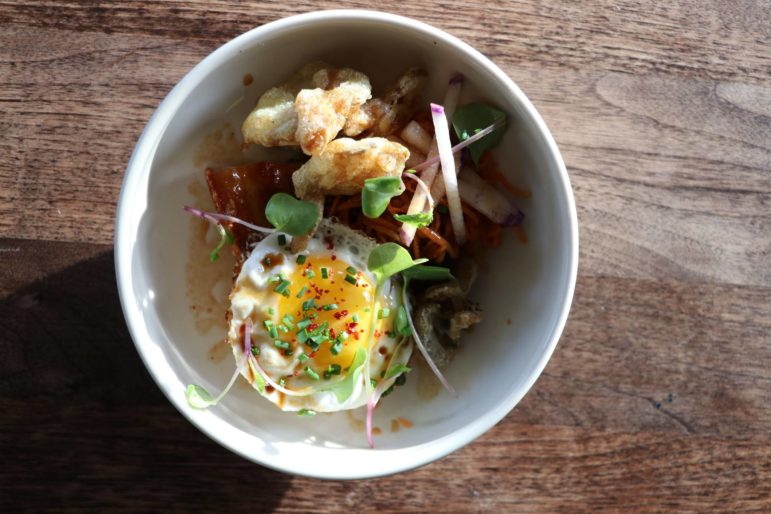 Speaking of food production, the Farm at Woods Hill produces and distributes.
"We are our own meat distributor. We take the meat to a local butcher. It is vacuum packed and frozen in primal cuts. This means whole, like a whole shoulder," said Reed, adding by handling a lot of meat at once, it saves energy.
"We transport about five thousand pounds to Massachusetts and the drive can be a fourteen-hour round trip," added Reed.
Reed stresses how the animals are raised humanely and butchered humanely. This makes for a happy animal, she said.
"Our animals are given plenty of space to roam. They are animals being animals, a sheep being 'sheepness.' Our animals are happiness and that is what we are eating," said Canty.
For more information: http://www.farmatwoodshill.com/
InDepthNH.org is New Hampshire's only online, nonprofit news outlet.