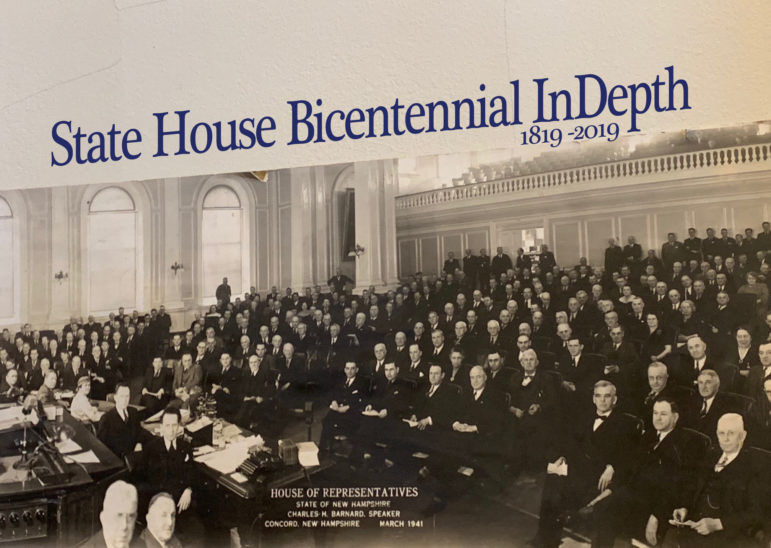 By PAULA TRACY, InDepthNH.org

CONCORD – The New Hampshire State House turned 200 years old Sunday with a birthday cake, singing, dignitaries wearing the garb of the 1800s and the public to pay tribute to the "People's House" – all under the gold dome.

Built of granite to signify the strength of its land and people, the New Hampshire State House began to operate at the location where laws are made on June 2, 1819.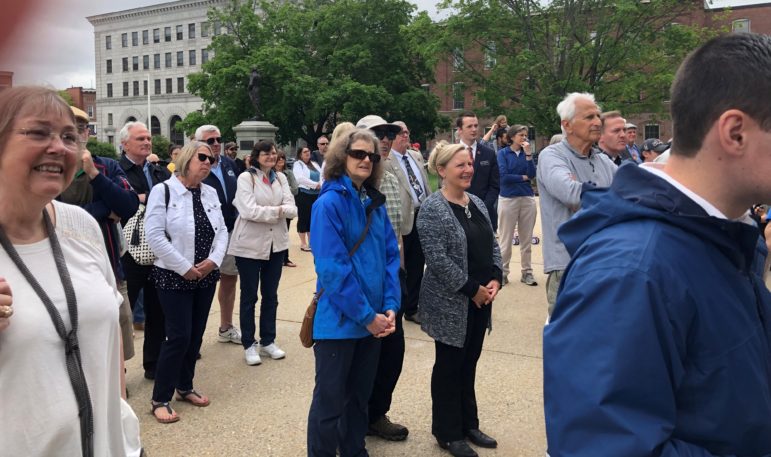 In a gubernatorial proclamation naming June 2 to June 8 State House Bicentennial Week, the opening festivities included remarks from state leaders and a large sheet cake that was enjoyed by several hundred in attendance.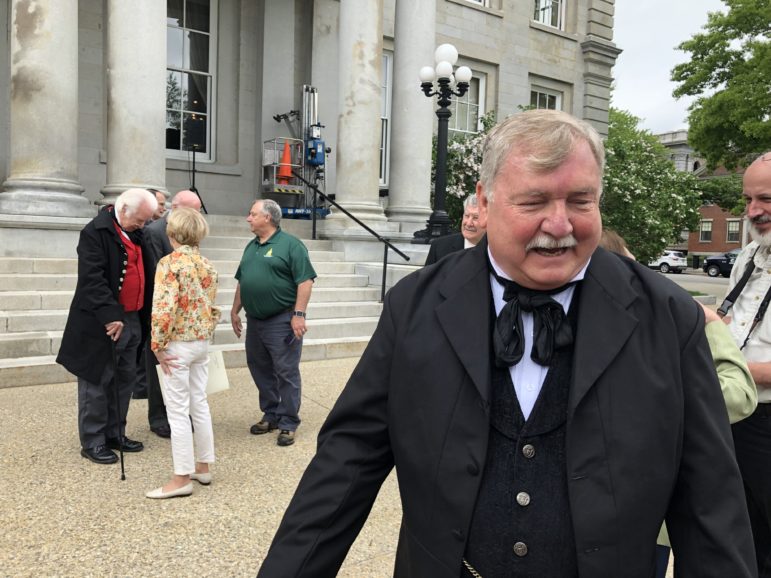 The crowd sang "Happy Birthday" to the State House.
"(There's) only a handful of buildings in this large country of ours – outside of Washington – whose walls have seen the faces of as many Presidents as this one has," said Secretary of State William Gardner.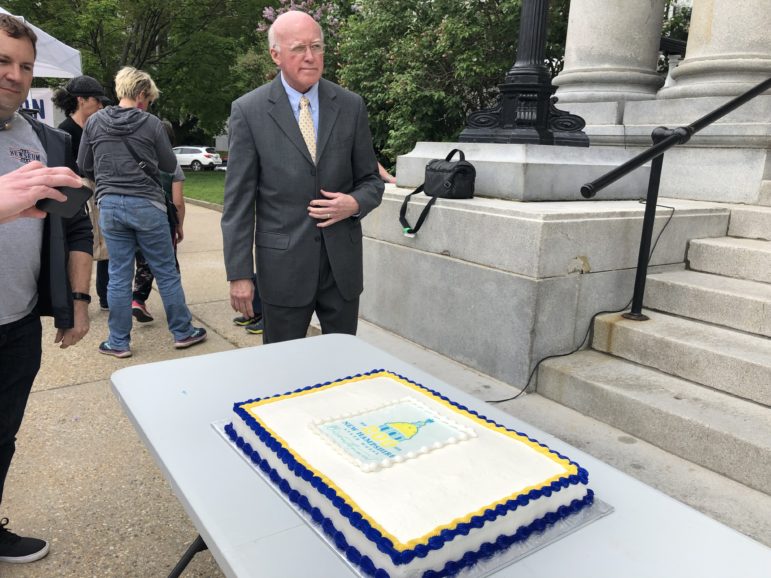 He read from the remarks of Gov. Samuel Felker, who was speaking to a group a little over 100 years ago and he wondered if the building and its principles would survive.
"'This House, is in itself, the embodiment of the hope and aspirations of a free people. It is probably idle and useless to speculate on the kind of government our successors in 100 years from now' – he's talking about now – 'will enjoy and yet what speed and with what certainty will those 100 years come to their termination?'"
"'Will this State House be here? Will our principle of government survive?'" Felker asked that crowd, a century ago, Gardner said.
Gardner said it stands a "proud symbol" of our continued government.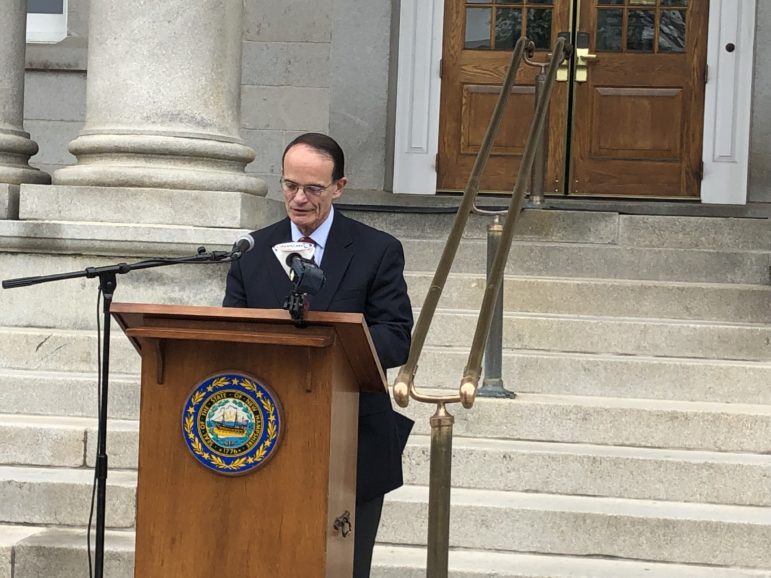 Concord Mayor Jim Bouley said in 1814, a $4,000 cash bid sealed the permanent fate of the city to be its state's capitol. Prior to that date, the capital had moved from Exeter, Portsmouth, Hopkinton, and Hanover.
House Speaker Steve Shurtleff, D-Concord, noted that things have changed over the years and that Constitutional amendments have allowed different people to be able to serve here.

For him personally, Shurtleff said the State House is the geographic center of his life – where he grew up, where he served its residents in various capacities and where the future lies.

"God Bless New Hampshire,"Shurtleff said.
nhstatehouse200.com/schedule-of-events/ #nhstatehouse200
New Hampshire State House Bicentennial Commission
Bicentennial Week Celebrations
CELEBRATORY EVENTS
Please check back soon for more information on the week's events!
---
1:00pm – State House Opening Ceremony
2:00, 3:00, 4:00pm – 1819 Session Reenactments
1:30 – 4:30pm – Tours of the State House
---
MONDAY – JUNE 3, 2019 – GOVERNORS' DAY
10:00am – Governor's Roundtable
11:30 am – Unveiling of Historic Documents with Governor Sununu
1:00pm – Executive Councilors Roundtable
View the live stream of today's activities here.
---
10:00 am – Supreme Court Oral Arguments in Representatives Hall
1:00 pm – State House Press Corps Roundtable
View the live stream of today's activities here.
---
10:00am – 4:00pm – New Hampshire Cultural Heritage and Arts Day on the Plaza
12:00pm – State House Students Mixed Media Awards Ceremony
View the live stream of today's activities here.
---
THURSDAY – JUNE 6, 2019 – LEGISLATORS HOMECOMING DAY
10:00am – House and Senate in Joint Convention
12:00pm – Legislative Old Home Day Picnic
View the live stream of today's activities here.
---
11:00am – 7:00pm – New Hampshire Made Street Market, Capitol Street
---
10:00am – 2:00pm – Tours of the State House
2:00pm – Closing Ceremony
Information provided from nhstatehouse200.com