By PAULA TRACY, InDepthNH.org
CONCORD – By a vote of 279-88, the New Hampshire House of Representatives approved a bill Thursday that would end the death penalty in New Hampshire.
It now heads to the state Senate where supporters of House Bill 455 say they believe they have at least 16 votes, enough to override an expected veto by Republican Gov. Chris Sununu. The penalty for capital murder would instead be life in prison without parole.
Last year, Sununu vetoed a similar measure after the House voted 223-116 and the Senate voted 14-10, short of the threshold for an override.
A statement from his office said the governor "will continue to stand with crime victims, members of the law enforcement community and advocates for justice in opposing a repeal of the death penalty."
State Rep. Renny Cushing, D-Hampton, sponsor of the bill, whose father and brother-in-law were both murdered, said nothing about the death penalty helps victims and it only "widens the circle of violence."
But state Rep. Jeanine Notter, R-Merrimack, who described in graphic detail the 2009 Mont Vernon murder of Kimberly Cates, said the state should retain the death penalty as a tool to deter capital murder.
"Only the worst of the worst" killers in the state get the death penalty, Notter said.
Currently, there is one person on death row in New Hampshire. Michael Addison was convicted of the 2006 killing of Manchester Police Officer Michael Briggs.
The state has spent $5.5 million to date pursuing the death penalty in that case when the average cost of keeping an inmate in prison is $42,000 a year, said Rep. David Danielson, R-Bedford.
From a financial perspective, "it just doesn't make sense," he said.
Danielson added that he used to support the death penalty, but as a pro-life advocate, he came around to reconcile the two.
Since 1734, 24 people have been executed in the Granite State, said Rep. Notter, noting the last time anyone was executed was in 1939.
Cushing said it has been 185 years since the first request to abolish the death penalty came before state leaders.
Before the vote, Cushing noted one-third of the House members were having their first chance to vote on capital punishment.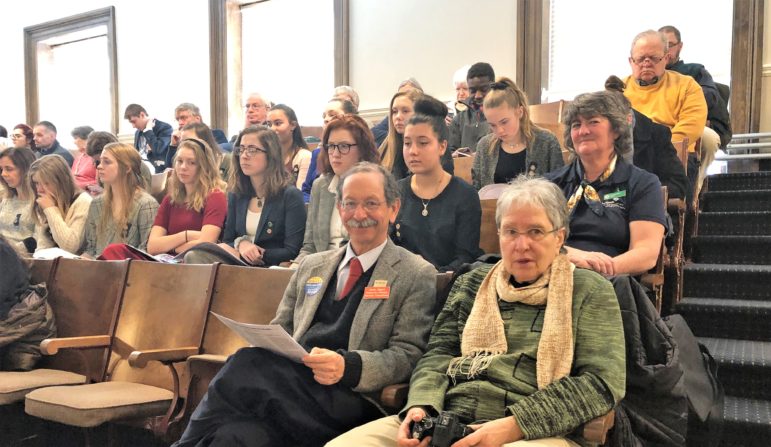 Barbara Keshen, chair of the New Hampshire Commission to Abolish the Death Penalty, said the bill now moves on to the state Senate with at least 16 of the 24 members indicating they plan to support it, enough, she said, to override a veto.
There were more than 30 supporters of the bill sitting in the House gallery, with one saying she hoped she was there for a historic vote.
Lindsay Dearborn of Lebanon said she has come every year since 2000 when death penalty votes were taken.
Rep. David Welch, R-Kingston, said he was a supporter of the death penalty until his wife died "two years, two months and seven days ago." He said he has come to believe the anguish that comes with the loss of a life is too much and that government should not be killing its citizens.
Cushing said he respected the judgment of each legislator.
"But at the end of the day I take this position (to support abolishment) because I don't believe it works for victims of crime," Cushing said.
Cushing described his father Robert Cushing going to the front door of his Hampton home and being shot to death in front of his mother.
Cushing said after arrests were made in connection with his father's murder, he was stopped in the grocery store. The person said, "I really hope they fry so that you and your family can get some peace."
Cushing went on: "I knew he was trying to give me some comfort. He was assuming because my Dad was murdered, I had changed my position."
But Cushing thought "it would only give more power to the killers. If you let those who kill turn us into killers then we all lose."
The notion that he or other victims would want a killer of their loved one to be taken from a jail cell and "pumped full of poison…does nothing to bring back a loved one."
Rep. Al Baldasaro, R-Londonderry, who said he wore his Marine Corps tie in support of slain Officer Briggs, said legislators have to "keep their emotions at the door and do what is right" to maintain the death penalty.
Baldasaro said every police officer who goes to work in the morning should be able to go home tonight and know that there is a law to deter his murder.
Click here for the rest of the House action on Thursday.