By NANCY WEST, InDepthNH.org
CONCORD – Proposed legislation that would make the state's Laurie List of dishonest law enforcement officers a public record passed the House Judiciary Committee as amended Tuesday by a 19-0 vote.
If House Bill 155 is signed into law, the list containing about 260 redacted names, which is now called the Exculpatory Evidence Schedule compiled by the Attorney General's Office, would be treated as a public record under the state's right-to-know law.
Presently, the names of the officers and the date of the incident that caused the officer to be placed on the list are totally blacked out. The categories of discipline are frequently left blank.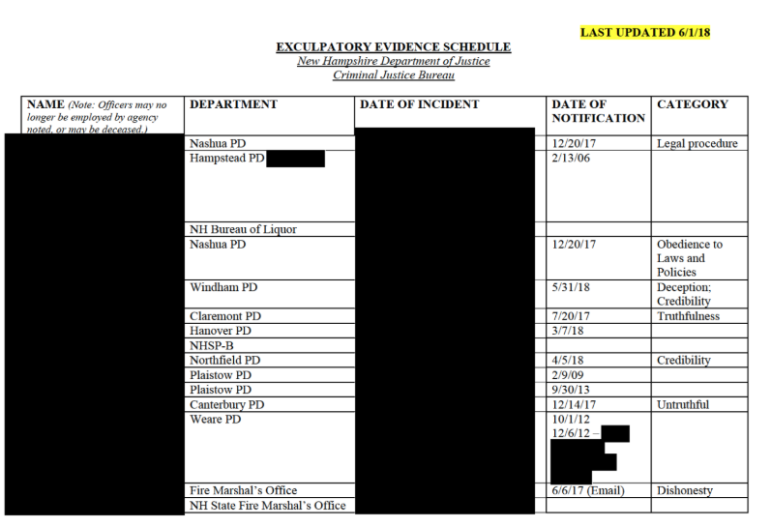 The list is the subject of a public records lawsuit filed by ACLU-NH and six news outlets seeking to obtain the unredacted list from the Attorney General's Office.
But that legal challenge playing out in Hillsborough County Superior Court South in Nashua may be unnecessary if HB 155 is signed into law, according to the bill's sponsor Rep. Paul Berch, D-Westmoreland, a retired public defender.
"If HB155 is signed into law, it would likely end the need for the 'newspaper/ACLU' lawsuit," Berch said in an email.
House Bill 155 as amended isn't much different from the original, according to Berch.
"It isn't all that different in concept – just spells out a lot of the Due Process (that already exists in law)," said Berch.
"What is notable is the 19-0 vote," he added.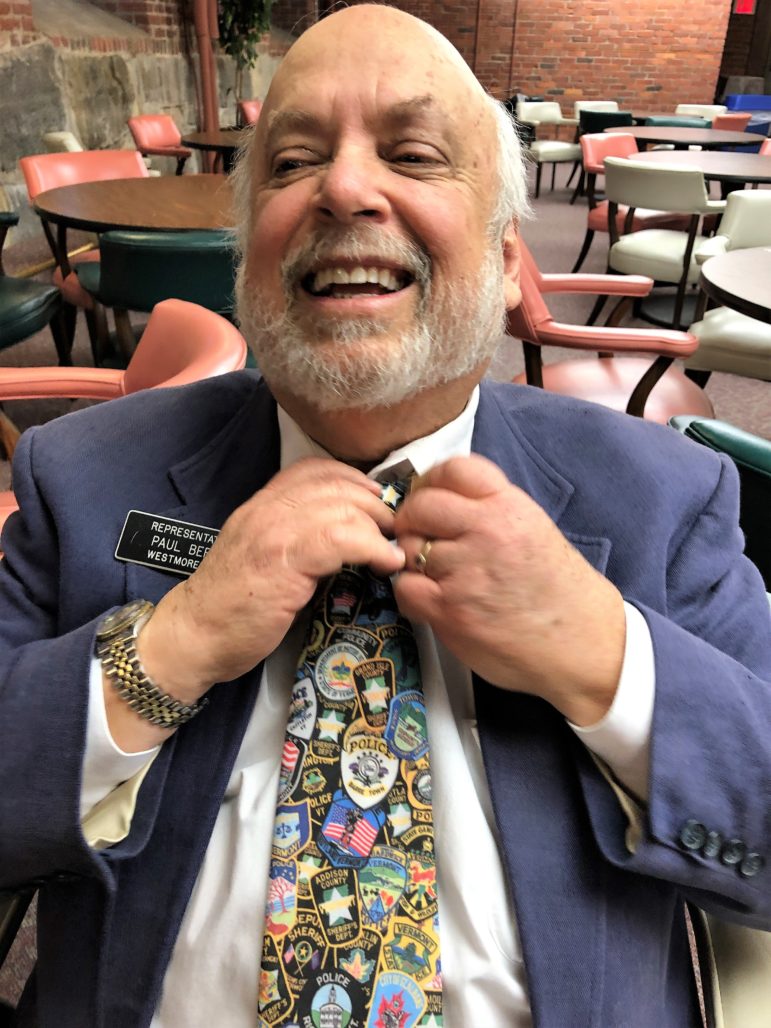 Gov. Chris Sununu's press office didn't respond to an email asking if he would sign the Laurie-related legislation.
HB 155 states that the Laurie List (Exculpatory Evidence Schedule) will be a public record under the state's right-to-know law RSA 91a.
The Laurie List includes law enforcement officers who have been disciplined for dishonesty, excessive force or mental illness.
Examples of the discipline that could land an officer on the list include: a deliberate lie during a court case, falsification of records or evidence, any criminal conduct, egregious dereliction of duty, excessive use of force or mental illness or instability that caused the law enforcement agency to take some affirmative action to suspend the officer for evaluation or treatment as a disciplinary matter.
Gilles Bissonnette, legal director for ACLU-NH who spearheaded the public records lawsuit, said: "The ACLU-NH strongly supports HB155 and commends the House Judiciary Committee's unanimous support for this bill.
"This bill would appropriately make available to the public information concerning police misconduct. This bill recognizes that transparency is critical to building trust between law enforcement and communities. If the public is denied information about police misconduct, it sends a message that police departments have something to hide and want to protect officers from public scrutiny," Bissonnette said.
Companion House Bill 153
Companion legislation, HB 153, also sponsored by Berch, is expected to be voted on in the House on Thursday.
As amended, HB 153 would make some police disciplinary records public under RSA 91a. It would also make public completed investigations of police officers who have shot and killed or seriously injured someone.
 That bill would include making public any police disciplinary record in which the officer was found guilty of sexual assault, or has a sustained finding of dishonesty including perjury, false statements, filing false reports, destruction, or falsifying or concealing evidence. House Bill 153 says those records "shall be a public record under RSA 91-A."
If both bills pass the House, they will next go to the Senate.
Former Attorney General Joseph Foster updated the Laurie List protocols in 2017. Prosecutors are required to notify the defense if an officer with a Laurie designation is involved in their case.
The 1963 U.S. Supreme Court case Brady v. Maryland makes clear that prosecutors are constitutionally mandated to disclose the discipline to criminal defendants if it is considered exculpatory evidence – that is favorable to the defendant – who could use it to impeach an officer's testimony.
At the Feb. 25 public records court hearing, New Hampshire Solicitor General Daniel Will argued that the redacted names on the Laurie List must remain confidential by state law while ACLU-NH attorney Bissonnette insisted they must be made public so citizens can hold their government accountable.
After the hearing and voluminous court filings, Judge Charles Temple took the matter under advisement. He could issue a written order any time.
The media outlets participating in the ACLU-NH public records lawsuit seeking the unredacted Laurie List include the New Hampshire Center for Public Interest Journalism, the Nashua Telegraph, the Union Leader, the Concord Monitor/Valley News, the Portsmouth Herald/Foster's Daily Democrat, and the Keene Sentinel.