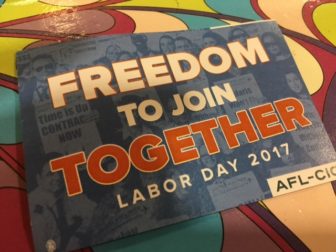 "We need to come together to win together," said U.S. Sen. Bernie Sanders.
Manchester – U.S. Senator Bernie Sanders of Vermont spoke to a cheering full house at St. George's Greek Orthodox Church at this year's New Hampshire AFL-CIO Labor Day Breakfast on Monday.
U.S. Sen. Jeanne Shaheen, D-NH, spoke at the breakfast, and was also scheduled to walk later in the Milford Labor Day Parade at 1:00 p.m. The parade route will lead from West Street, down to the Milford Oval ending at the Milford Veterans of Foreign Wars Hall.