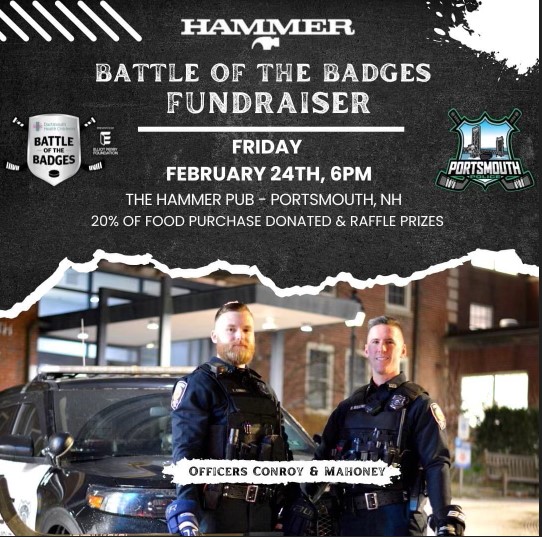 UPDATED: At the beginning of the Portsmouth Police Commission meeting Monday, Chairman Stefany Shaheen said, "Jackie Burnett is not here tonight. She was involved in an incident over the weekend that is currently under investigation by the State Police and there's an internal investigation underway as well." Shaheen said the commission will make no comment until the investigations have run their course.
By NANCY WEST, InDepthNH.org

PORTSMOUTH – Jacqueline D. Burnett, 35, of Hampton, was arrested for DUI following a crash early Saturday morning in Portsmouth, according to State Police public information officer Amber Lagace.
Burnett is Portsmouth Police Chief Mark Newport's executive assistant. Lagace confirmed Burnett's arrest at about 3 p.m. Sunday. Attempts to reach Burnett Sunday were unsuccessful.
Portsmouth Police asked State Police to cover the crash that occurred at 1:58 a.m. Saturday. It was a single vehicle crash with wires down on Peverly Hill Road in Portsmouth, Lagace said on Saturday saying it was a city employee, but not naming Burnett at first.
When Police Chief Mark Newport was asked via email Saturday if the crash involved someone in his department who had been at a police sanctioned fundraiser at the Rusty Hammer Pub Friday night before the crash, he said it wasn't department sanctioned. It was a fundraiser for the Battle of the Badges.
"Unfortunately, I will not be available to speak with you until Monday. I would be interested to hear more about your statement referring to your understanding of this event as being department sanctioned as this was a fundraiser to raise money for the 'CHAD' hockey game that two department members are participating in, not a fundraiser for our department," Newport said in the email. He didn't respond to further questions Saturday or Sunday.
Burnett has a Portsmouth Court date scheduled for March 29 at 8:30 a.m., Lagace said.
Someone answered the telephone at the Rusty Hammer Pub Sunday but hung up when asked about the police fundraiser.
According to the Portsmouth police website, Burnett's duties include serving in a confidential capacity.
"Among many other varied responsibilities, this position has primary responsibility for planning and coordination of Police Ceremonies and Memorials, and interfacing with local, state, and federal administrative personnel on behalf of the Chief. The position also supports the Police Commission with scheduling and posting meetings for the Commission as well as recording and publishing meeting minutes which are bound by statutory timelines. All email sent to info@portsmouthnhpd.gov come to the Chief's Executive Assistant for triage and dissemination. Chief's Assistant generates press releases, press conferences, writes copy and correspondence for the Chief, pursues research, manages scheduling, and executes special projects at the direction of the Chief."
Members of the Portsmouth police commission Stefany Shaheen, Buzz Scherr and Kate Coyle didn't respond to requests for comment.