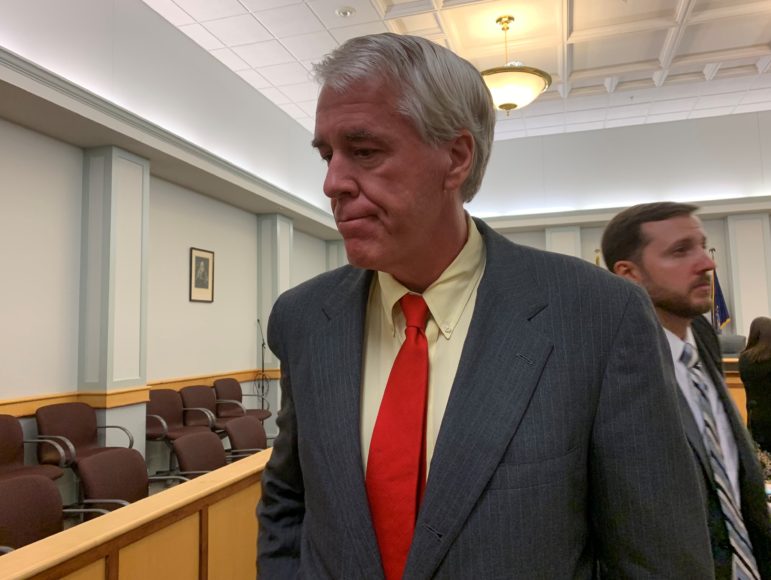 By NANCY WEST, InDepthNH.org
CONCORD – Almost 18 months after he was convicted of four misdemeanor domestic violence charges and acquitted on five counts, former state Senator Jeff Woodburn says he has carved out a much happier life than the one he knew in politics.
"In politics, the outside grows bigger and bigger and the inside smaller and smaller," Woodburn said.
"It's not without disappointment, failures and frustration, but I've created a new life that is better than the old life. I'm very happy. I'm content," Woodburn said.
Not long ago, he had hoped to someday run as a Democrat for governor when he was engaged to Emily Jacobs, who was also politically active.
Their relationship and spectacular breakup were scrutinized by the Superior Court jury trial that ended May 13, 2021, in Coos County, three years after Woodburn's arrest.
Woodburn was sentenced to 60 days in jail, but was allowed to remain free pending appeal.
Last week, Woodburn, representing himself, argued his appeal to the New Hampshire Supreme Court in Concord.
Woodburn argued that Judge Peter Bornstein erred by not allowing the jury to hear a self-defense instruction.
"I'm going to argue that the court erred by not providing me a self-defense instruction and that's a structural error requiring reversal," Woodburn told the three justices hearing the appeal Oct. 18.
The heart of Woodburn's appeal rests on whether he was entitled to a self-defense jury instruction because there was some evidence of simple assault and confinement during trial testimony and a low legal bar that requires only "some evidence" for a jury to hear a self-defense claim.
Woodburn argued, too, it was wrong to deny his request because Bornstein took the unusual step of requiring a requisite mental state of anticipating harm.
Much of the court argument last week surrounded a Dec. 15, 2017, heated argument between Woodburn and Jacobs in a car, the night he admitted biting her arm claiming she had grabbed his phone and he wanted it back to call a friend so he could leave.
Woodburn told the justices he wanted to get out of the car Jacobs was driving in the middle of the night far from anything in Coos County.
Jacobs wouldn't stop until he grabbed the steering wheel, Woodburn said.
"That by definition is simple assault confinement," Woodburn told the court.
Woodburn said the Coos County jurors would have understood the presence of danger that he felt in the middle of the night on a dirt road in December.
"Those together without any testimony from me gives me the right to be able to defend myself," Woodburn told the justices.
Associate Justice Patrick Donovan said: "But there's no evidence the alleged victim touched you."
Woodburn: "Your honor, there doesn't need to be. My testimony alone is enough to warrant – to let the jury decide whether those conflicting facts are a job for the jury to determine, not the court."
Assistant Attorney General Joshua Speicher told justices: "The trial court properly denied a self-defense instruction in this case where there was simply no evidence that would have supported a rational finding in favor of self-defense. There was no evidence that the victim in this case ever used or threatened to use force in a true assault."
Justice Donovan: "But there is evidence the complainant had confined the defendant in the past. Correct?"
Speicher: "In the past your honor, I would say no I don't believe that's what the evidence was."
Justice Donovan: "Mr. Woodburn testified and I'm quoting, 'It's something that was a constant problem of me trying to leave when things got too hot and Emily blocking me…' Why isn't that some evidence of confinement?"

Speicher: "That was divorced and completely separate from the night of Dec. 15. Mr. Woodburn in that case was talking about his relationship generally."
Associate Justice James Bassett: "I don't see why that's a separate issue because he brings that experience and that knowledge into this current incident and so the interrelationship that they had in the past. I recall from the record there was one occasion where the complainant sat on the hood of a car. Why isn't that information the jury should have the benefit of in sorting through these issues?"
Speicher: "The incident with the car if you look at the record occurred after Dec. 15, after this incident so I don't think it should relate at all."
Associate Justice Anna Barbara Hantz Marconi: "But we know that on the 15th that he was prevented from getting out of the car by her so there was confinement that particular day."
Speicher: "Respectfully Justice Hantz Marconi, he was not prevented."
Hantz Marconi: "Unless he wanted to jump out of a moving car."
Speicher: "The car was stopped."
Hantz Marconi: "At that point. But he had wanted to get out and she wouldn't stop it."
But Speicher insisted that just because a driver doesn't immediately stop when asked, "That does not equal confinement in any sense of the word."
Attempts to reach Emily Jacobs for this report were unsuccessful.
Jacobs, a social worker, released a statement to news outlets after the verdicts.
"Today, justice was served, and as a survivor of domestic violence, I was believed. I am grateful to the jury for convicting the defendant of domestic violence, holding him accountable for his acts of violence against me.
"Many victims of domestic violence do not come forward out of fear of retaliation or that they will not be believed. I too had that fear, especially in light of the political position and influence held by the defendant. I hope that this verdict will encourage other victims to report allegations of abuse, and that we will see a day when all perpetrators are held accountable," Jacobs said.
Woodburn was convicted of the charges he admitted to on the witness stand: breaking Jacobs' dryer door and a door at her residence and biting her on the arm on Dec. 15, 2017.
He was found not guilty of throwing a cup of water at Jacobs' face, punching her in the stomach, trespassing and a separate incident of biting her.
Life today
These days, Woodburn said life is richer with more time to travel and spend with his grown children and girlfriend Patty Dwyer, who stood by him during the trial.
Woodburn has shifted careers. Instead of working in the professional sphere in real estate, as a teacher or writer as he has in the past, Woodburn says he has found happiness as a bartender.
He splits his time between his home in Whitefield and Manchester with his girlfriend.
Woodburn became a certified personal trainer, works out regularly and lost 50 pounds.
"I've done a lot of traveling, taken road trips across the country, a new passion has emerged.
"It's great to get out and see the country."
He enjoys working in the service industry. "I meet a lot of interesting people. It's been a rich experience," Woodburn said.
Whether he will spend the 60 days in jail is up to the state Supreme Court, who took the case under advisement.