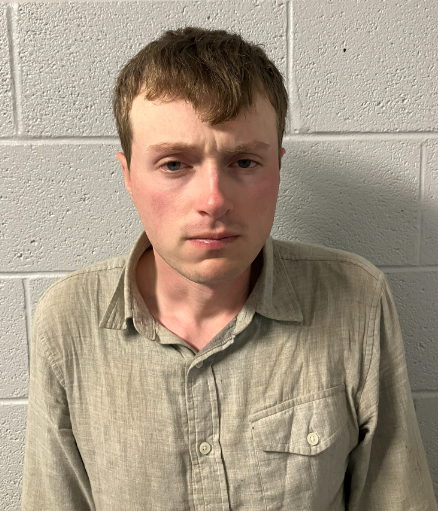 By NANCY WEST, InDepthNH.org
The 26-year-old man charged with the April 18 homicides of Stephen and Djeswende Reid in Concord waived extradition in a Vermont court Thursday and will return to New Hampshire to face two second-degree murder charges.
A police affidavit unsealed Thursday details how Concord police tracked Logan Clegg to the South Burlington Public Library last week where he was arrested Oct. 12 on unrelated charges just days before he had tickets to fly to Berlin, Germany.
The affidavit, signed by Detective Sgt. Gerard Eno, said after Clegg's arrest, a campsite in South Burlington where Clegg had been living was searched as was his backpack.
Police recovered a black Glock 17, fully loaded with Sig Luger 9mm ammunition that matched the type found at the crime scene. Also last week, a Concord police detective and an agent with the federal Bureau of Alcohol, Tobacco, Firearms and Explosives spoke with an employee at R&L Archery in Barre and confirmed that a Glock 17 was sold to an Arthur Kelly on Feb. 12, the affidavit said.
"Arthur Kelly paid cash for the Glock 17 and purchased three boxes of Sig Luger 9 mm ammunition, consistent with the two boxes found in Logan's tent," according to the affidavit.
Police also found $7,150 in cash and a Romanian passport with the name Claude Zemo with Clegg's photo.
The affidavit shows that Clegg, who police linked to sometimes using the name Arthur Kelly, was homeless in New Hampshire in the months before the Reids' murders, that he worked at McDonald's on Loudon Road in Concord and regularly shopped at Walmart before their deaths.
A Concord police officer first encountered Clegg on April 20 when searching the wooded area behind the couple's apartment before their bodies were found the following day.
According to the affidavit, the officer came into contact with an individual who identified himself as Arthur Kelly, the name sometimes used by Clegg.
"Detectives observed that Arthur Kelly was in possession of several cans of Mountain Dew Code Red soda," the affidavit stated.
From then on Clegg became known to police as the Mountain Dew Man.
It was testimony from a woman hiker who encountered the Reids and let them pass while walking her dogs on the Marsh Loop Trail in Concord that helped police.

While still near the power lines she saw the Reids walking and let them pass. And soon heard five gunshots that she believed were from a handgun, not a rifle.
Minutes later she saw a young man on the trail.
The man passed her. She turned to look back at him and found that he was looking at her, according to the affidavit.
She told police she didn't see any firearms or anything out of the ordinary, describing him as a white male, late 20s early 30s, about 5 foot 10, slender with short brown hair.
On May 20, police revisited the crime scene and found two spent bullet casings on the trail about five feet from where the shooting is believed to have occurred.
Over the next several weeks Concord police learned from several residents about an unidentified white male that resembled the sketch of a homeless person living within the Broken Ground Trail System between November 2021 and April 2022 often carrying grocery bags or Amazon packages and didn't see him after the homicides.
Police tracked Clegg who used five different credit cards and a burner email back to Utah where Clegg was arrested twice in 2020 and was wanted for a probation violation.
Police also tracked Clegg's travels through flight records showing he flew from Denver to Paris on Oct. 23, 2019, and returned to Las Vegas Nov. 3, 2019; Chicago to Lisbon, Portugal June 21, 2021, returning Nov. 7, 2021 from Munich, Germany to Boston, Mass.
Under the name Arthur Kelly, Clegg bought a bus ticket from Boston to Burlington, Vt. on May 15, according to the affidavit.
This isn't Clegg's first brush with the law relative to homicides.
When Clegg was 22 and homeless, he stabbed Lisa Ward's son to death on May 17, 2018, in Spokane, Wash., and authorities ruled it self-defense, which she never believed.
"I only hope the Reid family gets the justice they deserve," Ward said after hearing about the new arrest warrant in New Hampshire.
There were no witnesses, according to Spokane police reports. Her son's last word were: "I was beating someone up and he stabbed me in the heart."
But she believes he was trying to stop Clegg from stealing his car.
"If I can bring interest to the story, add another piece of the puzzle, it might take Logan off the street. I do think he's dangerous," she said of Clegg.