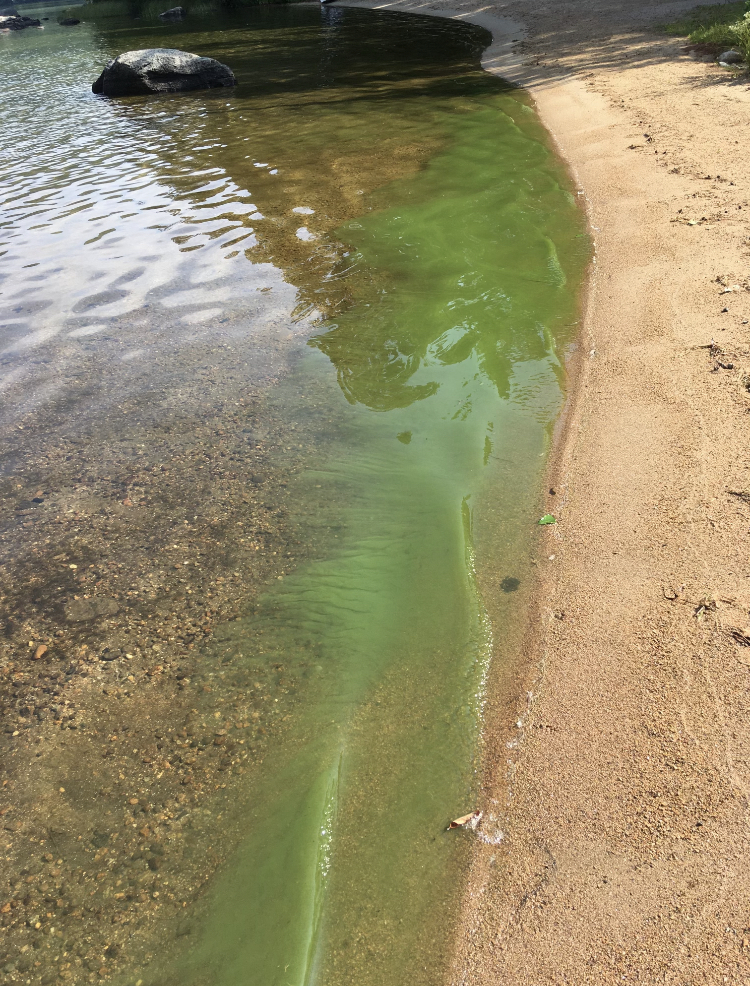 By PAULA TRACY, InDepthNH.org

MOULTONBOROUGH – It is believed to have killed dogs in New Hampshire, can sicken humans, and looks like scum on the water.

And now, the state has a hotline to report cases of cyanobacteria and an advisory committee expected to research the problem in the Granite State.

House Bill 1066 will provide an advisory committee of the Department of Environmental Services to study and make recommendations on reducing the problem, with a legislative report due in November 2023. It was sponsored by Rep. Rosemarie Rung, D-Merrimack, and Sen. Suzanne Prentiss, D-Lebanon, and signed into law by Gov. Chris Sununu July 1.
"There is a huge need for increased funding," said David Neils, chief aquatic biologist for the state in a phone interview Tuesday.

The study committee, whose members have yet to be named, will provide a deep dive into the issues of cyanobacteria which will be helpful, Neils said, when it comes time for the legislature to commit funding and to defend the need for such funding.

He said this summer is similar to last in terms of the number of reports of cyanobacteria which stand at about 30 so far.

It was once called blue-green algae but that is a misnomer as he said.

This week, Lake Kanasatka along Route 25, here was struck for the second time this summer by a bloom.

Rather than in years past when the state labeled a specific beach or area of a water body as containing the problem, the entire pond or lake is now labeled as such.

This means pets and people should steer away from the water body until the state puts out an "all clear" report out on its beach report.

It can be found here https://www4.des.state.nh.us/WaterShed_BeachMaps/

Although the state will wrap up this week with its reports on ecoli presence at beaches, it will maintain its cyanobacteria warning map through the fall, Neils said.

He said he thinks people are becoming more aware of what cyanobacteria look like.
The cyanobacteria hotline is 603-848-8094.
Amanda McQuaid headed up the state's cyanobacteria efforts until she moved to the UNH Cooperative Extension earlier this year. On a recorded line for the state, she urges the public and their pets to play it safe and avoid contact with the floating blooms on the water. Kate Langley Hastings is now the Cyanobacteria Harmful Algal Bloom Program Manager for the N.H. Department of Environmental Services.

"Remember, when in doubt, please stay out of the water with suspected cyanobacteria, especially keeping children and pets from interacting with the water."

This is naturally occurring algae that get out of control and are caused by too many nutrients mixing with the water. It can be exacerbated by warm water conditions, stormwater runoff, and human impacts, Neils said.

Those sickened have reported rashes, nausea, seizures and over time, respiratory illnesses and neurologic problems.
Chronic effects may include liver and central nervous system damage.
Some water bodies are more prone to problems than others due to their environment and the buildup of phosphorus, which can stick in the lake sediment.

Rain storms and runoff play a role. The more human-caused things such as pavement, housing, and others lead to more trouble.

Water, heat, and nutrients combine to create a cyanobacteria bloom.

Neils said he uses the tea kettle analogy of the water warming up to a bubble and this hot summer is no different.

SPECIFIC WATER BODIES IMPACTED THIS SUMMER
Halfmoon Pond in Hancock is a recent place where there has been a cyanobacteria report. It had a bloom first confirmed on Aug. 18.
Long Pond in Pelham had one reported on Aug. 16; Elm Brook/Hopkinton/Everett Reservoir in Hopkinton received an advisory on Aug. 15; Clough Pond in Loudon had an advisory lifted on Aug. 9; Tucker Pond in Salisbury had one first observed on Aug. 11; Lake Kanasatka in Moultonborough had its advisory removed after a bloom was first observed on July 29 and now has a new one, as described above.

Keyser Pond in Henniker had its cyanobacteria advisory removed while Baboosuc Lake in Amherst also had its advisory removed on Aug. 4.

While many of the reported blooms were on ponds, there are a number of reports on large water bodies including at Ellacoya State Park on Lake Winnipesaukee in Gilford which was first noticed on June 29. Also, Jockey Cove on Lake Winnipesaukee in Wolfeboro had a bloom which was removed from the list. Lake Opechee in Laconia, which has frequently had such problems over the years, had its warning lifted on June 27 and Bow Lake had a bloom in May but was taken off the list earlier this summer.

Other bodies of water suffering from the algae bloom this summer include Silver Lake in Hollis, Greenwood Pond in Kingston, Showell Pond in Sandown, Jones Pond in New Durham, Forest Lake in Winchester, Sebbins Pond in Bedford, Stinson Lake in Rumney, Ayers Lake in Barrington, Robinson Pond in Hudson, Arlington Mill Pond and Reservoir in Salem, Goose Pond in Canaan and Mascoma Lake in Enfield and Lebanon.
Also, Island Pond in Stoddard had a bloom reported in May.
Check the state website for new blooms and those removed from the list.
NO QUICK FIX
Neils said he asked a staffer to look to see if this summer was not more problematic than last but he said they found it was about the same.

"We are on track with last year," he said.

While he said there have been reports of pets dying from cyanobacteria "it's hard to confirm."

There are ways to control cyanobacteria but many are very expensive and some can be lethal to other aquatic species.

Specifically, he said copper sulfate is used to kill algae but requires a pest permit through the state Department of Agriculture to apply.

"These short-term fixes we don't recommend as they may have toxic impacts…on aquatic animals," Neils said.
For more information, visit the NHDES Harmful Algal and Cyanobacteria Bloom Program website for photos at: https://www.des.nh.gov/water/healthy-swimming/harmful-algal-blooms