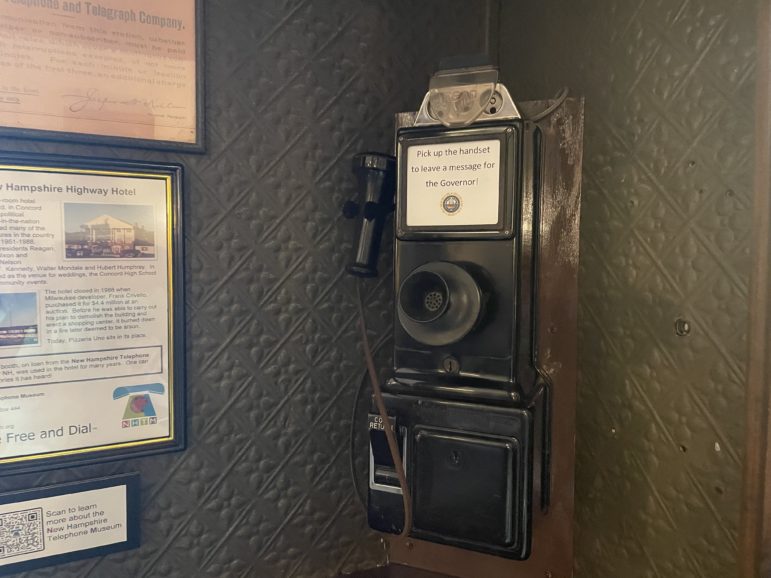 By PAULA TRACY, InDepthNH.org

CONCORD – A 1900s-era phone booth from the former New Hampshire Highway Hotel is currently located in the Executive Council Chamber, next to the office of the governor.

You can step in, pick up the receiver, hear a recorded message from Gov. Chris Sununu welcoming you to the State House and then leave him a voice mail message.
It works!

The oak phone booth is an artifact on loan from the New Hampshire Telephone Museum (with a motto of "Live Free and Dial") based in Warner.
Give them a call at the museum is 1-603-456-2234 – they actually pick it up with a real person – and be sure to dial all the numbers, now as seven-digit dialing is not allowed anymore in the 603.

Laura French, the executive director, said the museum opened in 2005 to showcase the collection of Alderic O. "Dick" Violette, whose life dream was to have such a museum.

Violette lived to see his family's collection of over 1,000 items available to the public and, French said, even gave tours into his 90s, dying at age 92 in 2013.

"He and his family had four generations who worked for the local independent telephone company which served Warner and other towns called Merrimack County Telephone Company," she said.
The company started in 1896 and sold to TDS Telecom in 2002 clearing the line for over 100 years of conversations in the Warner area.
Alexander Graham Bell is credited with inventing the telephone, though others had the same idea in 1876.

"When they sold the company, it freed Dick to work his dream," French said.
"We have grown to be much more than just a collection. Now, we have programming and special events and special exhibits and educational programs," she said. "It is always growing."
French noted Sununu came to visit the museum during the past year.
"He loves old technology. He said, 'you know, I have always wanted to get an old phone booth in the State House,'" French recalled.

As it had happened, the museum had just acquired a donated telephone booth from the New Hampshire Highway Hotel.
"We were not sure where we were going to put it in the museum," because it is an indoor booth, made of oak.
Working with Adam Crepeau, the governor's policy director, French said the museum worked to coordinate the install of the phone booth.

A few retired Merrimack County Telephone workers were pressed into service to retrofit and get the phone working, Clarke Kidder and Brian Lovell, she said.

On May 24, the phone booth was installed in the back corner of the Executive Council Chamber, connected with the State House's phone system and the governor recorded the message.

It is on loan indefinitely, French said. "As long as they want it there."

She said the phone dates back to the early 1900s and it is not known whether it was in operation when it was closed.

It had a regular dial telephone in it which had been updated prior to the original booth construction, French said.

It was particularly befitting that this particular phone booth end up in the State House as it was legislators who over the years of the past century, would stay at the New Hampshire Highway Hotel during the legislative sessions, particularly if they lived far away.

The 140-room hotel was built in 1951 and is where Fort Eddy Road plaza in Concord is now. It closed in 1988.

Many who remember the hotel have said that those were the golden days when politicians from near and far stayed together.

In addition to candidates like Richard Nixon, John Kennedy and both Bushes staying there, the hotel is where New Hampshire Democrats and Republicans worked out their legislative differences over drinks and dinner.
Likely, they would communicate the successes of their bills and political defeats to their constituents and keep the family in the loop as they worked from the hotel, long before laptops and cell phones and highways could get you from Littleton to Concord in just over an hour.

Communication has always been key to understanding differences. That has been put to the test with a pandemic, and technology which in some cases brings people closer together and at the same time, farther apart.

It is good to see a piece of history like this at the State House to remind everyone that it doesn't hurt to pick up the phone once in a while and talk to someone. And here, you can give the governor some advice which he will likely receive.

French noted that New Hampshire's rural telephone history is rich and similar to that of rural electrification.

At one time, there were thousands of independent telephone companies around the country, mostly serving rural areas. There are two left in New Hampshire: Dunbarton Telephone and Granite State Telephone in Weare.
These were often family-owned with early switchboards in the family home.
French said it has been a gradual process of being bought out, first by the Bell system and now by TDS Telecom.

TDS, for example, bought out the New London Telephone in more recent years.
The telephone museum is open Tuesday through Saturday from 10 a.m. to 4 p.m. and it is located at 1 Depot St., Warner.
To get more information, visit nhtelephonemuseum.org or like your legislator, just give them a call.