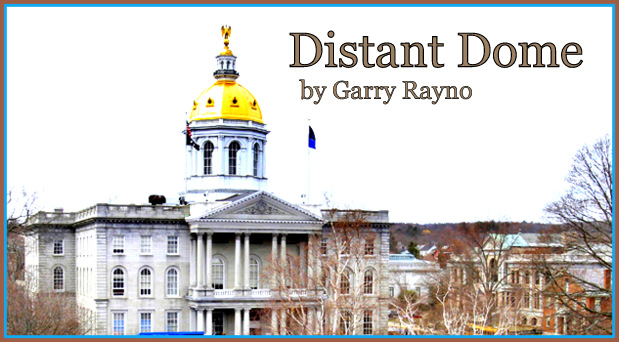 By GARRY RAYNO, InDepthNH.org
These are strange times. The New Hampshire legislature is headed in opposite directions.
One direction is to do away with laws and regulations that have been on the books for a long time, like legalizing marijuana.
The other direction is to take what has been considered "normal" or at least non-criminal behavior and make it a crime.
This direction is much more troubling than legalizing pot smoking among consenting adults.
For example, it was understood that post-secondary institutions have academic freedom, an ancient concept that has become more formalized over the years.
The moral and legal concept that freedom of inquiry is essential to the foundation of an educational institution, and restricting that freedom is the same as restricting free speech.
Although it has existed for years and occasionally makes headlines when an academic says something many people find offensive, there are many instances including here in New Hampshire of lawmakers or politicians trying to rein it in.
For example, the University of Florida barred professors from criticizing Florida Gov. Ron DeSantis's and its own COVID-19 policies, but was eventually resolved.
Other instances involved race theory and relations at that state's flagship institution.
Here a bill that has had a public hearing but yet to have a recommendation from the House Education Committee, would require public higher education to follow the same guidelines applied to public elementary and secondary schools over "discrimination" or divisive concepts.
Like the law passed last session, a professor's credentials are the target, so the person's livelihood is at stake.
And another bill would resurrect a Cold War era loyalty oath for public school teachers with serious consequences for putting the country's founding or history in a negative light.
Both the bills and the law reach into the classrooms of colleges and high schools like never before, that, if not criminalizing what was standard behavior in the past, punishing those who would dare break the law with the loss of their jobs.
Similarly, since the Roe vs. Wade decision of the US Supreme Court, a woman's right to make her own reproductive decisions or decide to have an abortion, has been a fundamental right just as others guaranteed directly under the constitution.
While the court has since said states can impose restrictions, it has never said it would end the fundamental right it granted, although that may change in the coming months.
For many years since the decision, New Hampshire lawmakers never restricted reproductive rights, until passing a parental consent law the US Supreme Court overturned because it did not have an escape clause if the life of the mother was at risk.
But last session, the legislature passed and the governor signed a bill banning abortions after the 23rd week of pregnancy and for good measure added a provision requiring a woman to have an invasive ultrasound for any abortion procedure.
The changes were included in the budget package as was the previously mentioned "discrimination" or divisive concepts provision, which says to legislative observers the proponents did not believe those provisions would stand on their own.
Gov. Chris Sununu said he would veto the divisive concepts bill, and continually says he is pro-choice, but signed the budget package into law.
And this year, there is a bill that would ban abortion when a fetal heartbeat is detected, which occurs during the first few weeks of pregnancy.
The bill is similar to one passed in Texas that rewards people who report anyone breaking the law or helping someone to break the law.
The bill, like the ban after the 23rd week of pregnancy, criminalizes physicians who perform these procedures.
So doctors who could, until last session, work with their patients to make the right decisions for themselves now face hefty fines, jail time and will likely find it difficult to work in their chosen field.
And this criminalization of what has been acceptable practices is not just about schools and abortion, it is also reaching into the arena of private business.
This session there are numerous bills that would prevent private businesses from requiring employees to be vaccinated against COVID-19, or to require masks be worn in stores or offices. Similar bills target public institutions like schools and state buildings.
Rather than letting the business owners make the decision what is best for their employees and customers, the legislature wants to step in and make that decision for them.
If you are a public university or healthcare facility who accepts federal money, as most do, you have a federal vaccination mandate to follow so you are between the proverbial rock and a hard place.
Lawmakers did not see fit to tell private businesses what vaccinations their employees needed before the pandemic, but they want to do that now.
The Senate Education Committee will hear a bill this week that would require all school boards to hold a public comment session for at least 30 minutes.
Almost all school boards have public comment sessions, but recently some have had to be shut down because a public disruption or members were threatening.
The bill would have the State Board of Education develop a code of ethics for school board members and school boards would have to sign on to it.
Where does this stuff come from?
You should not be surprised to learn that very similar legislation has been proposed in many states across the country.
This is not isolated in New Hampshire, but has gotten a little further here than in most states not in the south or out west.
On the other hand, people who grew up in the 60s have long known that marijuana or even hashish is a lot less destructive than alcohol.
In the 1970s, a Durham police officer standing outside the Wildcat Pub told a group of us he longed for the days when students smoked pot because it was a lot less trouble then now when everyone is drinking again.
If you look back to prohibition you see the same thing that is going on now, a minority, but with influence, stopped the sale of alcohol, but not really.
The same could be said about the war on drugs.
These were ill-conceived laws and regulations that created criminals for what is normal human behaviors.
What is most troubling about today's move to criminalize what is now or was standard practice, is the folks pushing this agenda in the legislature are the ones most adamant about their own personal liberty.
What we have is tyranny of the minority believing everyone should adhere to their beliefs, whether you agree or not, and if it isn't illegal, they will change the laws.
The pendulum cannot swing back fast enough.
Garry Rayno may be reached at garry.rayno@yahoo.com.
Distant Dome by veteran journalist Garry Rayno explores a broader perspective on the State House and state happenings for InDepthNH.org. Over his three-decade career, Rayno covered the NH State House for the New Hampshire Union Leader and Foster's Daily Democrat. During his career, his coverage spanned the news spectrum, from local planning, school and select boards, to national issues such as electric industry deregulation and Presidential primaries. Rayno lives with his wife Carolyn in New London.