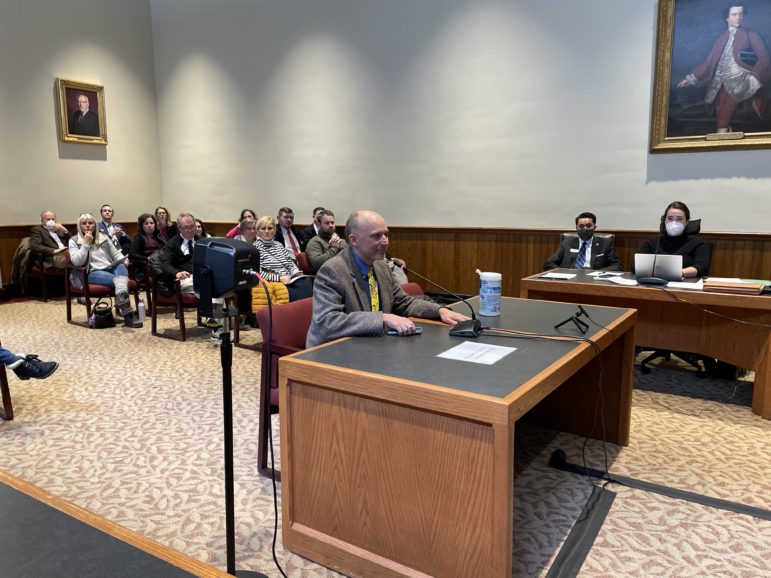 By PAULA TRACY, InDepthNH.org

CONCORD – Abortion issues took center stage in the Senate Judiciary Committee Wednesday with two bills – one to repeal the new 24-week abortion ban and the other to enshrine existing abortion rights into law.
SB 399 would repeal the state's new ban on abortions after 24 weeks of pregnancy, regardless of issues of rape or incest, would criminalize performing such abortions for doctors and require all women to get an ultrasound to determine gestational age before any abortion.

The second hearing was on SB 436, the Access to Abortion-care Act. It would enshrine abortion rights into state law and ensure that abortion remains safe, legal, and accessible in New Hampshire regardless of what decision is handed down at the U.S. Supreme Court on Roe v. Wade cases in the coming months.
An overflow crowd on both sides of the issue came to the State House in Concord in spite of the pandemic that is now raging in the state.

Both sides were asked by Chairman Sen. Sharon Carson, R-Londonderry, to be civil and limit to three minutes their testimony, which was observed.

State Rep. Walter Stapleton, R-Claremont, opposed Senate Bill 399. Stapleton noted that even Roe v Wade does not give all women a right to an abortion.

He noted many of his constituents have an abhorrence to abortion except in the case of saving the woman's life and that the new law gives women 24 weeks to decide to have an abortion in cases of rape or incest.

Sen. Becky Whitley, D-Hopkinton, asked him about the heartbreaking cases of women who desperately want a child but find out that the fetus cannot survive and now will have to carry that baby through to term.

Stapleton said that sort of testimony, heard during a House hearing Tuesday, "brought a tear or two to my eyes as well," but he said the women have six months to decide, which he said, "is most reasonable and while there is no exception for rape or incest, there is an exception for the life … of the mother."

Stapleton said those who have to carry to term with an unviable fetus would be exceptional cases.

Sen. Cindy Rosenwald, D-Nashua, sponsor of SB 399, said New Hampshire has high COVID-19 rates and under normal circumstances, medical officials would attend the hearing, but she urged them to stay at their posts and "could not ask them to abandon those responsibilities," although some did testify.
She said 1,062 had registered comments in support of the bill and that it is about individual freedom.

"What right does the government have to tell women what they can and cannot do with their bodies," Rosenwald asked.
In a statement, Kayla Montgomery, vice president of public policy for Planned Parenthood of Northern New England, called it a crisis moment.
"Nearly half of a century of legal precedent is about to be upended in the U.S. Supreme Court. We need New Hampshire solutions to protect and expand access to abortion care," Montgomery said. "We urge the New Hampshire Senate to fully repeal the abortion ban and ultrasound mandate and pass the Access to Abortion Care Act because every Granite Stater should have access to the health care they need – including abortion – without government interference."
Rosenwald read part of an email from a rabbi in Nashua who said abortion is not murder and a fetus, while sacred, is not a person in the legal sense. He said the new law is an impingement on his ability to counsel in difficult circumstances.

"Today we are at a crossroads as a state. Do we respect the women's rights to choose," Rosenwald said.

Whitley asked her what the differences are between New Hampshire's abortion ban from other states which also have the 24-week deadline.
Other states have broader exemptions, Rosenwald said.

Jason Hennessey, president of New Hampshire Right to Life, said he opposed SB 399 on behalf of thousands of citizens.
He asked the committee what is the definition of a person and what protections do they have.

Hennessey said a broad consensus across America believes a child is one at 24 weeks and is opposed to abortions after that date.

Sen. Donna Soucy, D-Manchester, spoke in support of the bill and wanted to focus on reproductive health in the state, noting three health centers have had their contracts denied by the Executive Council three times since September.

This is in spite of the fact that no abortions are paid for from those contract funds, she noted.
Soucy said the governor supported the contracts.

Soucy said she believes there may be even more restrictive efforts coming down the line on abortion from Republicans this year.

Whitley asked who is being impacted, noting that some may be able to go to Massachusetts for services.

Sen. Tom Sherman, D-Rye, also supported the bill as it relates to the medical community of which he is a part as an Exeter physician.

He said the current law jeopardizes the health care of the state and violates longstanding prohibitions on legislating medical care.

Sherman said few obstetricians are practicing in the North Country already.

The threat of prison time cannot possibly help the retention of medical care.
The fact that the law now says women who are pregnant and want an abortion must have an ultrasound is an unprecedented invasion into physician/patient relationship, Sherman said.

Sen. Harold French, R-Franklin, asked why the 24 weeks ban is one of the most restrictive in the nation.
"It's the ultrasound requirement, it's the criminalization," Sherman said. "It's the package."

So would you be in agreement with 24 weeks, French asked.
"No," Sherman said, "that is saying you or the legislature knows better."
Sen. Rebecca Perkins Kwoka, D-Portsmouth, is the prime sponsor of Senate Bill 436, the Access to Abortion Care Act.
"We know that reproductive rights and freedoms have never been more in peril than they are now at the national level," Perkins Kwoka said.
She said the U.S. Supreme Court is poised to dismantle the Roe v. Wade decision as soon as this year.
"Half of the country may not be able to access abortion in their own state," Perkins Kwoka said.
"To be clear in six months Roe v Wade will most likely no longer be the law of the land."
Right now in New Hampshire there is nothing in place to ensure the right to have an abortion, she said. This bill would put it into statute in New Hampshire so abortion will remain safe and legal regardless of what the court does, she said.
"Despite anti-choice legislation passed in the budget last year, granite staters by and large strongly support access to safe and legal abortion," she said.
Perkins Kwoka said while she remains deeply opposed to the 24 week ban and mandatory ultrasound, this bill does not seek to repeal the ban in any way.
"This legislation specifically honors existing state law and does not seek to override it," Perkins Kwoka said.
What it does do is enshrine in New Hampshire statute the right to safe and legal abortion up to 24 weeks of pregnancy, she said.
Rep. Stapleton also testified on SB 436.
"I rise in opposition to SB 436FN. Senate Bill 436FN is flawed," Stapleton said.
Abortion is not about care, he said. It is a procedure that terminates human life in the womb, he said.
And other than in instances to save the mother's life or health, "It's really wanton destruction" of human life, Stapleton said.
He asked the committee to find the bill inexpedient to legislate.
The committee didn't vote on either bill Wednesday.