WRITING ON THE FLY
By George Liset
Winter is finally here, and so is Winter weather. For some flyfishers, their fishing seasons are Spring, Summer and Fall.
For some anglers, Winter is the time to hit the slopes or the ice fishing shanties. For others like myself and some of my friends, we will continue to haunt the rivers and streams in pursuit of trout; However, I draw the line at single-digit weather.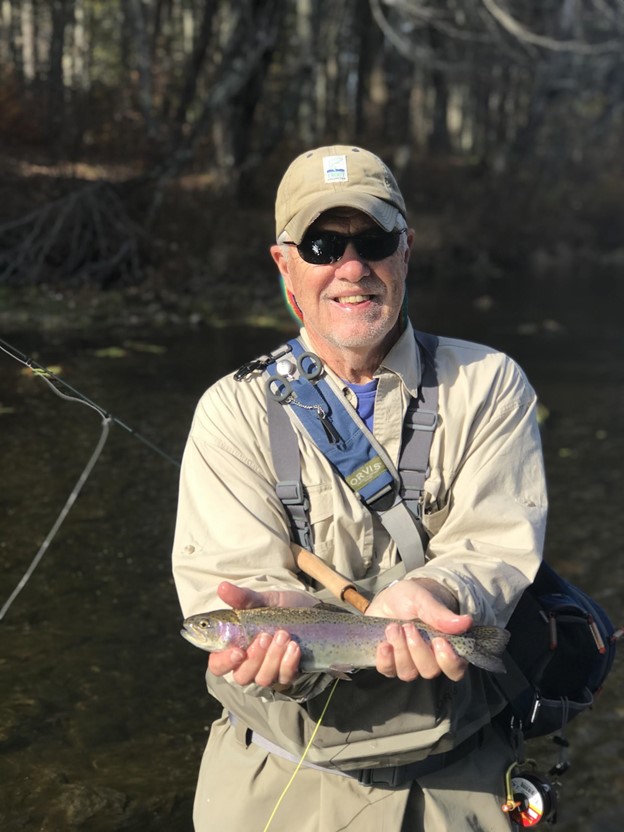 Fortunately, there are a number of indoor activities that anglers can look forward to enjoying when the weather just doesn't want to cooperate. The biggest event was supposed to be taking place soon. The Flyfishing Show
( Flyfishingshow.com) at the Royal Plaza Trade Center in Marlborough, Mass., which was to be held January 21-23, is now rescheduled for April 22-24. With the schedule change, there may be a change in presenters, but there should be plenty of great deals.
The Plaza will be filled with vendors who rep a number of equipment manufacturers. I have picked up some great rods and reels at some bargain prices. I also like to see the new equipment which will be coming out in the Spring. Sometimes you can try out a rod or reel at the casting pool if there is not a demonstration going on, and in addition, a number of nationally known fly casters teaching their craft at the pool. Gary Borger is always a fun presentation to watch. Gary will be talking about, "Casting Strategies and The Perfect Cast."
There are also a number of guides, outfitters and lodges who will be presenting some opportunities to fly fish some new water at great prices. Guides are a great source of information when it comes to where and how to fish different waters. Many lodges have great facilities and their own guides so you can spend more time fishing and less time looking for spots to fish.
For those who enjoy tying flies, New Hampshire's own Scott Biron will be presenting on Tandem Streamer Tying. I have picked up a number of Scott's flies over the years, and they are almost too beautiful to use, but they work. Another local that will be presenting is Lou Zambello.
Author, fly tier and presenter, Lou Zambello is a must see. Lou has written a number of beautiful and informative books and is a tremendous speaker. Lou will be discussing "Patterns and Tactics for pressured N.E. Trout/ Salmon That Refuse Usual Methods." Lou has spoken at our local Trout Unlimited meetings and is very engaging and is a wealth of information.
Ed Engle is another author/ presenter who would be a great take. I also have a number of Ed's books and they contain a wealth of information. Ed will be talking on "Off Beat Tactics That Catch Trout." If you can't make it to The Show, there are a number of local activities available.
Eldredge Brothers fly Shop (eldredgeflyshop.com/seminars) will be offering seminars on fly tying for all different levels. The shop offers a complete selection of fly tying materials and equipment. The shop is also a great resource for everything flyfishing. They are located in York, Maine.
    Also, check out your local chapter of Trout Unlimited for other indoor activities. I just looked at the thermometer and the temps are slowly heading south. I am either going to sit by the fire with a good book or organize my flies. If you are one of those brave warm blooded flyfishers, make sure you wear your cleats and bring a staff and tight lines!
 George Liset of Dover is an award-winning outdoor writer and avid fly fisherman who shares insights of his time on the water exploring New Hampshire streams and rivers as well of those around New England. George is a graduate of Wheaton College, Illinois, and the University of New Hampshire. His column Writing on the Fly has been honored by the New England Press Association and the New Hampshire Press Association.