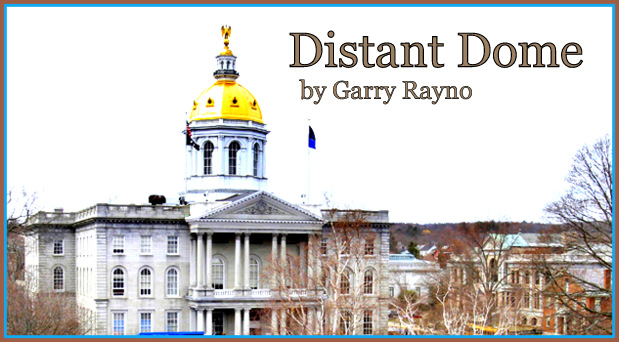 By GARRY RAYNO, InDepthNH.org
With an election lurking, a less contentious 2022 legislative session is not a good investment for either party.
Controversial issues are plentiful as they are every election year, and the heightened partisan warfare should make this upcoming session memorable.
The Republican right-wing had a very successful session this year, probably more than even they imagined: the nation's most expansive school voucher system, an abortion ban and more, influencing public education's discussions of race and discrimination, reining in the governor's sweeping emergency powers and "medical freedom" to blunt public health measures during the pandemic.
Despite propaganda about the size of the state's two-year budget, it still is more expensive overall than the last biennium's but does limit expansion of the state's most critical agency now and in the near future: the Department of Health and Human Services.
What more could the GOP's right wing want they didn't achieve in 2021? Plenty.
Let's begin with bills from last session the House retained for more work or the Senate re-referred back to one of its committees.
The House has to act on its several hundred retained bills in January and House Speaker Sherman Packard hopes to accomplish that during the first week of January as well as acting on the House bills Gov. Chris Sununu vetoed.
Among the known contentious bills are three related to redrawing the state's political boundaries to align with the latest U.S. Census data, including a major change to the state's two Congressional districts that will move about 35 percent of state residents from one district to the other.
Proposed changes in election law would tighten the qualifications for voters and one bill would institute provisional ballots for those without photo identification or who recently moved.
One bill would raise the minimum wage and another would raise the minimum age for marriage. Neither are going anywhere.
Other bills would legalize marijuana and allow home cultivation of plants.
The right to privacy is also articulated in a bill that will be acted on in January.
One particularly controversial bill would expand the "education freedom accounts" to local school districts, using local property tax money for private, parochial and alternative schools and home-based schooling. A school district would have to "opt in" to the program and that would appear to be a high hurdle for most districts.
Another bill would prohibit any public entity from requiring an employee to be vaccinated if they object.
There are also dozens of new bills that would prohibit mandates requiring vaccinations including a bill to prohibit private businesses from the practice.
Others would prohibit schools or other public and private entities from imposing mask mandates, and others would allow using drugs not approved for humans to treat COVID-19.
Another bill would require a COVID-19 vaccination for students to attend schools, and another would repeal the "medical freedom" prohibitions passed this year.
Making a person's immunization status a "protected class," is also the topic of a bill coming in the 2022 session.
And another to be heard this spring would expand the exemptions for avoiding COVID-10 vaccine.
Bills remaining from the 2021 Senate session would expand the state's deadly force law, require medical care for any fetus born alive, suspend any local gun regulations, and protect civil liberties during a state of emergency.
Abortion
The House has a bill to repeal the law banning abortions after the 23rd week of pregnancy approved last year. It would also eliminate the requirement a woman have an invasive ultrasound before any abortion procedure.
The House will also debate a bill mirroring the anti-abortion law passed by Texas last year. The U.S. Supreme Court has allowed the law to continue in place until arguments before the nine justices are heard.
The bill would end abortion after six weeks of pregnancy, a point at which many women do not know if they are pregnant and would encourage private citizens to report violations by patients, doctors or anyone helping to evade the prohibition.
Also a proposed constitutional amendment would put Roe vs. Wade reproductive rights into the state constitution, a hedge if it is overturned by the U.S. Supreme Court.
Another bill would repeal the buffer zones around clinics that perform abortions.
A biological father could petition a court to stop a woman from having an abortion, under one bill that will be introduced in 2022.
Education
The law passed during the 2021 session to prohibit any teaching that discriminates against a race or ethnicity as superior or inferior, or inherently racist, etc. has brought two federal lawsuits by teacher unions as well as other educators, parents and organizations.
The groups claim the law is too vague and puts teachers' careers at risk without clear guidelines for what can and cannot be taught.
The plaintiffs also claim it violates first amendment rights and the long-standing tradition of academic freedom.
This upcoming session would take the prohibitions a step future with a cold war law on teacher loyalty that also prohibits teaching socialism and communism as well as the country's racial and ethnical history in a negative light.
Several bills will address several education freedom account issues that have surfaced including defining a child with disabilities and an audit of the program after the first year.
Voting Issues
The storage of ballots from voting machines is the subject of one bill, in light of the missing ballots in Bedford and now Laconia.
Other bills deal with voter qualifications both imposing greater restrictions and eliminating some approved in the past.
Several members of the current legislature would be prohibited from running again, if a bill targeting representatives who seek New Hampshire's seccession from the union if it passes.
Other bills
Lawmakers will debate several privacy bills the government can retain.
Recently voters approved a constitutional amendment protecting personal privacy and several bills seek to clarify the intent.
After several attempts, several year ago lawmakers passed a law prohibiting "conversion therapy" for minors. The 2022 session includes a bill to repeal the law.
Background checks would be required for all firearm purchases under one bill, and public meetings would have to be broadcast virtually under another bill.
Opening Day
The House and Senate reconvene Jan. 5, with the House also meeting Jan. 6 and possibly 7 at the DoubleTree Hotel in Manchester in what was once known as the Center of New Hampshire.
The Senate will meet in the State House.
A lawsuit brought by several House Democrats who are medically compromised to participate virtually has not been settled by the U.S. First Circuit Appeals Court in Boston which initially sided with the Democrats but agreed to rehear arguments this fall.
While masks are not required for the House sessions, there are masked and unmasked sections, and Packard's office sent in-home instant COVID-19 tests to all House members this week.
While the House and Senate hope to finish work by the end of May, lawmakers face a wild ride to get there with all the controversial issues to settle.
Garry Rayno may be reached at garry.rayno@yahoo.com.
Distant Dome by veteran journalist Garry Rayno explores a broader perspective on the State House and state happenings for InDepthNH.org. Over his three-decade career, Rayno covered the NH State House for the New Hampshire Union Leader and Foster's Daily Democrat. During his career, his coverage spanned the news spectrum, from local planning, school and select boards, to national issues such as electric industry deregulation and Presidential primaries. Rayno lives with his wife Carolyn in New London. He is a New Hampshire Press Association Lifetime Achievement Award winner.