By GARRY RAYNO, InDepthNH.org
CONCORD — On Thursday, the New Hampshire Senate approved several bills to expand school choice for parents and allow public money to pay tuition at religious schools.
The Senate also failed to agree on a bill that would have allowed landlords to evict a tenant when a lease is up without reason and instead will have a committee continue to review the bill that passed the House on a 202-147 vote last month.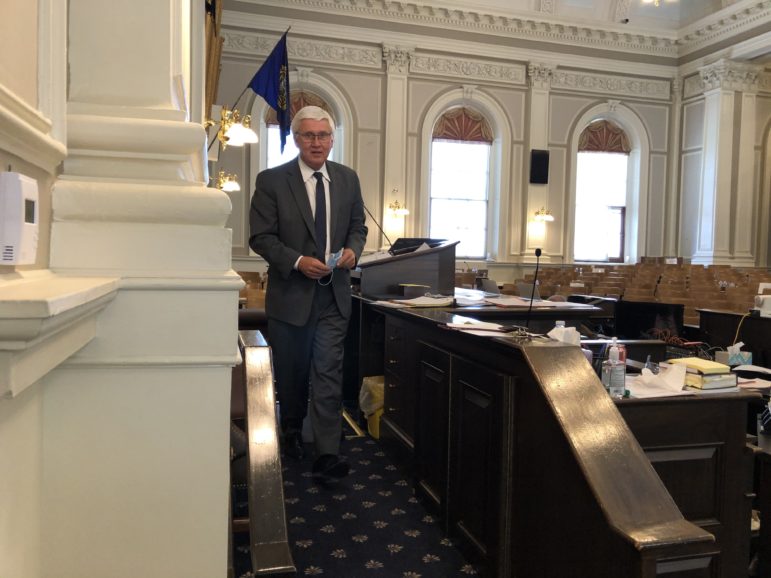 Education
Two bills the Senate approved would allow more student movement from public schools to other public and private schools, including religious schools long blocked from receiving taxpayer dollars under the state constitution.
House Bill 282 would allow religious schools to be included in schools students could attend if their districts do not have their own high schools or other grade levels.
Currently, school districts have tuition contracts with other public or private schools to take their students, but traditionally that does not include religious schools. A recent US Supreme Court decision was cited by bill supporters as a reason to include religious schools under tuition agreements.
But Sen. Jay Kahn, D-Keene, said the bill is directed specifically at allowing public funds to be spent on religious schools.
"This is a line has been interpreted by the state to exist for many many years and now we're crossing the line, we are not just crossing it, we are leaping across it," he said. "The state constitution is very clear on this point. We ought to do it through constitutional amendment and allow voters to vote on this."
But supporters said the bill would allow school districts and parents more flexibility for their child.
Sen. Erin Hennessey, R-Littleton, said in some instances a religious school may be closer than a secular private school, which would save the parents travel time.
"This bill affords parents options for where they want to send their child," she said, adding, "Often religious schools are less expensive than other private schools, which could save taxpayers money."
But others said a school district may decide a religious school is the only option in order to save money and that could infringe on the religious rights of the parent and child if they believe in another faith.
"You could be robbing me of my choice and forcing me to attend a religious school in a faith I may not share," said Sen. Tom Sherman, D-Rye.
Senate Majority Leader Jeb Bradley, R-Wolfeboro, said the Senate is making more of the bill than is there, noting it was intended to address a specific situation. And the US Supreme Court decision allows for public funding be spent on religious schools, he noted.
Sen. Lou D'Allesandro, D-Manchester, said the state needs to support public education, not ravage it.
"The basis of democracy is a free and appropriate public education. Alternatives can be chosen, but they should be paid for by the individual who makes that choice," he said. "A free and appropriate education is available to everybody and that is the way it should be."
The Senate voted down party lines, 14-10, to approve the bill.
The vote was the same on House Bill 388, which revises the process and expands the options for moving a student out of one school and sending them to another due to a manifest hardship.
Sen. Ruth Ward, R-Stoddard, said the process of moving a student into another more appropriate school is challenging.
She said the bill allows the student to be moved to an approved school, whether public, private, or religious that best meets the interest of the child.
Kahn argued the bill is another attempt at allowing public money to flow to private and religious schools.
He noted the statute was changed just last year and lawmakers ought to wait for a year or two to see how the program is working before changing it again. He called the bill unnecessary.
"The single reason for this is to make a political statement about the range of schools and permit choice of religious schools," Kahn said. "This will add dollars to school budgets downshifting costs."
The Senate also voted down party lines to prohibit school districts from holding a special meeting to vote on a collective bargaining agreement if it was voted down at the annual meeting.
Hennessey said House Bill 71 would protect the citizens' vote at the school district meeting and would not allow a superior court granting a special meeting to circumvent that decision.
But Kahn argued collective bargaining negotiations may be ongoing when an annual meeting is held and a provision is often included to allow a special meeting once an agreement is reached.
That has been the practice for decades he said and works in the best interest of the district, the students, and the staff.
"This would prohibit that kind of situation," Kahn said, and asked his colleague to kill the bill, which did not happen.
A bill to make it easier for parents of a special education student to contest an individual education plan, received unanimous support.
Supporters noted parents are at a disadvantage without the means to afford legal support or experts to challenge an IEP.
House Bill 351 would put the burden of proof on the school district and not the parent.
All four bills are headed to the governor.
The Senate also approved an amended version of House Bill 69, which would have required the Attorney General to represent school districts sued for displaying the nation's motto of "One Nation Under God."
The bill was changed to allow schools to display the state's and nation's mottos, but does not require the Attorney General to provide representation.
The bill will go back to the House.
Net Metering
The Senate voted to allow the expansion of net metering for public entities up to 5 megawatts of electricity with producers limited to 1 megawatt.
House Bill 315 clarified some of the provisions of a program approved last year to allow municipalities to aggregate customers within its district to access lower wholesale prices for electricity.
The Senate added a provision for allowing public entities that generate small amounts of electricity like towns or school districts to share within the district or sell the excess power to the electric company.
Sen. Bill Gannon, R-Sandown, asked if the bill would increase electric rates for those not in the district, and Bradley said a Public Utilities Commission study done several years ago on net metering indicates any impact would be minimal.
But he said the impact within the town or district would be to save money on electricity.
"It would be a significant benefit to taxpayers, or why would you do it," Bradley said.
And he noted capping the generation at 5 megawatts would mean most if not all of the electricity would remain in the community.
The bill and the amendment were approved on voice votes, but the bill needs to go back to the House because of the amendment.
The Senate sent a bill that would give the legislature more involvement in determining system benefit charges for electric utility customers back to committee for more work.
Tenants vs. Landlords
The Senate deadlocked 12-12 on a bill that would allow a landlord to evict a tenant at the end of a lease without having to provide a reason.
Supporters of House Bill 227 said the bill would help ensure property rights and government should not be interfering in private contracts.
But with the current housing crisis — a shortage of 20,000 units and a vacancy rate of 1.7 percent — if someone is evicted, the chances are they may not find another place to rent, said Senate Minority Leader Donna Soucy, D-Manchester.
She said current law provides many reasons to evict a tenant, such as a rent increase, renovations, or someone is buying the building.
Sen. Gary Daniels, R-Milford, said a one-year agreement should not mean someone can live there for as long as they want.
A property owner ought to be able to rent to whoever he chooses, Daniels said, and the end result would be less affordable housing because no one will add units if they cannot terminate a client when a lease is up.
"This would be an imposition on private property rights," Daniels said.
The bill was sent back to committee after it failed to pass on the 12-12 vote.
Pets
The Senate changed breeding requirements to exempt some hobby breeders from falling under the state's definition of a commercial breeder and increased penalties for stealing a dog or tampering with a dog's radio collar.
House Bill 250 and House Bill 338 will go back to the House because of changes the Senate made.
Child Seats
After a lengthy debate last week on a bill requiring parents to place their child two years and younger in a rear-facing seat, the Senate voted Thursday for an amendment that creates a two-year study of children injured or killed in New Hampshire and how they were secured in a vehicle on a voice vote.
The bill will go back to the House due to the change.
Voting Lists
House Bill 77 requires city and town clerks to report candidates who have filed for certain offices to the Secretary of State daily during the filing period.
The Senate approved the bill but added an amendment that would clarify that cities or towns which have approved broadband initiatives at town meetings this year would be eligible for state matching funds under Senate Bill 85, which is currently before the House.
The Senate voted down party lines to approve House Bill 285, which requires the Secretary of State to use postal service address verification information to alert a community's supervisors of the checklist to an address change which needs to be investigated.
The bill would require updating the checklist more frequently than the now required 10-year update.
Soucy said there were problems with the language and who would be responsible for what actions, but the Senate voted down party lines to approve it.
Election Law Committee Chair Sen. James Gray, R-Rochester, asked to special order the bill to the next session day so the committee could take another look at it.
Drug Penalties
The Senate amended House 615, which would reduce the penalties for some first offense drug crimes.
The bill was changed to retain the current sentences for first offenses, although several senators said putting first-time offenders in prison is costly and not the way to treat addition.
The bill will go back to the House which approved it on a voice vote last month.
Garry Rayno may be reached at garry.rayno@yahoo.com.