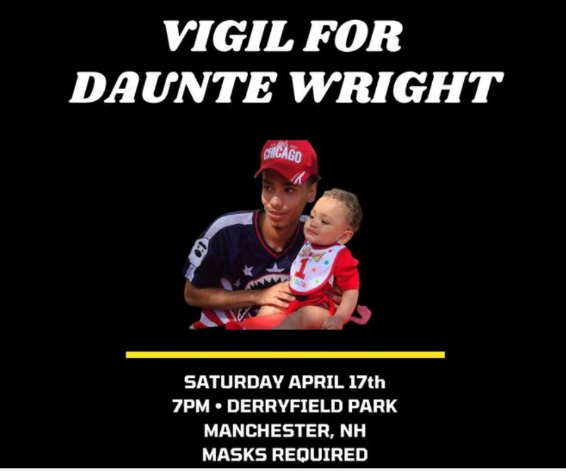 By NANCY WEST, InDepthNH.org
About 200 people gathered in Derryfield Park Saturday night to remember Daunte Wright, the 20-year-old Black man who was shot to death by a police officer in Brooklyn Center, Minn., on April 11.
The tone for the candlelight vigil was somber and sometimes tearful, with discussion focusing more on abolishing police rather than police reform.
Jordan Thompson spoke emotionally about working as an organizer of the Black Lives Matter movement in Nashua and workers in other chapters in Manchester and on the Seacoast, and how it feels to wake up to the news of yet another person of color being shot by police.
"We're here tonight in memory of Daunte Wright, a 20-year-old, two years younger than me, who was murdered by the state, who was murdered by the Brooklyn Center, Minnesota police department, who was murdered by Kim Potter, an officer who had been with the force for nearly 26 years who was president of her local police union who was training an officer when she stopped Daunte Wright," Thompson said.
His voice sounded tearful and resigned at times during the event as it was streamed on Facebook.
"At Black Lives Matter chapters In Nashua, Manchester and on the Seacoast, we've been working over the past year in the state to call out white supremacy and racism wherever we see it," Thompson said. "It's been very difficult. It's been very difficult trying to do this work which is about trying make a difference in our communities and to wake up to more hashtags, to more people who look like us killed, to have to organize these vigils and have no time to mourn or grieve. None of us want to be here. This is awful."
While planning the vigil, Thompson saw the coverage of the new details in the March 29 shooting death 13-year-old Adam Toledo in Chicago by police and what the city had tried to keep under wraps.
"We show up for this work all year. We try to work with elected officials. We try to work with local police to bridge gaps, find common ground, to do reform work, but this system can't be reformed. We're not here asking for reform. We're here asking for abolition," Thompson said.
What's happening is not justice, Thompson said. "None of us will ever see justice in this life."
"Justice is Daunte Wright's mom being able to see him alive. Justice is Breonna Taylor being able to go to her job, for Trayvon Martin to be able to walk down the street again, for George Floyd being able to go into a convenience store and buy whatever he wants," Thompson said.
Thompson said: "We ask for the bare minimum of accountability and can barely get that…. abolition is the only way."

He said it is hard to imagine and it may make people uncomfortable to think of a world without police.
"We're asking you to imagine something that you have never seen in your life, a world without police, a world without policing," Thompson said.
Thompson also read a eulogy to Daunte Wright.
According to news reports, Kim Potter and the chief of the department resigned after saying Potter thought she was going to use her Taser on Wright during a traffic stop and pulled her gun and shot him to death by mistake.
Potter has been charged with second-degree manslaughter.
About 10 speakers in Manchester shared personal stories, some involving interactions with police. One participant described a mood of despair and exhaustion as the killing of Black people by police continues.