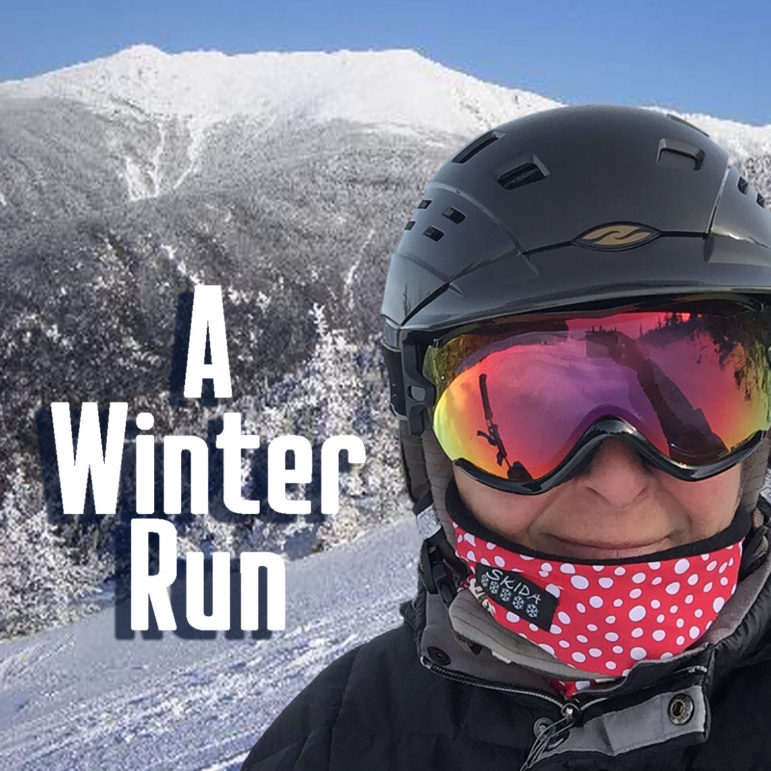 By PAULA TRACY, InDepthNH.org

I took two alpine skiers for their first-time cross country skiing this weekend at Jackson Ski Touring Foundation and found they both took to it quickly and said it was more fun and easier to learn than they expected.

My daughter Eliza and her cousin Susannah are in their 20s and both have enjoyed the fun and thrill of going downhill at alpine ski areas. With reservations at alpine areas hard to find on weekends this winter because of COVID-19 restrictions, they said they would be willing to give the skinny skis a try and were interested to learn a new sport.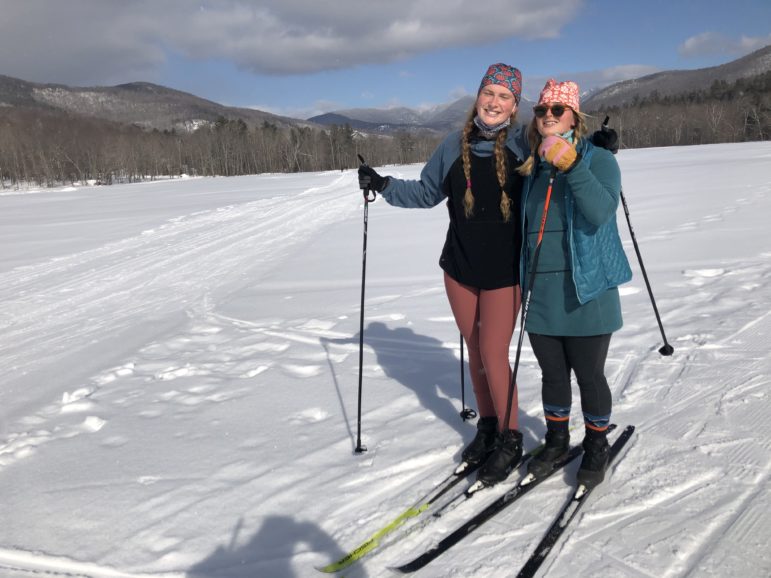 While they were thrilled that they could also go downhill pretty fast after they had worked to climb the hill instead of getting a ride in a lift, they enjoyed the mellow pace, the connection they had with the natural environment, and the social aspects of being outside together while skiing.

I also noted that it was a lot less expensive and comparatively hassle-free this year, without all the COVID-19 regulations found at alpine areas where you need to make a reservation. No reservations are required to cross-country ski.

It costs about $60 to rent equipment, get a trail pass and a private one-hour lesson at Jackson.

We went Saturday and while it was busy on the 150-kilometer trail system, with many of the five or more parking lots scattered about the town nearly full, the trails were in beautiful shape and there was plenty of room for everyone to get out and get a bit of exercise and sunshine on a cold but not windy February day.

I suggested the girls dress as they would for a light jog in winter, with wicking layers – not cotton- and light gloves, hats and warm socks in addition to their masks.

We were lucky enough to get an excellent instructor who suggested we begin on the Woodchuck trail network with a parking lot off Carter Notch Road, just past the Eagle Mountain House and its beautiful fields with mountain views.

Jackson is known throughout the Northeast for its extensive and varied trail system which includes beautiful meadows and open fields, narrow trails through the pines, hills, and challenging terrain which is maintained for both skate skiing and classic.

It hosts national nordic racing events and for 45 years, the nonprofit has been synonymous with the character and personality of the beautiful town of Jackson.

Jackson has 76 local landowners who allow the trails to run across their properties and it also has extensive terrain on town-owned land, local golf courses, and within the White Mountain National Forest, along the beautiful Ellis River trail system. There is even a trail that begins at the top of Wildcat Mountain and goes down to Jackson, which I have yet to experience and is on the difficult side of things.

On the national land this winter, there are COVID-19 restrictions that require face masks to be worn at all times by all individuals regardless of social distancing.

While it is not required on the private lands, we found most people deciding to wear them and we wore them anyway to show respect for other's health but did take them off for photos. We never went inside for anything.

We were able to pick up our rentals and pass at an outdoor window and there were port-a-potties along the trail to use if needed.

To start off, Susannah and Eliza were encouraged to get a feel for their skis, which are much more narrow than alpine skis and we started on a flat trail system where they were able to get used to the concept of shifting their weight from one ski to the other and using their poles to help move them along.

I wanted to start them with learning the classic technique of forward movement, which I thought would be easier than trying to learn the skate technique.

Eliza skis backcountry with a free heel binding system and skins to go uphill on downhill skis so she was a little more accustomed to the movement than Susannah who had only alpine experience.
I found this short little video helpful.
https://www.rei.com/learn/expert-advice/cross-country-skiing-for-beginners.html#basic-cross-country-ski-techniques

It took a minute before they were gliding in the track for classic technique across the fields with Carter Dome behind them and the Eagle Mountain House and a beautiful brook alongside the trail then into the woods for a little uphill which they found to be fairly easy using the same sort of technique they would use on alpine skis to get up the hill with the skis out to each side.

Going downhill was great fun and they were laughing and thrilled that they did not fall.

We skied for about two hours which is plenty of time to get a start and then ended our lovely morning with an outdoor lunch at the J-Town Deli across from the headquarters.

One observation we made was that this was a very family-friendly environment with many people out with their kids who were learning to ski or were strapped in behind them in pulks which can be rented as well.
New Hampshire has a number of very wonderful cross country ski areas located all throughout the state and a list of them with links to their websites is here https://www.skinh.com/resorts/crosscountry
For more information on Jackson Ski Touring Foundation, visit https://www.xcskiresorts.com/jackson-ski-touring-foundation.
InDepthNH.org's Paula Tracy learned to ski at Pats Peak in Henniker in 1972 and has been looking for ways to fit it into her work life ever since. Her first ski column First Tracks was for the Salem (Mass.) Evening News. She then wrote one for the New Hampshire Union Leader and later for WMUR. Paula now writes A Winter Run for InDepthNH.org when she is not busy on her State House reporting.