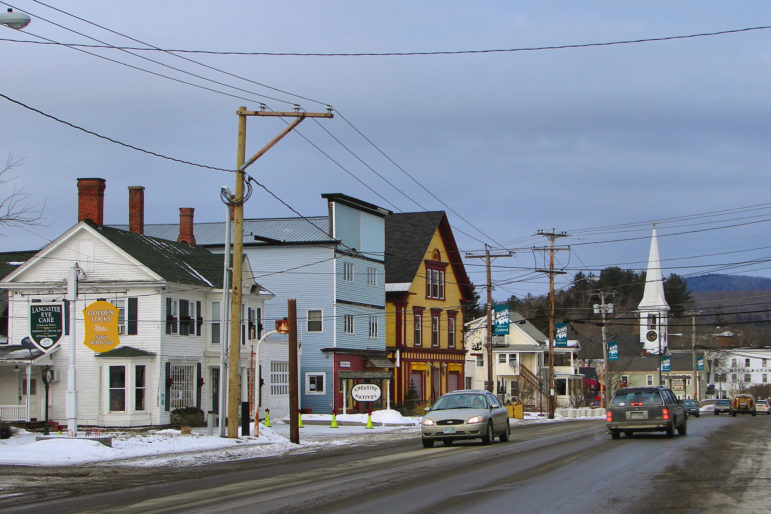 By PAULA TRACY, InDepthNH.org

COLEBROOK – Like wildfire, COVID-19 has spread through this small Coos County town of 2,133.

In one week, after months of watching other parts of the state to the south see cases upon cases of the deadly virus, those worrying if it would impact their far North Country town now have their fears realized.

The town has a COVID-19 problem with 15 cases in just one week.
The latest numbers from the Department of Health and Human Services also show 10 active cases in Berlin and a smattering of cases in other small towns.

Colebrook School closed Thursday and will be closed until at least Nov. 12 after a confirmed case of COVID-19 was reported at the school.
Schools in Stewartstown and Pittsburg were going to be closed for deep cleaning and remote learning as well, starting Monday.
The Upper Connecticut Valley Hospital has been besieged with residents rushing to get tested and the restaurants have all but closed for in-house dining, with some closing only out of caution and protection of their community members.

You can check the number of COVID-19 cases by school here: https://www.nh.gov/covid19/dashboard/schools.htm. You can also download the community transmission level map there.
On Thursday, Coos County joined Rockingham, Hillsborough and Merrimack Counties, Manchester and Nashua as being in the red for having "substantial" community transmission, according to state data.
Strafford, Belknap and Grafton Counties were labeled yellow "moderate" and Carroll, Sullivan and Cheshire were the only three counties in the green "minimal" category for overall community transmission of the virus Thursday. Friday's map wasn't released by early afternoon.
The overall level of community transmission is defined using three metrics: new cases per 100,000 over 14 days; new hospitalizations per 100,000 over 14 days; and 7-day PCR test positivity rate.
According to the Colebrook Chronicle, some businesses have publicly announced the closure after an employee or employees tested positive for the virus.

The banner headline story in the Colebrook Chronicle about the spike on Friday says, "welcome back to March 15" when everything was closed.

Slowly, following state guidance, the town opened up in late May and has been watching cautiously with most people in town wearing masks, said Donna Jordan of the Colebrook Chronicle.
The Black Bear Tavern in Colebrook posted on Facebook Monday: "We are sad to share that two staff members have recently tested positive for Covid-19, therefore we are in contact with NH DHHS. We will be closed for a few days for deep cleaning and will update everyone as soon as we know what our next course of action. Thank you, mask up, and stay safe!!!"
While there appears to be a recent outbreak of COVID-19 in Berlin among incarcerated inmates in the federal prison, some in town dismiss that as the source of the outbreak. The Federal Bureau of Prisons reported that eight inmates and two staff members at the Berlin facility have tested positive.

Health officials say it is sometimes hard to pinpoint a cause of community spread.

Commissioner of Health and Human Services Lori Shibinette warned several weeks ago that people in Coos County should not be complacent, saying that the virus can spread quickly and that people need to practice social distancing.

Shibinette said workers at jail facilities interact in the community and that can lead to community spread, just like anywhere else where workers are exposed, like health-care providers.

It is common to see out-of-state license plates in the downtown from areas of the country which have far higher cases of the deadly virus, which nationally has killed more than 227,000 and is on the rise in 45 states.
Dr. Debra J. Taylor, school superintendent, wrote in a letter to her community this week that from one parent's call "last evening, we were informed yesterday of a confirmed case of COVID-19 at Colebrook Academy and Elementary School…Due to rapidly rising community transmission levels, Colebrook School will close school for two weeks of remote learning. Re-evaluation for re-opening will occur prior to November 12."

The Coos County nursing home, which had allowed visitors, is now closed to all but essential workers.