By JEFFREY HASTINGS

NASHUA – Air Force Capt. Ryan Phaneuf, 30, of Hudson, died in the line of duty on January 27th. He was killed in the crash of a Bombardier E-11A electronic surveillance plane in Ghazni Province, in eastern Afghanistan.
Gov. Chris Sununu has directed flags to be flown at half-staff on Saturday, Feb. 29th, in memory of Phaneuf.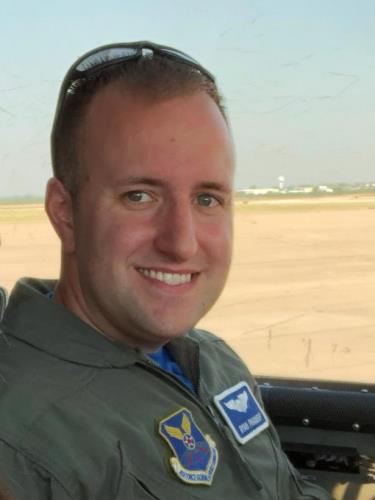 "Captain Phaneuf made the ultimate sacrifice so that we may continue to live freely," said Sununu.
"Captain Phaneuf was an American Hero, and the State of New Hampshire will always be grateful for his service. It is my distinct honor to present Captain Phaneuf's family with the New Hampshire Medal of Honor as an enduring symbol of Captain Phaneuf's heroism, courage, and sacrifice."

Sununu will present the Medal of Honor to Phaneuf's parents and wife at his memorial service on Saturday.
A large group of family members, military officers, and first responders lined the tarmac as his casket was transferred from the plane to a waiting hearse at the Nashua airport.

An escort of vehicles led by Nashua Fire, Nashua Police, Hudson Fire and Hudson Police escorted the hearse to the funeral home.
The streets in Nashua and Hudson were lined with people saluting, and holding flags as the procession passed by.

Visiting hours will be held Friday and the funeral service will be held Saturday. 
The obituary and details of  Capt. Ryan Phaneuf's life can be found at  https://www.legacy.com/obituaries/unionleader/obituary.aspx?n=ryan-s-phaneuf&pid=195458260&fhid=4323