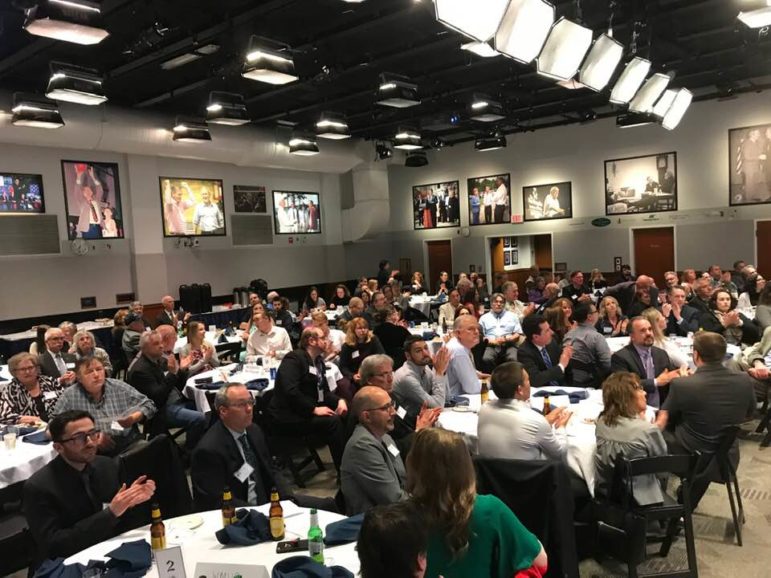 MANCHESTER – The state's only nonprofit online news outlet – InDepthNH.org – took home seven awards in its category and its founder was honored for Lifetime Achievement at the New Hampshire Press Association's Distinguished Journalism banquet Wednesday night.
Nancy West, who founded InDepthNH.org and the New Hampshire Center for Public Interest Journalism, was a Lifetime Achievement winner. InDepthNH.org's State House Bureau Chief Garry Rayno won first place for his reporting on the Northern Pass project and another first place for his column Distant Dome.
"I'm really proud of Garry's work. He is well-respected in Concord and around the state for his deep understanding of the issues that he covers and because he is a true gentleman," West said.
Susan Dromey Heeter took home second place for her column Joyful Musings. She also writes Decoding the Vibe, a behind the scenes look at the candidates who are criss-crossing the state during the primary season.
"Susan's columns are usually humorous and laugh-outloud funny. But she can also make me cry," West said.
InDepthNH.org columnist and podcaster Wayne D. King was honored for his column The View From Rattlesnake Ridge earlier this year by the New England Newspaper and Press Association.
"If you haven't listened to Wayne's podcasts Radical Centrist and NH Secrets, Legends and Lore, you must start today. They are rich in history, kindness and humor with great music by Free Joseph as well," West said.
West also won awards Wednesday for her investigative series on the so-called Laurie List of dishonest police officers and for feature writing about a young man who was locked up in the Secure Psychiatric Unit at the men's prison even though he hadn't committed a crime.
InDepthNH.org, which has been publishing online for more than four years, won first place for general excellence, digital presence. Montana West, who is the integrated media producer at NH PBS, designed InDepthNH.org's website and continues to be a valuable resource.
InDepthNH.org also won a community service award for its archives on the Northern Pass transmission line proposal.
John DiStaso of WMUR, Dean Shalhoup of The Nashua Telegraph and Joe McQuaid of New Hampshire Union Leader were also honored for Lifetime Achievement.
Manchester Ink Link, a hyperlocal news website in Manchester founded by Carol Robidoux, took home a second place award for general excellence, digital presence.
On hand for the celebration was veteran journalist Paula Tracy, who covers the State House and other news that matters for InDepthNH.org. Paula writes IHoP-NH, a video essay about why citizens show up to lobby their lawmakers In the Hallways of Power. And she is working on special projects for our first-in-the-nation primary coverage.
And award-winning photographer Bob LaPree, who has recently joined InDepthNH.org as special projects photographer/videographer.
"Having Paula and Bob on board – not to mention the help we have gotten since we launched from another veteran journalist Bob Charest – makes InDepthNH.org an even stronger journalistic presence in New Hampshire," West said.
This story will be updated with the full list of winners from all of the news outlets in New Hampshire.
UPDATED:

The complete list of winners follows:
Feature Story
Class 4
Second Place – Gail Parker – New Boston Beacon
First place – Dan Rothman – New Boston Beacon
Class 3
Third Place – Ben Conant – Monadnock Ledger-Transcript
Second Place – Judi Currie – Business NH
First Place – Judi Currie – Business NH
Class 2
First Place – Nancy West – InDepthNH
Class 1
Third Place – Tris Wykes – The Valley News –
Second Place – Nora Doyle-Burr – The Valley News
First Place – Britta Greene – New Hampshire Public Radio
Feature Photo
Class 3
Third Place – Ben Conant – Monadnock Ledger-Transcript
Second Place – Ben Conant – Monadnock Ledger-Transcript
First Place – Ben Conant – Monadnock Ledger-Transcript
Class 1
Third Place – Jamie Gemmiti – Conway Daily Sun
Second Place – Dave Lane – New Hampshire Union Leader
First Place – James M. Patterson – The Valley News
Feature page
Class 3
Second Place – Christine Carignan – Business NH
First Place – Christine Carignan – Business NH
Class 1
Third Place -Matthew Burdette – The Nashua Telegraph
Second Place – Matthew Burdette – The Nashua Telegraph
First Place – Melanie Hitchcock – New Hampshire Union Leader
Photo Essay
Class 1
Third Place Geoff Forester – Concord Monitor
Second Place – Jennifer Hauck – Valley News
First Place – James M. Patterson – Valley News
Graphic/Cartoon/Illustration
Class 3
First Place – Christine Carignan and Mark Ricketts – Business NH
Class 1
Third Place – Matthew Burdett – The Nashua Telegraph
Second Place -Matthew Burdette -The Nashua Telegraph
First Place – Matthew Burdette – The Nashua Telegraph
Entertainment Reporting
Class 4
Third Place – Keith Gentili – New Boston Beacon
Second Place – Haley Dufour – New Boston Beacon
First Place – Haley Dufour – New Boston Beacon
Class 3
Third Place – Julie Huss – Derry News
Second Place – Meghan Pierce – Monadnock Ledger-Transcript
First Place – Ben Conant – Monadnock Ledger-Transcript
Class 1
Third Place – Meg McIntyre – Keene Sentinel
Second Place – Julia Ann Weekes – Manchester Union Leader
First Place – David Corriveau – Valley News
Health Reporting
Class 4
Third Place – Bob Sanders – New Hampshire Business Review
Second Place – Sandy Judd – New Boston Beacon
Class 3
Second Place – Melanie Plenda – Business NH
First Place – Melanie Plenda – Business
Class 2
Third place – Harrison Thorp – The Rochester Voice
Class 1
Third Place – Terry Leavitt – Conway Daily Sun –
Second Place – Roger Carroll – Laconia Daily Sun
First Place – Leah Willingham – Concord Monitor
Business and Economic Reporting
Class 4
First Place – Bob Sanders – New Hampshire Business Review
Class 3
Second Place – Casey Conley – Business NH
First Place – Judi Currie – Business NH
Class 2
First Place – Garry Rayno – IndepthNH
Class 1
Third Place – Jeff McMenemy – Portsmouth Herald
Second Place – Kyle Stucker – Foster's Daily Democrat
First Place – Kyle Stucker – Foster's Daily Democrat
Crime/Court Reporting
Class 4
Third Place – Tony Schinella – (freelance)
Second Place – Keith Gentili – New Boston Beacon
First Place – Jen O'Brien – New Boston Beacon
Class 3
First place – Nicholas Handy and Meghan Pierce – Monadnock Ledger-Transcript
Class 1
Third Place – Dean Shalhoup – The Nashua Telegraph
Second Place – Breanna Edelstein, Zoe Mathews – Lawrence Eagle Tribune
First Place – Jason Moon – New Hampshire Public Radio
General news story
Class 4
Second Place – Jen O'Brien – New Boston Beacon
First Place – Charles Douglas – The Bow Times
Class 3
Third Place – Meghan Pierce – Monadnock Ledger-Transcript
Second Place – Michael Kitch – New Hampshire Business Review
First Place – Bob Sanders – New Hampshire Business Review
Class 2
Third Place – Harrison Thorp – The Rochester Voice
Second Place – Harrison Thorp – The Rochester Voice
First Place – Harrison Thorp – The Rochester Voice
Class 1
Third Place – Annie Ropeik – New Hampshire Public Radio
Second Place – Todd Bookman – New Hampshire Public Radio
First Place – Leah Willingham – The Concord Monitor
General News Photo
Class 1
Third Place – James M. Patterson – Valley News
Second Place – Jennifer Hauck – Valley News
First Place – Mathew Plamondon – Nashua Telegraph
Special Section
Class 3
Third Place (Tie) – Matt Mowry, Christine Carignan and staff – Business NH
Third Place (Tie) – Monadnock Ledger-Transcript
Second Place – Christine Carignan, Matt Mowry, Judi Currie – Business NH
First Place – Monadnock Ledger-Transcript
Class 1
Third Place – Valley News
Second Place – Nashua Telegraph
First Place – Katie McQuaid, Elyse Thornton, Lisa Martineau New Hampshire Union Leader
Magazine Cover
Class 3
Third Place – Christine Carignan – Business NH
Second Place – Christine Carignan – Business NH
First Place – Christine Carignan and Mark Ricketts – Business NH
Class 1
Second Place – Matthew Burdette – The Nashua Telegraph
First Place – Matt Hannon – The Nashua Telegraph
Front page
Class 1
Third Place – Tom Lynch – New Hampshire Union Leader
Second Place – Matthew Burdette – The Nashua Telegraph
First Place – Matthew Burdette – The Nashua Telegraph
Sports News
Class 3
First Place – Ben Conant – Monadnock Ledger-Transcript
Class 1
Third Place – Joe Duball – New Hampshire Union Leader
Second Place – Michael M. McMahon, Jesse Mayfield-Sheehan – Keene Sentinel
First Place – Mike Whaley – Foster's Daily Democrat
Sports Photo
Class 3
Second Place – Ben Conant – Monadnock Ledger-Transcript
First Place – Ben Conant – Monadnock Ledger-Transcript
Class 1
Third Place – Jennifer Hauck – Valley News
Second Place – Geoff Forester – Concord Monitor
First Place – James M. Patterson – Valley News
Sports Feature
Class 4
Third Place – Keith Gentili – New Boston Beacon
Second Place – Keith Gentili – New Boston Beacon
First Place – Erik Fey – New Boston Beacon
Class 3
Second Place – David Willis – Derry News
First Place – Ben Conant – Monadnock Ledger-Transcript
Class 1
Third Place – Tris Wykes – The Valley News
Second Place – Paul Miller – The Keene Sentinel
First Place – Tris Wykes – The Valley News
Sports Feature Photo
Class 1
Third Place – Jennifer Hauck – The Valley News
Second Place – Jamie Gemmiti – The Conway Daily Sun
First Place – James M. Patterson – Valley News
Sports Columnist of the Year
Class 1
Third Place – Dean Shalhoup – The Nashua Telegraph
Second Place – D. Quincy Whitney – The Nashua Telegraph
First Place – Mike Whaley – Foster's Daily Democrat
Sports Page
Class 3
First Place – Ben Conant – Monadnock Ledger-Transcript
Class 1
Third Place – David Bailey – The Valley News
Second Place – David Bailey – The Valley News
First Place – Alan Greenwood – Nashua Telegraph
Spot News Photo
Class 1
Second place – Daymond Steer – Conway Daily Sun
Spot news reporting
Class 4
Second Place – Marie MacDonald – The New Boston Beacon
Class 3
Second Place – Meghan Pierce – Monadnock Ledger-Transcript
First Place – Meghan Pierce – Monadnock Ledger-Transcript
Class 1
Third Place – Mark Hayward – New Hampshire Union Leader
Second Place – Dean Shalhoup – The Nashua Telegraph
First Place – John Doyle, Kyle Stucker, Brian Early – Foster's Daily Democrat
Investigative story/series
Class 4
Third Place – Charles Douglas, – The Bow Times –
Second Place – Jason Schreiber and Kim Houghton (freelance)
First Place – Ryan Lessard (freelance)
Class 2
First Place – Nancy West – IndepthNH.org
Class 1
Third Place – Casey McDermott – New Hampshire Public Radio
Second Place – Sierra Hubbard – The Keene Sentinel
First Place – Jeff McMenemy – The Portsmouth Herald
Editorial writing
Class 4
Second Place – Charles Douglas – The Bow Times
First Place – Patrick Cronin – Hampton Union
Class 3
First Place – Matt Mowry – Business NH
Class 1
Third Place – Ernie Kohlsaat – Valley News
Second Place – Casey Junkins – Nashua Telegraph
First Place – Bill Bilodeau – Keene Sentinel
Columnist of the Year
Class 4
First Place – Keith Gentili – New Boston Beacon
Class 2
Second Place – Susan Dromey Heeter – InDepthNH
First Place – Garry Rayno – InDepthNH
Class 1
Third Place – William Marvel – The Conway Daily Sun
Second Place – Dean Shalhoup – The Nashua Telegraph
First Place (Tie) – Mark Hayward – New Hampshire Union Leader
First Place (Tie) – Jim Kenyon – The Valley News
Rookie of the year
Class 1
Third Place – Grace Pecci and Mathew Plamondon – The Nashua Telegraph
Second Place – Hannah LaClaire – The Nashua Telegraph
First Place – Brett Guerringue – Conway Daily Sun
Photographer of the year
Class 3
First Place – Ben Conant – Monadnock Ledger-Transcript
Class 1
Second Place – Jamie Gemmiti – Conway Daily Sun
First Place – Geoff Forester – Concord Monitor
Excellence in Collaboration and Partnership
First place – The Nashua Telegraph
Community Service Award
Class 4
First Place – Michelle Vecchione – The Bow Times
Class 3
Third Place – Business NH
Second Place – Business NH
First Place – Business NH
In Class 2
First Place – InDepthNH.org
Class 1
Third Place – Kyle Stucker – Foster's Daily Democrat
Second Place – Roberta Baker – New Hampshire Union Leader
First Place – Leah Willingham – The Concord Monitor
First Amendment
Class 1
Third Place – Mark Hayward – New Hampshire Union Leader
Second Place – Nashua Telegraph
First Place – Foster's Daily Democrat
General Excellence, Radio – New Hampshire Public Radio
General Excellence, Magazine – Business NH
General Excellence, digital presence
Class 2
Second Place – Manchester Ink Link
First Place – InDepthNH.org
Class 1
Second Place – WMUR-TV
First Place – New Hampshire Public Radio
General Excellence, non-daily newspaper
Class 4
Third Place – The Hampton Union
Second Place – The Exeter Newsletter
First Place – New Hampshire Business Review
General Excellence, daily newspaper
Class 1
Third Place – New Hampshire Union Leader
Second Place – Concord Monitor
First Place – Conway Daily Sun
Dennis Joos – Roger Carroll
Lifetime Achievement – Nancy West
Lifetime Achievement – Dean Shalhoup
Lifetime Achievement – John DiStaso
Lifetime Achievement – Joseph McQuaid
Journalist of the year
Third Place – Mark Hayward – New Hampshire Union Leader
Second Place – Adam Urquhart – Nashua Telegraph
First Place – Shawne K. Wickham – New Hampshire Union Leader