By PAULA TRACY, InDepthNH.org

CONCORD – The state of New Hampshire no longer has a death penalty.

By the necessary two-thirds majority, the state Senate overrode Gov. Chris Sununu's veto of the death penalty repeal bill by a vote of 16-8.
Sen. David Starr, R-Franconia, who originally voted to do away with the death penalty, changed his vote on Thursday.
The House of Representatives last week voted to override the governor's veto of the death penalty repeal bill as well by the narrowest of margins for a two-thirds vote. The vote on House Bill 455 was 247-123.
Gov. Sununu said: "I have consistently stood with law enforcement, families of crime victims, and advocates for justice in opposing a repeal of the death penalty because it is the right thing to do. I am incredibly disappointed that the Senate chose to override my veto."
Sen. Lou D'Allesandro, D-Manchester, voted to support the governor's veto.

He noted that New Hampshire has not executed anyone since 1939 and its narrow death penalty is rarely used.

"We are very careful about the way we use the death penalty. Very judicious and very careful," D'Allesandro said. "Our law enforcement people see it as a deterrent."
Sen. Sharon Carson, R-Londonderry, agreed saying she would not speak to religion or money.
"I want to talk about Officer Briggs," she said, referring to Manchester Police Officer Michael Briggs, who was killed in the line of duty in 2006.
Michael Addison was convicted of killing Briggs and is the only person on death row in the state.
Carson said it is not elected officials but the people as represented by the jury, who imposed the death penalty "because they believed there should be an added punishment for killing a police officer."
She said: "We are talking about justice. We are not talking about redemption or forgiveness. We are talking about justice."
Sen. Bob Giuda, R-Warren, voted to override the veto.
"This is called an issue of conscience," which he said, "supersedes politics."

He said this is about life and who chooses life. One of the state's problems, he said is a loss of respect for life.

By imposing the death penalty, "we are taking away the possibility of redemption." As a pro-life advocate, Giuda said, "my vote today will be to pass the law to override the veto."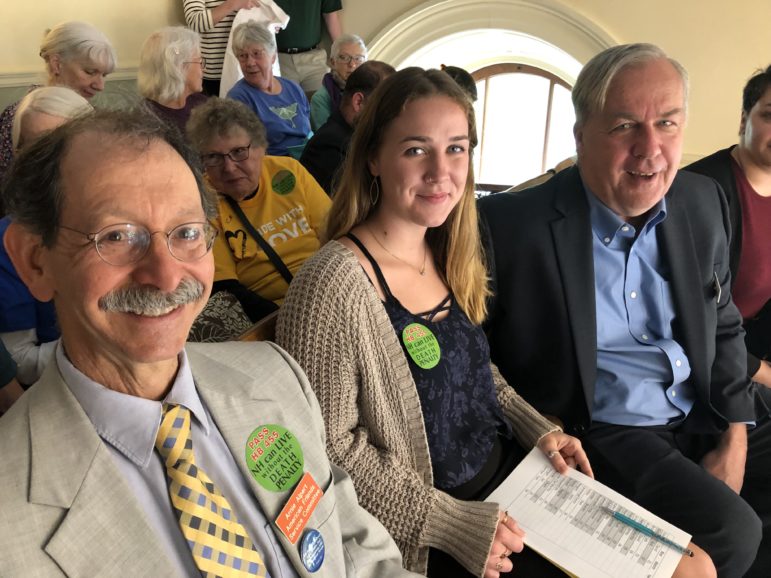 Thursday's vote makes New Hampshire the 21st state to abolish capital punishment.
Senate President Donna Soucy, D-Manchester, said, "I commend the advocates who have worked tirelessly on this issue and extend my gratitude to Representative Renny Cushing for his decades of work on this issue in honor of his father and his brother-in-law."
Sen. Martha Hennessey, D-Hanover, added: "I am grateful to the many survivors of murder victims who bravely shared their stories with the Legislature this session, many of whom told us that the death penalty only prolongs the pain and trauma of their loss."
Voting to override the veto in addition to Giuda were Senators Watters, Hennessey, French, Ward, Dietsch, Kahn, Chandley, Levesque, Rosenwald, Feltes, Reagan, Fuller-Clark, Morgan, Sherman and Speaker Donna Soucy.
Voting to support the governor's veto were Senators Starr, Bradley, Gray, Carson, Cavanaugh, Birdsell, D'Allesandro and Morse.