By PAULA TRACY, InDepthNH.org
CONCORD – By a very close vote, the House of Representatives voted Thursday to override the governor's veto of the death penalty repeal bill.
The vote to override Gov. Chris Sununu's veto of House Bill 455 to repeal New Hampshire's death penalty was 247-123. A two-thirds vote was required. The House clerk's office said the override passed with no votes to spare.
The Senate previously voted 17-6 to support the death penalty repeal bill, and the earliest possible date for the Senate to entertain the governor's veto is next Thursday.
Republican Gov. Chris Sununu called the override vote "unfortunate" and indicated that the vote was "rushed" and "politically motivated."
"I will always fight for what I believe because it is simply the right thing to do. I hope the Senate will listen to law enforcement, families of crime victims, and advocates for justice and not abolish capital punishment," Sununu said.
Barbara Keshen, chair of the NH Coalition to Abolish the Death Penalty and a former Assistant Attorney General and former public defender, worked tirelessly to end the death penalty. She was still in shock when asked for a comment and was working on the math to be sure that the veto was overridden.
"We really did it," Keshen said as a supporter handed her a calculator showing it received the required votes.
Tamworth Rep. Susan Ticehurst, a Democrat, spoke in support of the override. She said she is a descendant of Susannah North Martin, who was tried and killed as a Salem witch.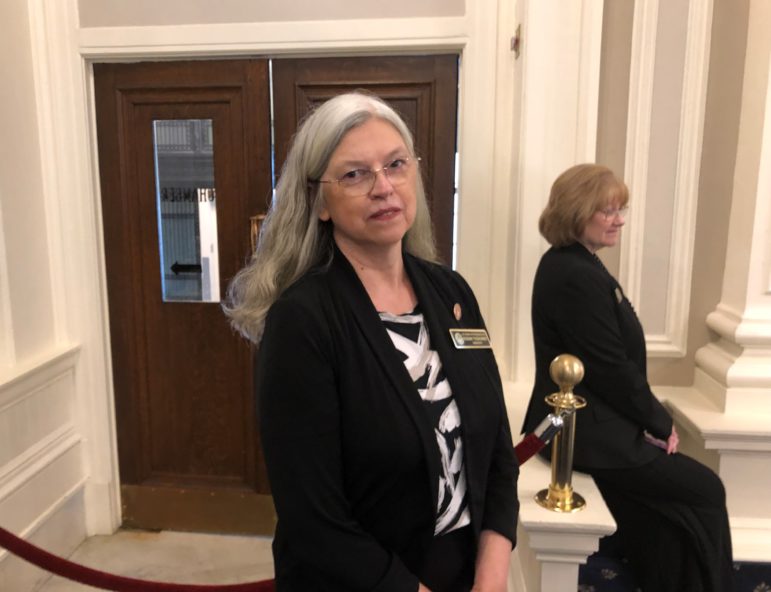 Ticehurst said intelligent, responsible people make mistakes.
Supporters of the governor's position said New Hampshire uses its death penalty judiciously and should be maintained as a national example.
House Republican Leader Dick Hinch, R-Merrimack, said, "House Democrats chose to politicize the death penalty issue by bringing this veto forward first, and on its own.
"They'd prefer to deal Governor Sununu a defeat first, before enduring what will be a series of defeats themselves as we vote to sustain veto after veto on their income tax bill, and far left agenda," Hinch said. "The majority of Republicans saw their motives, and put their feelings aside on the underlying issue, and stuck together in support of the governor. Whether or not you think our current law should be repealed, we can agree Democrats' choice to use this bill against the governor was wrong."
Conservatives Concerned About the Death Penalty, in a statement by Hannah Cox, the national manager said, "The veto override was passed on a strong bipartisan vote because more conservatives than ever know the death penalty is a failed government program that does not value life, threatens innocent people, and wastes money. These factors drove many Republican New Hampshire lawmakers to vote for repeal this year, as they did last year when the GOP controlled the chamber."
After an initial floor vote in March of 279-88, the vote Thursday showed that a number of lawmakers switched their vote, as the vote was 247-123.
HB 455 aims to replace death sentences in future capital cases with the sentence of life in prison without the possibility of parole. The bill does not change the sentence for Michael Addison, the sole individual currently on death row in New Hampshire, although some lawmakers said it could ultimately include him.
"Today's vote by the New Hampshire House is an incredible vote of confidence that the death penalty is wrong and must be repealed," said Devon Chaffee, Executive Director of the ACLU of New Hampshire.
Speaking in favor of the override were Republican Representatives Dave Danielson, David Welch, and Max Abramson. Democrat Representatives Susan Ticehurst and Renny Cushing spoke in favor of the override.
Rep. Cushing, who lost both his father and a brother-in-law to murder, and who has been a longtime proponent of abolition, said, "I want to thank my colleagues who stood fast and voted their conscience today. A lot of people have put their heart and soul into this cause, not just this year but for some, two and even three decades now."
"We remain optimistic that the Senate will follow suit and make New Hampshire the 21st state to abolish capital punishment," Cushing said.
District 8 Sen. Ruth Ward, a Republican from Stoddard, said, "My father was killed when I was a young child, and taking the perpetrator's life would not have brought my father back. I will vote to override the governor's veto."
The Senate will need a minimum of 16 votes to override the gubernatorial veto.