By PAULA TRACY, InDepthNH.org
CONCORD – Three bills related to gun control were passed in the New Hampshire Senate on Thursday, all by a vote of 13-10.
Two of the bills were amended and will need to go back to the House of Representatives for concurrence.
House Bill 514 was amended to require a three-day waiting period for purchases of a gun, rather than the original bill that sought seven days.
House Bill 564 was also amended to require a public hearing before the school board on whether to adopt the enabling legislation which would allow school boards to limit guns in schools.
House Bill 109 was also passed on partisan lines to require background checks for all commercial firearms purchases.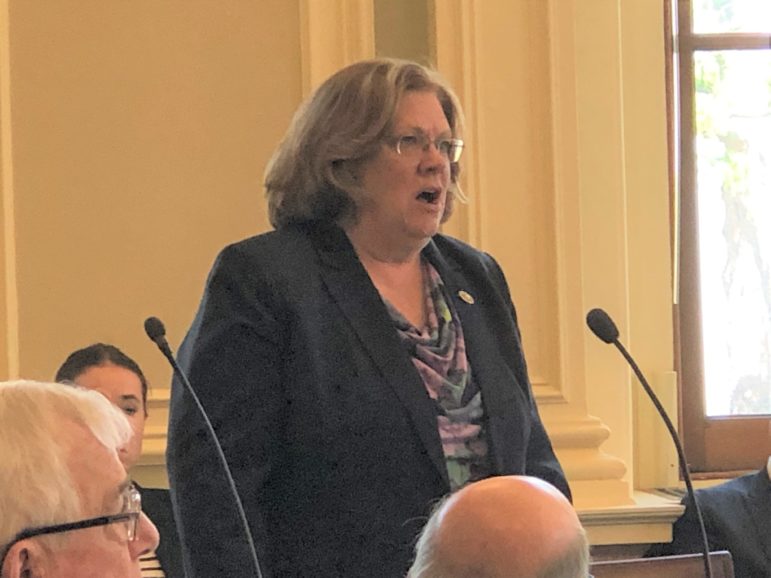 Sen. Sharon Carson, R-Londonderry, said, "These laws will restrict the rights of law-abiding gun owners while doing nothing to prevent criminals from possessing firearms or committing crimes.
"The unintended consequences of these bills will turn average gun owners into criminals. New Hampshire is consistently one of the safest states in the nation with a long history of responsible gun laws and any attempt to restrict our rights will only make the state less safe," Carson said.
Sen. Harold French, R-Franklin, said some states may have problems with gun violence, but New Hampshire does not.
"This is an issue that has been pushed by large out of state Super PACs who are trying to tell New Hampshire that they know how we should live and what laws we should pass. Any attempt to limit the second amendment rights of Granite Staters should be swiftly rejected," French said.
Sen. Martha Hennessey, D-Hanover, said House Bill 564 is not designed to stop gun violence but to allow communities to decide for themselves on what measures they want in schools.
"With homicides on the rise, including with firearms, it's now more important than ever that we pass common-sense gun violence prevention legislation," Hennesey said. "Today's Senate votes move New Hampshire forward on common-sense gun reform that strikes a reasonable balance between protecting public safety and second amendment rights."
About House Bill 564, Sen. Bob Giuda, R-Warren, said, the bill will only "invite a mentally unstable person" to come to the school to commit violence, knowing no one there is armed.
House Majority Leader Doug Ley, D-Jaffrey, said: "HB 514 is crucial to preventing impulsive acts of gun violence and suicide. Waiting periods for gun sales save lives which is why the New Hampshire Medical Society has adopted waiting periods as a key policy position.
"Suicide is the second leading cause of death of Granite Staters between the ages of 15 and 34 and nearly half of all suicides involve a firearm. It is past time that New Hampshire institute a waiting period to ensure the safety and public health of our citizens. I hope that Governor Sununu recognizes this legislation as a fundamental way to address the suicide prevention which he spoke so passionately about in his Inaugural speech," Ley said.