By NANCY WEST
InDepthNH.org
CONCORD – Rep. John Burt, R-Goffstown, says he won't stop carrying his .38 special despite the vote Wednesday to ban firearms in the House gallery, chamber and anteroom.
"I'm still going to carry," Burt said, adding he will encourage other lawmakers to do the same. The rest of the State House is pro-gun space, he said, and he has carried his gun into Gov. Chris Sununu's office and the rest of the State House.
"It has been proven that gun-free zones have turned into killing zones," said Burt.
The first session of the House on Wednesday saw guns banned in the House by a vote of 220 to 163. A vote in favor of requiring mandatory sexual harassment training passed by a vote 284 to 92. In the past, the training was voluntary.
A 200 to 169 vote near the end of the session passed an amendment to Rule 100 adding one sentence mandating committee chairmen do their best at hearings to hear from constituents first and paid lobbyists last.
When asked about the provision that included arrest for violators of the firearms ban, Burt said, "Once I am outside this door right there, the Speaker would have to give me my gun and I would be back in compliance." He was pointing to a door close by in the anteroom.
"I can carry my gun anywhere on state property other than anteroom, the chamber and the gallery," he said.
Burt said he is not a gun collector. "I only have 8, 12, 14 guns. I don't have a lot of guns. My biggest concern is the Constitution, the Second Amendment. That's what I am here to protect."
Constituent preference
Rep. Tim Smith, D-Manchester, a four-term Democrat, said he has watched time and again at committee meetings as paid lobbyists are given the opportunity to speak before constituents who sometimes go home without getting their chance to speak to lawmakers.
"I have seen dozens of times that members of the public have had to sit in the back and wait for upwards of five hours while paid lobbyists – some of whom have been from out of state – have been recognized to testify on legislation," Smith said.
"The lobbyists are paid to be here," Smith said, and they are also trained to know how to find lawmakers later on if they don't get a chance to speak at a hearing.
Constituents on the other hand are often less savvy, he said. Many, especially those who come to Concord from the North Country, have made long trips and taken time off from work and time out of their day, he said.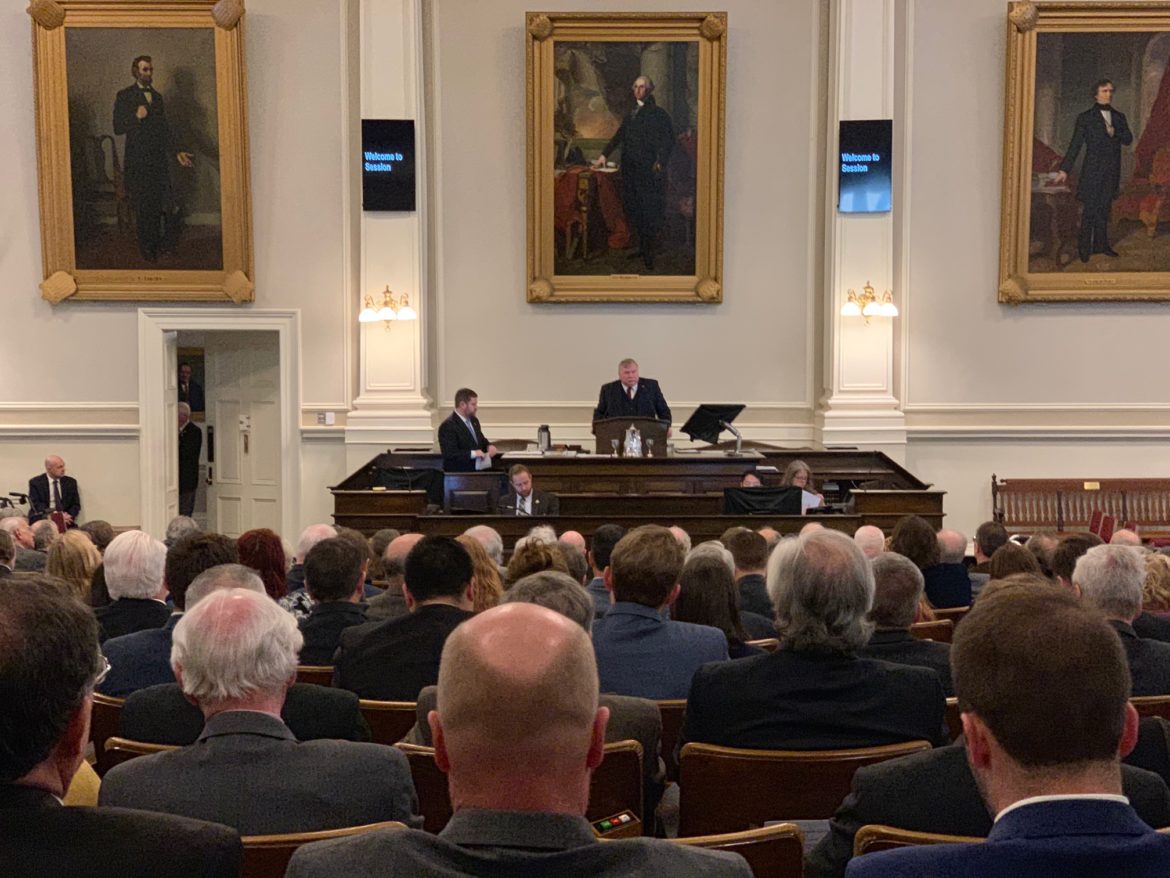 House Speaker Steve Shurtleff is pictured at the podium during the House' first session on Wednesday.
The firearms ban was clearly the most divisive issue of the day starting outside with protesters on both sides before the session started. Many Republican opponents of the ban lined up to sign a petition against it after the vote.
It's a new beginning in Concord with the House and Senate in Democratic hands for the first time since the 2009-2010 term.
Rep. Al Baldasaro, R-Londonderry, said, "Let me be able to protect myself. If you don't want to carry a gun, God bless you. Let me protect my family. Let me protect my children."
Rep. Douglas Ley, D-Jaffrey, said, "This is an issue of gun safety, public safety.
"We don't want to wait as has been suggested until there is a problem because if we do that, we are waiting until there is a tragedy. We will be acting after the tragedy," Ley said.
He said there have been too many incidents over the past few years of firearms being mishandled or dropped. "We have been fortunate there has never been a discharge of a firearm. Tragedies have been averted," Ley said.
Ley warned against waiting for a tragedy to occur before acting.
The safety and security of the members of the House, members of the public and especially the thousands of children who visit the House every year must be their greatest concern, he said.
"There are schools which no longer visit," Ley said. "Let's bring them back."