Power to the People is NH Consumer Advocate D. Maurice Kreis' column about what happens long before you turn on the lights.  Kreis and his staff of four represent the interests of residential utility customers before the NH Public Utilities Commission and elsewhere. InDepthNH.org co-publishes Power to the People with Manchester Ink Link.    
By D. Maurice Kreis
Consumer Advocate, NH Office of the Consumer Advocate
If you testify before Congress you do so under oath, but no such obligation accrues to those who address hearings of the New Hampshire General Court. Still, every so often, the sonorous ring of truth echoes through the State House in Concord.
So it was a few weeks ago, when Donna Gamache, lobbyist for Eversource New Hampshire – the company also known as PSNH – sat at the witness table in Room 103 and spoke with members of the S.B. 125 Study Committee. The brainchild of its chairman, Senator Kevin Avard of Nashua, the the study committee seeks to get to the bottom of a question persistently asked by legislators: Why are New
Hampshire's electric rates so danged high?
By the time Gamache got to testify, the legislators had already heard from her counterparts at the state's two other investor-owned electric utilities, Unitil and Liberty. They offered data from their trade association, the Edison Electric Institute, to the effect that overall New Hampshire's electric rates are only slightly above the national average and are actually below the average for the six New England states.
Gamache then got the floor to talk about the cost of high-voltage transmission in particular. It's a timely topic in light of the ongoing quest of PSNH's sibling company Northern Pass to gain approval from the Site Evaluation Committee for its 192-mile transmission project.
But before Gamache could get too down into the weeds of federally regulated transmission charges, she fielded a question from study committee member Michael Vose, a state representative from Epping who frequently sponsors energy-
related bills.
Vose asked, based on having just heard that New Hampshire's electric rates are actually not out of line,"what's driving the perception in the business community that are rates are astronomically high?"
According to Gamache, the answer is that unlike residential customers, business consumers of electricity tend to focus not just on current rates (which, after all, can fluctuate markedly because wholesale energy prices are market-based) but also on projections of future price trends.
And, Gamache told the lawmakers, "ISO New England has been warning us of what's coming."
Stop and breathe that in for a second. Eversource did not suggest claim the perception is reality, even though it is a persistent theme from, for example, the Business and Industry Association of New Hampshire. Nor did Eversource accept any responsibility.
Instead, Eversource blamed the nonprofit organization that runs New England's electric grid. Though investor-owned utilities remain the owners of New England's bulk power transmission system, the federally regulated ISO New England is responsible for operating the system. ISO New England also oversees the markets by which power trades at the wholesale level in all six states.
So when ISO New England talks, people listen.
What they hear is an organization whose leadership has mastered the art of dog-whistle rhetoric. In other words, they use code words and stories that are calculated to make people think the grid is about to fail and electricity prices are about to soar, when the data they actually disgorge tells an entirely different story.
A year ago, ISO New England CEO Gordon van Welie declared at St. Anselm's College that the region's electricity grid was in a "precarious" state. According to van Welie, as coal generators and nuclear plants have retired, the region is now reliant on natural gas generation for more than half its power, which creates an urgent need for more natural gas pipeline capacity to serve the region.
That's the warning Gamache was referencing. So, when three executives from ISO New England addressed the S.B. 125 study committee on September 19, the crowd was all ears.
Lawmakers put the question directly to Stephen Rourke, ISO New England's vice president for systemplanning. Exactly how dire is the situation? How close is New England to a failure of the bulk power transmission system on a cold winter's day in which every natural gas heating furnace in the six states is turned up and every natural gas generator in New England is trying to suck fuel from the same pipeline network as the furnaces?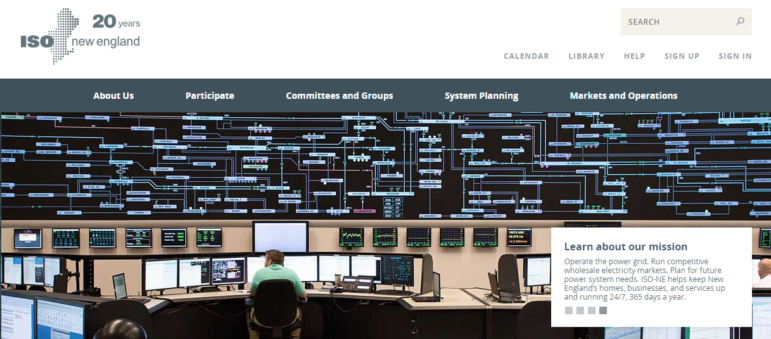 Should you be seeking a graduate degree in obfuscatory rhetoric , Rourke's answer is worthy of detailed study.
"It's a tough question," Rourke began. He conceded that "when you stare at the pie chart" things look okay – by which he presumably meant that New England has adequate reserve generation capacity so that even on the coldest days of the winter the system is unlikely to fail.
But, Roarke added, "what's really hard is when you're the operator at the desk [in the ISO New England control room], it's zero, the wind is blowing at 25 miles per hour and every gas generator in the region is on. In that moment the pie chart doesn't really matter . . . . You're hoping that the 55-year-old oil generator doesn't fail. . . . We're getting 20 to 30 percent of our energy from old oil plants, but the phone keeps ringing. That's where maybe our nerves get on edge more than others."
So, let's recap the bidding. When asked what accounts for the perception among commercial and industrial residential customers that electricity rates are too high, the state's biggest electric utility blamed ISO New England and its forecast of future power shortages. And when ISO New England was asked about those deficiencies it offered up an anecdote about how stressful it is to work in the ISO New England control room.
Electricity in New England is perennially more expensive than it is in most other places, which tend to be closer to coal mines, natural gas wells and giant hydroelectric dams built by the federal government as part of the New Deal. Meantime, according to one of those ISO New England charts Rourke was mentioning, New England is using 12,000 gigawatt-hours less electricity a year thanks to energy efficiency – a figure that will more than double by 2026.
The study committee we really need is the one that asks: How can we get more of that?