Co-published with Manchester Ink Link and the Concord Monitor. Manchester author/journalist Dan Szczesny writes a new column, '365 Days of Mountain Mischief.'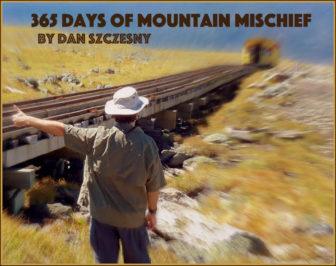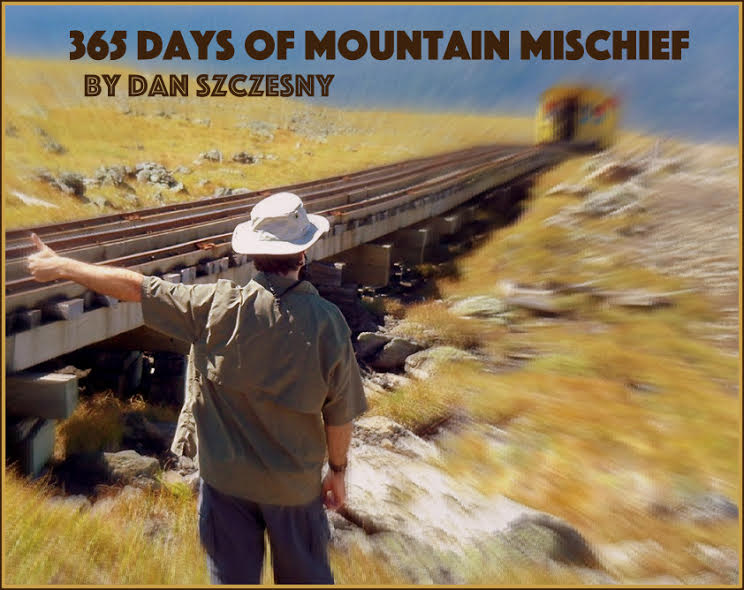 The column includes snippets from his upcoming book on Mount Washington, 'The White Mountain.' (Available Spring 2018) Become a donor or sponsor to The White Mountain Campaign: email Dan at danszczesny@gmail.com or go to http://www.hobblebush.com/product-page/the-white-mountain
By Dan Szczesny
For one glorious week – full of sun, wind, rain, snow, sleet and wonder – I lived in the highest place in New England, atop Mt. Washington at the Mount Washington Observatory. I researched, interviewed weather observers and hikers, spent afternoons in the sun or the ice and I took notes for my upcoming book, The White Mountain. Here are some of my notes from my first day there, with accompanying photos.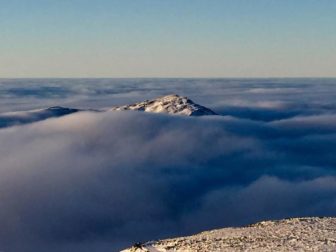 UNDERCAST: The undercast grinds like horizontal water falls, pours over the ridge; breaking down into the Great Gulf, into the valley – clouds flow, turned by the deep sunset into pink and blue sheets of cotton candy. My eyes blur in the wind, or in the adulation.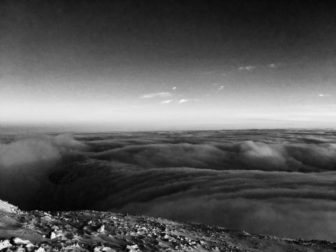 SPACE: It's like being in space, the undercast, looking down, the sliver moon laughs, my inability to speak to this view leaves my tongue as numb as my hands. I brace against the howl, unwilling to abandon the rime.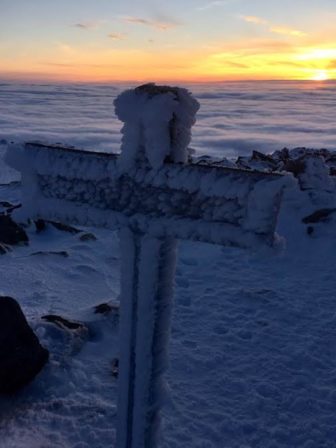 HOLY PLACE: This place, this holy place of steel and chains, of canned goods with dust on the lids, of scientists and madmen, of wind that can crush you in its embrace and you can't breath from joy, and the trail signs cast shadows on the ice like a crucifix on a cloud.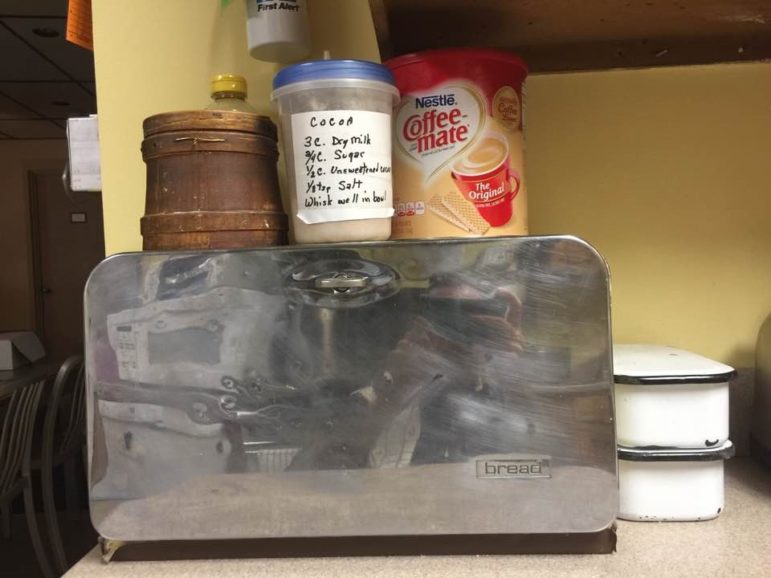 SELFIE: I'm no cook, but I wobble through chicken Parms and mixed veggies, I'm no mountaineer but I hike/fall down to an outcropping to bring back the ice and sun, I'm no poet but I can wax on and on about the sky. But I can see magnificent lines and history and the lineage of a selfie in a bread box.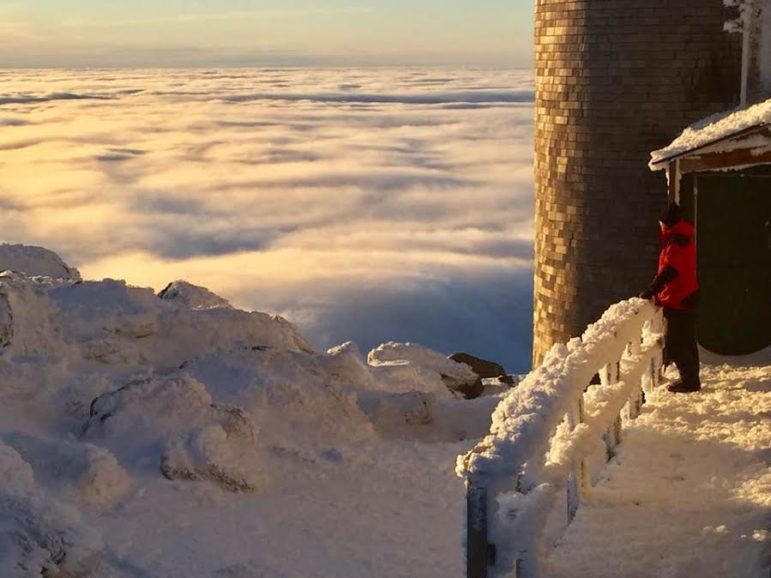 FIRST DAY: Storms ahead my friends, but tonight… tonight was a gift. I have never been on this mountain this late, witness to every ray of light against the ice and it is glorious. So on Day 1, goodnight from 6,288 and sleep well, thus ends my broadcast day.
---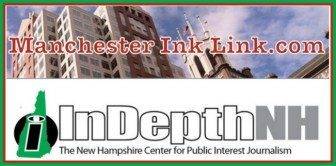 Dan Szczesny is a long-time journalist and author living in New Hampshire. His books include The Adventures of Buffalo and Tough Cookie, a hiking memoir about a one year, 225-mile journey through some of New Hampshire's least known wilderness with his 10-year-old foster daughter. Also, The Nepal Chronicles, about a month long trek to Everest Base Camp and marriage in Kathmandu. His first collection of fiction, Sing and Other Short Stories, and includes a variety of short fiction spanning Dan's 25 year career as a writer and journalist. His latest book, Mosquito Rain: Alaskan Travel Essays is an illustrated travelogue of Dan and his wife's journey to discover the true meaning of the Last Frontier. Dan is also the Editor of Murder Ink, a series of New England-based Pulp Fiction anthologies set in or around the newsroom. Volume Three is set for release in 2018.