Dispatch 1: 'An Unforgettable Thanksgiving': Portsmouth Attorney Lincoln Soldati Reports From Standing Rock (Posted 11/25/16)
Dispatch 2: NH's Lincoln Soldati at Standing Rock: 'Police Were Relentless' in Bismarck (Posted 11/26/16)
Lincoln Soldati, who is a well-known Seacoast area lawyer, is reporting for InDepthNH.org from the Standing Rock Sioux Reservation in North Dakota where several thousand native Americans and others are gathered in opposition to the Dakota Access Pipeline. We will post his columns during the next few weeks and share them with other news outlets across New Hampshire. Soldati previously served as Strafford County Attorney for many years and was also the mayor of Somersworth.
By Lincoln Soldati
InDepthNH.org
11/26/2016
Went to a press conference today with Chairman David Archambault responding to questions concerning the Army Corp of Engineers' letter discussing closing Oceti Sakowin Camp on December 5, 2016. The letter from the ACE to the tribes was widely reported on in national media, including the Boston Globe.
We expect to still be here come December 5th. I will be providing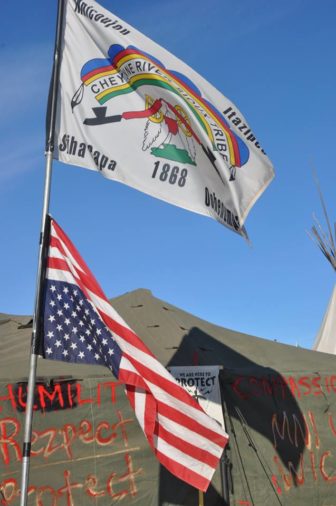 more details concerning the remarks by Chairman Archambault and others, later.
In the meantime I'm posting signs of the camp I took today. A beautiful sunny day here at Standing Rock Reservation. I hope you enjoy them.