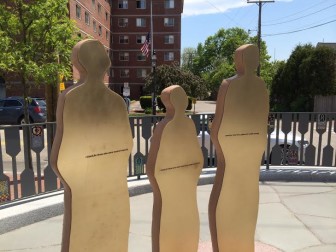 The year was 2003.
I was at the South Mill Playground in Portsmouth when I observed activity, including a hearse at the intersection of Chestnut and Court streets.
Curiosity aroused, I wandered over to find people removing pieces of wooden boxes.
I approached Valerie Cunningham, founder of the Black History Trail, to ask her to explain what was happening there.  She admonished me rather properly, that this was a sacred spot, unearthed when public works crews digging up a part of the roadway, discovered the remains of 13 people buried under the asphalt.
It turns out that they were the remains of people from Africa buried there in colonial times, some, possibly slaves.
Twelve years later, their lives have been permanently memorialized with an entire street consecrated as the African Burying Ground Memorial in Portsmouth.
Generous contributions by individuals, companies and the city, in money and time, led up the celebration of the site's opening last May.  Now, during Martin Luther King Jr.'s commemoration, residents and visitors continue to walk through the site, looking at the plaques and art that honor those early Portsmouth residents.
David Moore, the city's community development director and assistant city manager in charge of special projects, spoke to me about it.