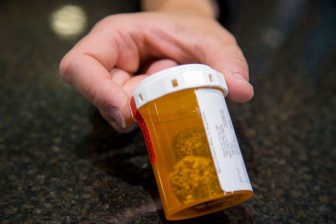 As three nonprofit companies prepare to open four medical marijuana dispensaries and three separate grow operations in the Granite State, some documents detailing the companies' intentions and backgrounds have been withheld or heavily redacted, leaving many unanswered questions and some folks disappointed by the process.
This concern over the process has led to three of the losing bidders seeking one of four licenses to run a medical marijuana dispensary in the state to appeal the state's choice of winners. The state has not responded to InDepthNH's request for documents related to the appeals or the names of the companies appealing.
Michael Stirling, CEO of White Mountain Treatment Center, who applied to operate a medical marijuana facility in the state and lost, confirmed he has filed an appeal with the state based on what he believes is a scoring error. White Mountain, which intended to operate in the North Country, referred to as zone 4, lost the contract by five points.
Stirling filed his appeal soon after hearing the company lost the bid in June. Shortly after, attorneys asked the state for copies of all of the applications, emails and communications related to the people doing the scoring, and the notes and scores generated by the selection committee.
"All of the information that I have asked for from the state regarding our appeal, they haven't given it all to me," Stirling said. "We've asked for all of that information and we haven't received a complete set yet."
Stirling said if his appeal is not resolved in a way that's satisfactory, "it probably opens up the avenue for us to file an injunction and stop the process until an actual judge can look at this.
"Because I think the state is sitting there hoping this will all go away, and I think that's why they haven't released any information to me," Stirling said. "They're hoping either we die on the vine or they can issue the other permits and we just go away."
State Sen. John Reagan (R-Deerfield) who was a co-sponsor of the medical marijuana legislation, said he is thinking perhaps starting over might not be such a bad idea in light of the questions he has about the whole process.
"We passed this bill to get therapeutic cannabis to patients and it's just not happening," said Reagan, who sits on the Therapeutic Use of Cannabis Advisory Council, which advises the state on policy changes in the medical marijuana law.
The law allowing medical marijuana in New Hampshire became effective two years ago. It will be at least the first quarter of 2016 before marijuana can be legally dispensed, which has also caused a great deal of frustration.
"It seems that the process they used, it just didn't seem to be – it just didn't seem to be a good scoring system. It seemed like there were scores assigned for things that were not properly vetted. I can't describe it," Reagan said.
"I think that there's a valid complaint made that all of these bids should be voided," Reagan told InDepthNH.org.
Reagan said he hadn't seen any documents related to the dispensaries and is basing his opinion on conversations with applicants.
"We didn't participate at all," Reagan said of the Therapeutic Use of Cannabis Advisory Council. "We haven't been presented with any details. So I have no idea (how they chose the candidates).
"We have no idea because it's all been top secret."
On June 9, the state Department of Health and Human Services released the names of the three companies chosen by a separate evaluation committee out of a total of 14 applicants for licensing.
These companies will open four dispensaries in separate regions of the state along with three marijuana grow operations that will be located separately from the dispensaries, according to John B. Martin, manager of the bureau of licensing and certification for the state Department of Health and Human Services.
Those businesses, which will operate as nonprofits, are Temescal Wellness, Inc., of Ft. Lauderdale, Fla.; Prime Alternative Treatment, of Shrewsbury, Mass. (which lists the Concord Law Firm Shaheen and Gordon as its local address); and Sanctuary ATC of Salem.
InDepthNH.org requested the initial applications of the three chosen companies on Aug. 14. In response, the state Department of Health and Human Services released redacted versions of applications for Sanctuary ATC and Prime Alternative, but declined immediate release of Temescal's application.
Frank Nachman, Health and Human Services chief legal counsel, who is handling InDepthNH's request, wrote in an email dated Aug. 21, "I can't give you a date for the release of Temescal at this point. My understanding is that counsel for Temescal was meeting with his clients this week to discuss the proposed redactions."
Subsequent phone interviews with Nachman indicated that the state still doesn't know when it will release Temescal's documents.
Temescal's board chairman Edward "Ted" Rebholz, declined to be interviewed until after Aug. 31 as he said he was out of town on a family vacation. He did make an appearance at a public comment session in Manchester on Friday, Aug. 28.
When asked when he would release Temsecal's application, Rebholz said he didn't know, adding that Temescal's attorney was working with the state on the redactions.
As for the applications from Sanctuary ATC and Prime Alternative that were released, both had security details and schematics, proprietary information (such as recipes for edible marijuana products) and private cell phone numbers redacted. Nachman cited privacy and proprietary information as reasons for not releasing the redacted information.
However, also left out of these applications were the names of the master growers and head of security, which include in the case of Sanctuary, a former Hooksett police officer.
And while Sanctuary ATC released its financial projections for the dispensary, Prime ATC redacted that information.
Under the New Hampshire right-to-know law, a government agency has five days to either supply requested documents, give a date when the documents will be available, or deny a request with a reason covered by the applicable state law.
The law does allow for the redaction of personal financial information and personal information that would constitute a violation of privacy if released.
Concord Attorney William Chapman, an expert on New Hampshire's right-to-know law, said he couldn't answer specific questions about what the state can redact relative to privacy without seeing the documents.
As to financial information, "On one hand, it's confidential, but on the other hand if somebody is going to put it in an application for one of four licenses, it would seem to me the public ought to be able to assess the financial wherewithal of the company. Does it have the resource to run a dispensary or to grow marijuana?" Chapman said.
In the meantime, officials looking to open the proposed dispensaries are moving forward with the hope of getting their dispensary and grow operations open by early next year.
In fact, a public session at Manchester City Hall Friday was held so state officials and representatives from Temescal could answer questions and concerns about the company's marijuana grow facility, which is separate from its dispensary.
At the session, Rebholz declined at first to say where the facility will be located in Manchester, but later released the address as 645 Harvey Road when a reporter reminded him it had already been in the newspaper quoting him about the location.
But Manchester Planning Director Leon Lafreniere said Monday it is not a done deal. Temescal won't need to go before the planning board as long as it doesn't plan new construction or a different use for the existing building.
Lafreniere couldn't say definitely whether Temescal's plan will need further review because he said he hasn't seen the plans yet.
Martin said he understands the frustration surrounding the program since the law allowing medical marijuana became effective in July 2013, but said it is a complicated process and there was no new funding to help implement it.
Martin and about five other staffers who have taken on the marijuana project, all had to work their full-time jobs as well.
"It is very complex and something that is brand new and we're dealing with a controversial substance," Martin said. "It's easy to criticize, but there was no money to get it up and running."
Even without additional funding, Martin said the department was able to make most of the deadlines laid out in the law, but was a little late in deciding which companies to select.
The three separate grow sites are slated to be located in Peterborough, Rochester and Manchester while the dispensaries will be in Plymouth, Lebanon, Merrimack and one in an as yet undisclosed location to serve the greater Seacoast area.
In its application, Sanctuary ATC generally estimated revenues to start at $3 million in the first year and increase to $5 million by year three.
The chosen companies will be required to make a payment in lieu of property taxes if they own the property outright. On top of that, the companies had to pay $80,000 once they were selected and will pay $80,000 per year, per dispensary for a licensing fee required for three of the four dispensaries, and $40,000 for the North Country dispensary.
This money will fund the Therapeutic Marijuana Program.
Final applications for Alternative Treatment Center registrations from the winning candidates were due to the state Aug. 27. Meanwhile, some of the winning bidders are busy trying to obtain local approvals for dispensary and grow operations.