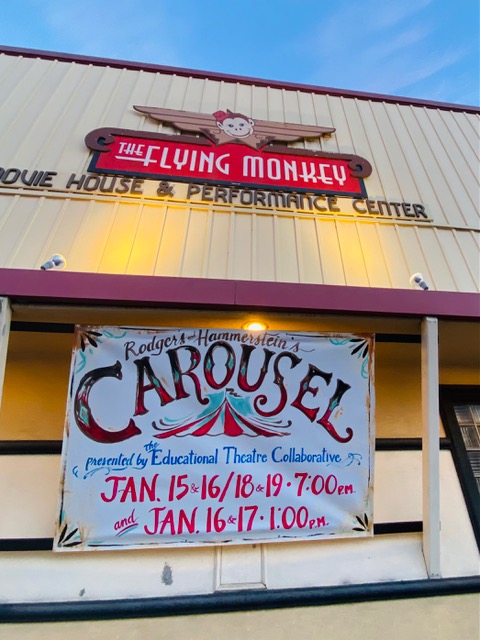 By Richard Knox
The Educational Theatre Collaborative (ETC) is back with a spirited production of the classic Rodgers and Hammerstein musical Carousel in six performances at The Flying Monkey in Plymouth beginning on Saturday, January 15.
Performances are at 7 p.m. on January 15, 16, 18 and 19, with matinees at 1 p.m. on Sunday January 16 and Monday January 17. Tickets are available at 603-536-2551 or at FlyingMonkeyNH.com.
Premiered in 1945, Carousel has played a pivotal role in the development of musical theater. It deals with the dark side of human nature, with a redemptive ending. Time magazine named it the best musical of the 20th century.
ETC, based at Plymouth State University, has a 27-year reputation for bringing together intergenerational casts of community thespians and schoolchildren for high-level amateur musical productions. The COVID pandemic last year interrupted that string, but ETC Director Trish Lindberg, PSU professor of education and integrated arts, was determined to resume the tradition this year with appropriate precautions.
The cast and crew of this Carousel production have been fully vaccinated and rehearsals were conducted with medically approved masks. Audiences will be required to mask.
In deciding to mount Carousel Lindberg said she pondered "what is the gift I want to give to the community through this ETC production."
She settled on Carousel because it offers "a message of hope – that yes, things can be really, really hard, but we will get through them." In particular, Lindberg hopes audiences will take to heart the lyric of the show's best-known song, "You'll Never Walk Alone." Its message for 2022, she says, is: "We have to go on. We're not alone. We still have each other even though it hasn't felt like that for a long time."
Other well-known Carousel songs include "If I Loved You" and "June Is Bustin' Out All Over."
The ETC production is directed by Lindberg, with musical direction by Harmony Markey. John Leslie is conductor/pianist. Gustavo Wons did the choreography, set design is by Szu-Feng Chen, projection design is by Alex Koch and lighting design is by Peter Leibold.
Billy Bigelow is played by Braden Miles, who has broad experience in musical theater productions – and whose relationship with Lindberg goes back to when he was a nine-year-old boy soprano at a summer theater program in Vermont. Julie Jordan is played by Emily Trubey, a recent graduate of the Music Theatre program at Plymouth State University, whose credits include Sally Brown in You're a Good Man, Charlie Brown, Sarah Brown in Guys and Dolls, and Maria in a concert version of West Side Story.
Other principals are Harmony Markey as Nellie, Emma Molloy as Carrie, AJ Coppola as Enoch Snow, Vicki Etchings as Mrs. Mullin, Thomas Wilkins as Jigger Craigin and Lindsey Brunelle as Louise.
The story of Carousel comes from a 1909 Hungarian play, transplanted to a Down East fishing village in late 19th-century America. It tells of a carnival barker, Billy Barker, who captures the heart of a mill worker, Julie Jordan.
Both are noncomformists, discontent with their lot in life. Billy has an impulsive nature and a quick temper. On at least one occasion he hits Julie, but when he learns he's going to be a father he's overcome by a sense of responsibility.
But Billy has quit his carnival job and has no other skills or prospects. He falls under the influence of a low-life sailor who persuades him to rob the mill-owner – a scheme that backfires. Rather than go to jail, Billy kills himself.
The play turns mystical as Billy is given a chance to redeem himself from eternal damnation.
Over its 77-year history, Carousel has been revived on Broadway seven times and received countless performances in regional theaters and amateur productions. Each time directors and performers have grappled with the troubling character of Billy Bigelow.
But if his treatment of Julie is problematic, so is her fatalism and loyalty to him. "What's the use of wond'rin'/If he's good or if he's bad?" she sings. "He's your feller and you love him/That's all there is to that."
Lindberg acknowledges the difficulty. "We can look at it now and ask why the heck did she stay?" she says. "Many, many more women would get out of that kind of relationships now – would have the strength to leave."
But even if accountability for abusers is more likely now than in 1945, abuse is hardly a solved problem – thus the need for women's shelters, restraining orders and laws against sex trafficking. From that perspective, Carousel is a true-to-life piece of theater about the damage that abusive relationships wreak.
It ends with the hint that Louise, Billy and Julie's daughter, may break out of that cycle.