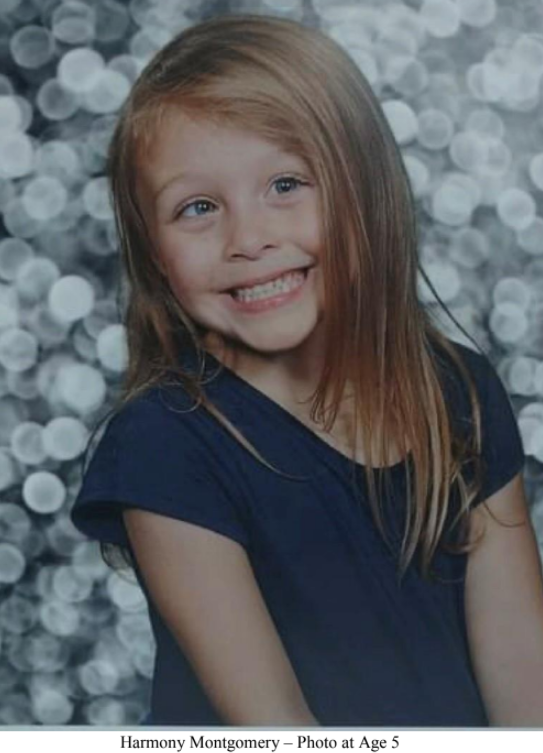 All court records in case against Kayla Montgomery can be seen here: https://www.courts.nh.gov/media/requested-cases/criminal/state-new-hampshire-v-kayla-montgomery
All court records in the case against Adam Montgomery can be seen here: https://www.courts.nh.gov/media/requested-cases/criminal/state-new-hampshire-v-adam-montgomery
By NANCY WEST, InDepthNH.org
The estranged wife of Adam Montgomery has been charged with welfare fraud for taking more than $1,500 in food stamps for missing Harmony Montgomery who was not living with her at the time. Harmony was 5 when last seen two years ago.

Kayla Montgomery of Manchester was arraigned in Hillsborough Superior Court Thursday. Judge Amy Messer set bail at $5,000 cash, which Kayla's attorney, Paul Garrity, argued was too high since she wasn't a likely flight risk. Kayla was ordered to have no contact with Adam Montgomery.
Adam Montgomery, 31, was arrested Jan. 4 charged with the second-degree assault on Harmony for causing a black eye when he slapped her face when she was 5 two years ago.
No one has been charged with Harmony's disappearance.
That no one knew Harmony was missing for two years until last week has pulled at the heartstrings of people across the state.
The reward for information about her whereabouts is up to $60,000 and Gov. Chris Sununu spoke about finding Harmony and bringing her home at his news conference on Thursday.
Adam Montgomery
When police located Adam Montgomery on Dec. 31, 2021, he was sleeping in a car with a new girlfriend in the area of Harvell Street in Manchester. Police said he gave "contradictory statements" about Harmony's whereabouts, first saying she was fine and he had seen her somewhat recently.
By late afternoon that day, Adam refused to speak with police and told them: "If I'm not under arrest, I'm leaving."
Adam was arrested on Jan. 4 and is being held on preventive detention.
On Feb. 25, 2019, Kayla filed a change with the state Department of Health and Human Services saying Harmony was living with her and Adam and their three children fulltime, according to a police affidavit released Thursday.
"She is 4 years old and permanently blind in one eye, she was born like that. Any questions or concerns please call (Kayla's cell). Thank you," Kayla wrote in the change report about Harmony.
That increased the benefits they received by $129 a month beginning March 1, 2019, not including COVID supplemental benefits, according to the affidavit.
On June 2, 2021, a state case worker noted a case involving Harmony was being closed, according to the police statement.
"During the contact (Department of Health and Human Services) noted that case management for HM was closed noting 'client said she moved back with her mother and to remove her from her case.'"
Kayla had told police that Adam told her he was returning Harmony to her mother, Crystal Sorey, in Massachusetts around in November or December of 2019.
On Dec. 30, police spoke with Adam's uncle, Kevin Montgomery, who said he returned to Manchester in July 2019 after a trip from Florida and saw Harmony with a black eye, according to an affidavit filed in Adam's case.
"Kevin immediately notified DCYF after the fact with concern for the injury," the affidavit said.