All court records in the case against Adam Montgomery can be seen here: https://www.courts.nh.gov/media/requested-cases/criminal/state-new-hampshire-v-adam-montgomery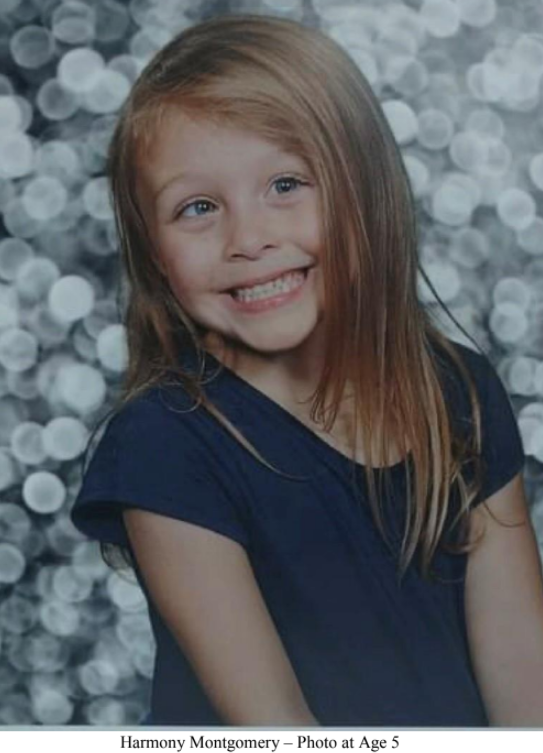 By NANCY WEST, InDepthNH.org

The father of the missing Manchester girl waived arraignment in Hillsborough Superior Court Wednesday on second-degree assault, custody interference and endangering a minor charges and is being held on preventive detention.
Adam Montgomery, 31, is accused of giving Harmony Montgomery a black eye when she was five years old, two years ago, according to an affidavit that was made public Wednesday detailing what led to his arrest and the start of the investigation into Harmony's disappearance.
On Dec. 30, police spoke with Adam's uncle, Kevin Montgomery, who said he returned to Manchester in July 2019 after a trip from Florida and saw Harmony with a black eye, according to the affidavit, which was redacted in places.
 "Kevin immediately notified DCYF after the fact with concern for the injury," the affidavit said.
Harmony's whereabouts are still not known.
Adam told Kevin Montgomery, that he hit Harmony in the face because she covered her infant brother's face to stop him from crying. Adam had told Harmony to watch the baby while he was in the bathroom, according to the affidavit.
"Adam told Kevin at the time, 'I bashed her around the house,'" the affidavit said.
Kevin believed Adam had relapsed on drugs. Adam had legal custody of Harmony at the time.
Abuse
"Kevin recalled H.M. being spanked hard on the butt, H.M. being forced to stand in the corner for hours and Adam ordering H.M. to scrub the toilet with her toothbrush," the affidavit said.
On Dec. 31, Manchester police located Adam and his new girlfriend sleeping in a car in the area of Harvell Street in Manchester where he gave "contradictory statements" about Harmony's whereabouts, first saying she was fine and he had seen her somewhat recently.
But later in the conversation Adam said he had not seen her since Crystal Sorey, her mother, had picked her up in Manchester around Thanksgiving 2019.
At 4:10 p.m. on Dec. 31, Adam refused to give police any information about Harmony and told them he was not talking to them and, "If I'm not under arrest, I'm leaving."
Police had spoken with Adam's wife, Kayla Montgomery, with whom he shares three younger children. Kayla said the last time she saw Harmony was in November or December 2019 one morning before going to work.
Adam said he was driving Harmony back to her mother Crystal Sorey in Lowell, Mass., and Kayla thought she had been returned to her mother, according to the affidavit.
Kayla said she saw Harmony with a black eye but was told it was caused by one of the other children hitting her with a toy. Kayla told police she has not seen Adam since October of 2021 and not spoken with him since mid-November 2021.
Kayla claimed Adam was living in a sober house and had left area to live in Maine with a woman.
Investigation
Manchester police received a call from Harmony's mother, Crystal Sorey, who lives in Massachusetts, on Nov. 18, 2021, saying her daughter was in Adam Montgomery's custody and she hadn't seen her in over six months.
Manchester police contacted the Division for Children, Youth and Families and got two previous addresses for Adam and could not immediately locate him or Harmony.
On Dec. 27, 2021, DCYF notified Manchester police that they were unable to locate Harmony and Manchester police initiated the investigation, according to the affidavit. Crystal Sorey told police she lost custody of Harmony in July 2018 to the state of Massachusetts due to substance abuse issues she said that both she and Adam had.
Crystal has since regained sobriety and unsuccessfully tried to find Adam and Harmony throughout 2021. Adam and his subsequent partner Kayla Montgomery blocked all communication with Crystal, police said.
Crystal Sorey said the last time she saw her daughter was during a facetime video call around Easter 2019. Crystal stated that Adam was visible in the background of the video call.
"Crystal recalled that H.M. seemed frightened and she believes that was the last time she actually saw her daughter," the affidavit said.