After searching in Abington, Mass., Friday for Elijah Lewis, the 5 year-old boy missing from Merrimack, the search will resume at 8 a.m. on Saturday, but this time with the sad words from Senior Assistant Attorney General Ben Agati at an evening press conference: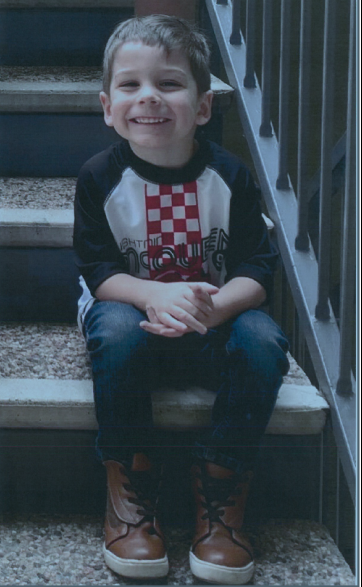 "We believe Elijah is deceased," Agati told reporters in front of the Merrimack Police Department Friday night.
Until Friday there had been hope the boy would be found alive, Agati said.
He declined to say what evidence changed his frame of mind after working on the case for seven days.
Agati said the police in New Hampshire and Massachusetts are working day and night on a case that is emotional for the boy's relatives, police and the community.
"When you have a missing child, it's something that galvanizes people," Agati said, standing beside Merrimack Police Chief Brian Levesque.
On Friday, police shifted their search from Merrimack to Abington, Mass., where they scoured the area of Chestnut Street, according to a news release from Attorney General John Formella.
Elijah Lewis, 5, was brought to the attention of the state Division for Children, Youth and Families eight days ago. He hadn't been seen for about 30 days by independent people when living at 7 Sunset Drive in Merrimack, authorities said.
Police are searching in Abington based on information learned in the investigation. The search is being conducted by the Massachusetts State Police with assistance from personnel from the New Hampshire State Police Major Crime Unit.
Elijah's mother Danielle Denise Dauphinais, 35, and her boyfriend Joseph Stapf, 30, were arrested Oct. 17 by officers of the New York City Transit Authority in the Bronx, New York, on witness tampering and child endangerment charges and are being held on preventive detention in New Hampshire.
Both pleaded not guilty on Wednesday. Two of Dauphinais's brothers spoke to reporters that day asking her to provide information to help find Elijah.
According to the state, the witness tampering charges allege that they each asked other people to lie about Elijah and where he was living knowing that child protection service workers were searching for Elijah. The endangerment charge alleges that they violated a duty of care, protection or support for Elijah.
Anyone with information on Elijah's whereabouts is asked to contact the Merrimack Police Department's Crimeline at (603) 424-2424 or New Hampshire State Police Communications at (603) 223-4381 or 603-MCU-TIPS (603-628-8477). Lead Investigator Detective Sergeant Kelly Healey, Major Crime Unit, can be contacted directly at Kelly.A.Healey@dos.nh.gov.