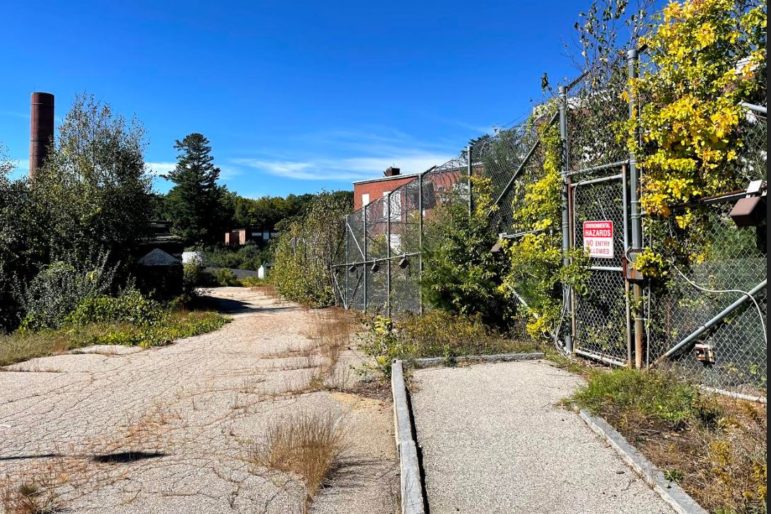 By PAULA TRACY, InDepthNH.org
Executive Councilor Joe Kenney, R-Wakefield, said Tuesday that the state now has four bids for a marketing company to work on the sale of the 220-acre former Laconia State School property.
It is likely that one will be picked by Administrative Services and a contract on the table in a month to hire a firm to recruit buyers.
Kenney said his preference would be for Lakes Region Mutual Fire Aid to stay in its place and if not, find a new location that does not transfer costs of a relocation to the 35 communities that use the fire mutual aid.
Shifting such costs, from $6 million to $8 million as estimated, Kenney said, is "cost-prohibitive" for the regional mutual aid dispatch center.

But on Tuesday Kenney said he feels confident a solution will be found.
"The governor's on board, I am on board…to find a friendly developer" to buy the former Laconia State School land and will "work with the program" to allow them to stay after the purchase.
Kenney said while there may be federal COVID-19 relief money available to relocate the redundant E-911 center, it is not the same for the LRMFA and "we need to make sure they have a home," once the property sells, Kenney said.
Where the 35-community Lakes Region Mutual Fire Aid dispatch center will be relocated has been a sticking point.
Located at the north Laconia property for 20 years along with a redundant state E-911 call center, it serves the fire and medical emergency needs of Central New Hampshire.
And it is the lone holdout tenant that could make the deal more complicated than it already is.
The state may be able to find room elsewhere and Gov. Chris Sununu sounded last week like he was committed to making that happen.
Frustrated by 20 years of study and no plan, state Sen. Bob Giuda, R-Warren, worked this spring with lawmakers on Republican-backed House Bill 2, the budget bill that had lots of trailers, and added language essentially grabbing the tract for Sununu to sell with council approval.

Opponents are angry because rather than go the longer traditional way the state declares "surplus" property, which provides more local input, they say this is being done by executive fiat.

Some Laconia leaders are angry.

Laconia Mayor Andrew Hosmer said the city looks forward to getting the land on the tax rolls and out of state hands, but he said he is disappointed that Sununu is going about the sale in this quick fashion. Hosmer said he fears Laconia will get "the short end of the stick on this" without being able to provide much input.

And he worries that the buyer will just develop the valuable parts and leave the other buildings to rot.

He said the city needs housing, wants to protect the open space there and worries that a developer the governor would pick will go only after the Route 106 frontage and leave a mess of ugly buildings on the property.

This land, with its grassy fields with lakeside views, just north of the city, also has old deteriorating buildings, which for most of the 1900s warehoused citizens with developmental disabilities.

There are also possible human remains on the property of former residents who died and were buried there, but Kenney said he believes that all the remains have been exhumed.

Top state officials and both Commissioners of Safety and Administrative Services met recently with officials for Lakes Region Mutual Fire Aid and briefed them on how the deal was going to go down.

The land is not yet on the market.

Once there is a deal, Sununu will accept a contract that will need to be signed by him with the approval of at least three of the five members of the Executive Council.
Sununu said the "good news" for Lakes Region Mutual Fire Aid is whether there is help from state or local officials, he feels confident that "we will find a good home for them, a better home, frankly with all the fixings and trimmings and maybe co-locate them," referring to the state's E-9-1-1 call center also on the former state school grounds.

"But there are a lot of different options out there," Sununu said. "Ultimately by moving them, that property has incredibly high value so that property goes on the tax rolls, and Laconia gets the benefit of the property taxes."
He conceded the relocation of the regional dispatch was an obstacle to getting the highest price. But he noted they might not be in the best spot for their needs.

"We just need to find a more suitable spot," Sununu said.
Mike Sitar, president of the Lakes Region Mutual Fire Aid and the Tilton/Northfield Fire Chief, said LRMFA pays rent which covers the utilities now.
"It's cheap," Sitar said.
They would prefer to stay where they are because they have everything they need, he said, but if they cannot stay, they would be looking for about 20,000 square feet with line-of-sight access to Belknap Mountain for transmission needs and all the redundant fiber optic feeds they have now.
It would also be a cost savings to have the redundant E-911 as a neighbor because they share things reducing costs.
He noted it could take $7 million to $8 million to build a new center and the hope is that would not have to end up as increased taxes for the region.
Sitar said all his contracts have assured that "we will be taken care of but I don't know if that means" it will be a net-zero cost.
The state is looking around for a spot and one mentioned is a small tract of land across the street and just past the field at the corner of Route 106 and Old Main Street, along with a site in Tilton.
Lakes Region Mutual Fire Aid was founded in 1950 by a few local fire chiefs in the Laconia area as a way to help each other out with dispatch services, said Deputy Fire Chief Coordinator Paul Steele, Jr.
Steele and Lt. Kevin Nugent noted that the dispatch center has moved around from a barbershop to stints at the Belknap County Court House and the Laconia Fire Department before being moved into the former Laconia State School property about 20 years ago.
The center serves 24/7 dispatch coverage for an area that stretches across 1,800 square miles and serves as the vital first link between people and the help they need for fire, emergency medical aid, and hazardous material clean up.
The building and an adjacent one are used by the Department of Safety in a pinch for their needs. During the pandemic, the next-door building was used for those who needed a safe place to quarantine.
Prior to that, it served as a place to locate the state Marine Patrol during the construction of their new headquarters in Glendale, an area on Lake Winnipesaukee in Gilford.