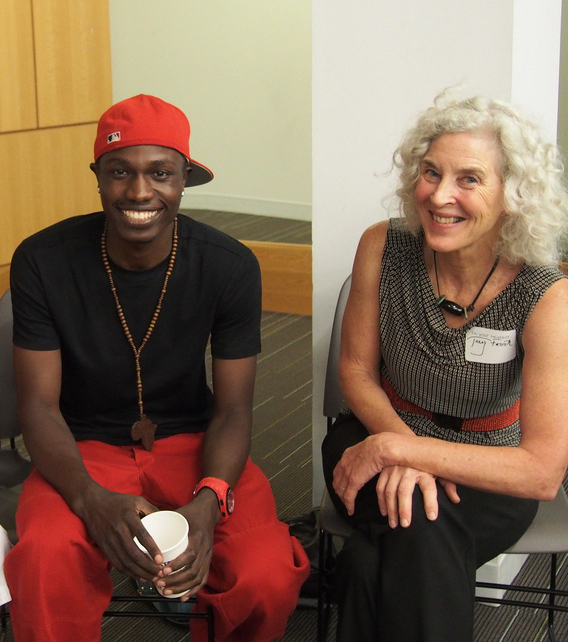 OD Bonny and Terry Farish at the Portland, Maine, library. Courtesy photo
Terry Farish, InDepthNH reporter, and OD Bonny collaborated to write a picture book, A Feast for Joseph, just published by Groundwood Books in Toronto.
It is illustrated by Ken Daley and opens in Kyangwali Refugee Settlement in Uganda. Joseph and his mother are resettled to a new home in Portland, Maine.
He and his grandmother are separated like so many members of refugee families, and he yearns to see her again and for them to cook and eat together. Through sharing traditional food, Joseph begins to have a first sense of belonging in his new home. In a starred review, Kirkus Reviews calls it "a wonderful book that humanizes refugees." It is a timely book for children about refugees. Ascentria Care Alliance in Concord reports that it is about to resettle some of the thousands of refugees currently arriving in the U.S. from Afghanistan.
Bonny is a writer, producer, and songwriter as well as an artist of traditional Acholi music. He was born in South Sudan and fled to Uganda with his two older brothers to Kyangwali Refugee Settlement. In 2003, they moved to the United States. This is his first book.
Farish is the author of The Good Braider, a novel in verse that won a New Hampshire literary award for young adult literature and is an American Library Association Best Book for young adults. Her picture books include The Cat Who Liked Potato Soup, illustrated by Barry Root that also won a NH Literary Award for children's literature.
The first launch event for A Feast for Joseph is during Welcoming Week at Print: A Bookstore in Portland, a virtual event on September 15 at 6 p.m. It's hosted by I'm Your Neighbor Books, a nonprofit that works to build welcoming communities for immigrants and refugees. Please register for the zoom event, Acholi in America: A Book Launch for A Feast for Joseph at https://imyourneighborbooks.org/feast-for-joseph/
Farish and Bonny will be do several events around the book in New Hampshire. For future events please visit Farish's site at https://terryfarish.com. For more information, contact, tfarish@gmail.com