By SUSAN DROMEY HEETER, Joyful Musings
Today I muse joyfully on outside chairs; chairs on the grass, chairs on the beach, chairs around a campfire.
I adore being outside and have found it even more glorious during this pandemic. Today I adore even more lounging comfortably under a warm sun, a blue sky, on top of a carpet of green grass. There is nothing better; my eyes don't get pulled to the dust on the floor, the spider webs on the ceiling, the dishes in the sink.
My outdoor collection of chairs is primarily wicker; I'm in the middle of spray painting two rocking chairs I currently have in my backyard. I'll do them in blue; they are the outdoor living room of summer '21 – nothing fancy, nothing expensive, only solid enough to hold rear ends, people, dogs. The carpet of grass is turning beautifully green, it's perfect and must be mowed once in a while but never vacuumed, never cleaned. It's very low maintenance.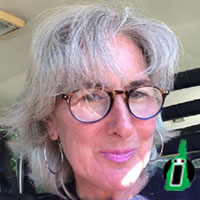 I don't believe in high maintenance furniture, nothing white, nothing less than durable, nothing pristine. I'm tough on things, particularly furniture. I'm not a gentle, "use a coaster" kind of gal. Everything I own has some sort of stain. I like that; it's comfortable. House Beautiful has never asked to photograph our home.
And the wicker chairs have lasted through the snow of winter, the frigid temps. When there was snow on the ground, we sat around the fire on these chairs and they endured – much like we all have during this pandemic.
Outdoor seating is lovely. The sky is a magnificent ceiling, birds and clouds and stars are a brilliant overhead. They are free. They are comfortable. My chair for the beach? A folding backpack piece of canvas. It works and it's always the best seat in the house: front row to the show of an ocean, sand, sun.
Dear Joyful Musers, get your chairs ready for a beautiful show. It's time, it's free and whether yours is wicker, wood, or canvas, your chair is always in the front row.  Hurry and get seated, comfortable, ready: the curtain is rising on a beautiful day.  May you enjoy yours.
Susan Dromey Heeter is a writer from Dover who recently let her hair go au natural white. Writing has been her passion since her English majoring days at the University of Massachusetts in Amherst.  Dromey Heeter has lived in The Netherlands, Alaska and currently basks in all things New England, including the frigid winters. An avid swimmer, Dromey Heeter's great passion is to bring back body surfing as most children have no idea how to ride waves without ridiculous boogie boards.