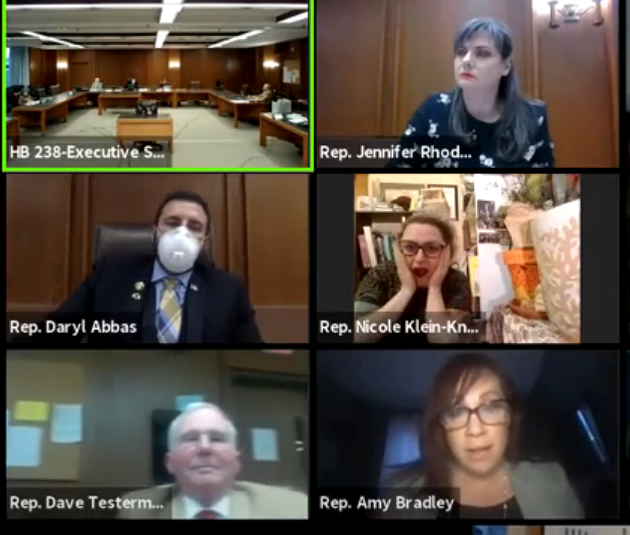 By NANCY WEST, InDepthNH.org
CONCORD – State Rep. Dick Marston, R-Manchester, caused the House Criminal Justice and Public Safety Committee meeting to end abruptly Monday when he raised the chairman's ire by referring to the LGBTQ+ community with the words "deviant sexuality."
Chairman Rep. Daryl Abbas, R-Salem, said no member could refer to deviant sexuality in the discussion of House Bill 238. Marston responded: "What is LGB T?"
No vote was taken on the bill and the executive session was quickly closed. Abbas then abruptly adjourned the meeting. Rep. Nicole Klein-Knight, D-Manchester, gasped and appeared stunned by Marston's comments.
Klein-Knight stirred controversy earlier in the meeting on bills related to cannabis by showing a bottle of what she called "gummies" and taking one. On Twitter later, she said it is legally prescribed for arthritis.

HB 238 would ban what is called the "Gay Panic Defense" used to justify the murder of LGBTQ+ people, according to its sponsor Rep. Josh Query, D-Manchester, who is not on the House committee. He is chair of the LGBTQ Democratic Legislative Caucus and Vice Chair of the New Hampshire Stonewall Democrats.
"This bill would prevent someone from using a person's gender identity, actual or perceived gender, gender expression, or sexual orientation as an excuse for murder while still retaining existing self-defense statute and recognizing due process," Query said in a public statement after the meeting.
The Republicans on the committee showed disrespect by laughing during the testimony, he said.
"I am incredibly disheartened by the use of derogatory and harmful language and body language by Republican members of the Criminal Justice committee. Rep. Marston's referring to LGBTQ+ people as 'sexual deviants' and other committee members laughing during testimony from LGBTQ+ people is unacceptable behavior by members of the House," Query said.
Marston told the committee why he wanted the bill killed. "Our constitution already covers everybody." No groups should have special privileges, Marston said.
"If we are going to carve out one group of people today then tomorrow somebody's going to want to carve out the liberals for attacking the conservatives," Marston said.
Chairman Abbas stopped Marston, saying the liberal and conservative labels were not productive. "We're all members," Abbas told him.
Marston continued.
"I'm just saying we don't want to have special privileges for special people. Were all the same group," Marston said. "We're all the same people. If you kill somebody you should be charged with murder and should be tried on it and there's no way in heck that you're going to be able to say it's because he or she was some deviant sexuality that I'm not."
Query was also concerned that the committee heard this bill with another bill on subject matter involving drug dealers. "It is deeply disappointing that LGBTQ+ people in New Hampshire were not afforded the respect of a clear hearing on this legislation that aims to make the Granite State safer for all people…LGBTQ+ people in New Hampshire deserve dignity and protection in statute and in the legislative process, just as much as all Granite Staters do."
Youtube: Rep. Dick Marston's comments are near the end of the meeting at 8:20: https://youtu.be/4bvIbrYV6uM
On Twitter, Rep. Klein-Knight said: "My own committee member admitted he didn't even know what LGBTQ was, then called my community deviants. THIS is exactly why we need a law to protect the LGBTQ+ community from people just like this intolerant representative."
The NH House GOP Pac tweeted: that Klein-Knight "was using a cannabis product, while in the Criminal Justice and Public Safety Committee Executive Session today." https://youtu.be/E8DOP6ByAUQ
To which, she responded: "Really think me using prescribed medication for arthritis can compare to the disrespect your colleagues bring to the table. Try harder, because that isn't the news today. The news is you support anti LGBTQ+ rights and harbor real disgusting decorum yourselves. Try again."